Jump to Recipe
Print Recipe
Treat yourself to a delectable dessert with this Buttery Cinnamon Pecan Bundt Cake! This cake delivers a moist cinnamon cake studded with pecans and smothered in a sweet buttery glaze.
Are you a fan of deliciously moist cakes with an irresistible crunch? If yes, then you will love this buttery Cinnamon Pecan Bundt Cake.
Not only is it a showstopper – from its golden-brown hue to its sweet and nutty aroma – but it also takes less than an hour to make.
Learn how to make this impressive yet easy-to-bake cake that will leave everyone asking for more.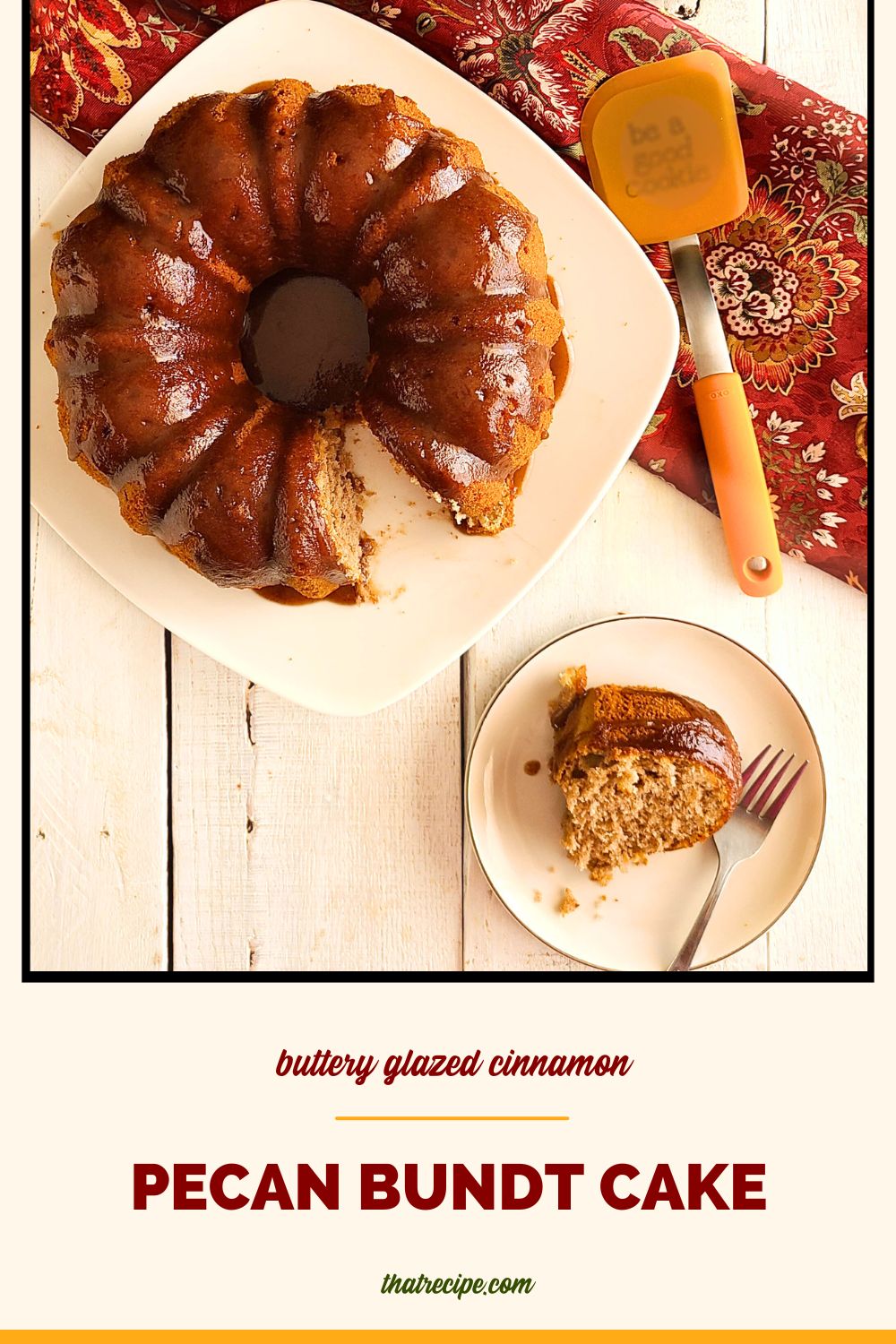 I used to make this cake a few times a year when I was working for the computer company. We would take turns bringing in donuts on Fridays, and I would bring this one. It got devoured within minutes every time.
While the Cinnamon Pecan Bundt Cake is moist and decadent with the pecans and cinnamon the best part of this recipe is the buttery cinnamon glaze. I will freely admit to swiping my finger along the plate to sample the glaze that pooled on the sides.
Which is better for cakes, butter or shortening?
Shortening is all oil, where as butter contains up to 20% water. This means cakes made with shortening will rise higher and be lighter/fluffier.
But, butter tastes better.
I went half and half in the cake. You can use all shortening in the cake and save the butter for the glaze.
If you want to go vegan/vegetarian, I recommend solid butter flavored coconut oil (plus your favorite egg substitute and plant based milk).
How long to cook a Bundt cake?
Different pans require different timing.
I have an old heavy duty Nordic Ware Bundt pan. I have learned from experience to remove it a little early, when the crumbs are still sticking to the toothpick but are cooked.
Then I let it sit in the pan for 5-10 minutes before removing from the pan. This allows the cake to finish cooking and release easily from the pan.
If you have a thinner metal pan, or a silicone pan, you might need to let it bake a little longer because they will not retain as much heat.
Buttery Cinnamon Pecan Bundt Cake
Ingredients
cake
2

cups

all purpose flour

1

tablespoon

baking powder

2

teaspoons

ground cinnamon

¾

teaspoon

salt

⅓

cup

butter, softened

(or all shortening)

⅓

cup

shortening

(or all butter)

1⅓

cup

granulated sugar

2

teaspoons

vanilla

3

large

eggs

⅔

cup

milk

½

cup

pecans

(chopped)
glaze
½

cup

granulated sugar

6

tablespoons

butter

3

tablespoons

water

1

teaspoon

vanilla

¾

teaspoon

ground cinnamon
Instructions
Preheat oven to 350℉, liberally grease a 10 inch Bundt pan and sprinkle with flour. Set aside.

In a mixing bowl whisk together flour, baking powder, 2 teaspoons cinnamon and salt. Set aside.

In a large mixing bowl, beat shortening, butter, 1⅓ cup sugar and vanilla until light and fluffy. Add eggs one at a time, beating for one minute with each egg.

Add about ⅓ flour mixture in to the butter mixture, then about ⅓ of the milk. Repeat two more times. Quickly fold in pecans.

Pour mixture into the prepared pan. Bake for 40-45 minutes until a tooth pick inserted in the center comes out with moist crumbs attached (if there is batter on the toothpick, keep cooking, but remove it from the oven before the toothpick is completely clean).

Let cake rest in the pan on a cooling rack for 10 minutes. Flip cake onto a serving plate. Poke cake with a fork along the top and sides.

While the cake is resting, combine the glaze ingredients in a saucepan and heat over medium heat until butter and sugar are melted and the glaze is warm.

Pour glaze over the cake letting it drip down the sides.
Sound fabulous? Share it!
Until next time, happy eating!
~Audrey