Jump to Recipe
Print Recipe
Dr. Pepper Chocolate Bundt Cake is a rich moist dark chocolate cake with a subtle extra flavor you didn't know your chocolate cake was missing.
Dr. Pepper Chocolate Bundt Cake is a rich moist chocolatey cake with a little something extra thanks to the addition of soda in the cake and the glaze.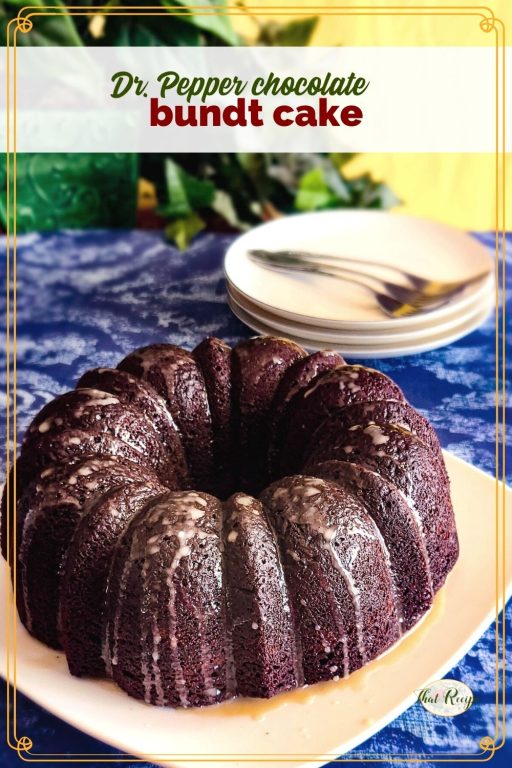 Dr. Pepper is NOT A SPONSOR of this post. I just had a 2 liter bottle leftover and wanted to use it up before it went flat.
I have tried a few times recently to make a chocolate Bundt cake for my husband, but the recipe I used was a dry flavorless mess. Not even making them into cake balls helped. UGH!
This recipe was everything I hope it would be, dark, rich, moist, chocolatey, and more. He devoured it and didn't even know I snuck in a few secret ingredients.
Special Ingredients for Dr. Pepper Chocolate Cake
Let's start with the obvious: Dr. Pepper. The cake doesn't taste like Dr. Pepper. It tastes like chocolate with a subtle hint of extra flavors.
You can use cherry or vanilla or whatever flavor variation they have out at the moment. It should be regular since aspartame has a tendency to bake out when cooked.
No, it doesn't have to be name brand. You can use Mr. Pibb, Dr. Thunder or any other Dr. Pepper clone. Or, if you don't like Dr. Pepper, try root beer.
The other special ingredient is buttermilk. If you aren't from the South this might sound weird. But, it adds a subtle tang and more importantly activates with the baking soda making the cake rise better.
In my area at the moment, buttermilk can be hard to find in the dairy case. That whole annoying "post Covid we are only making the really popular stuff" thing. So, I added powdered buttermilk to the dry ingredients, then used half milk and half Dr. Pepper for the liquid.
More Brunch Week Recipes from #OurFamilyTable
Join us this week as we celebrate #BrunchWeek hosted by Christie at A Kitchen Hoor's Adventures. We'll have loads of recipes including beverages, egg dishes, salads, breads and desserts.
Friday #BrunchWeek Recipes
Beverages
Appetizers and Salads
Breads, Grains, and Cereals
Egg Dishes
Main Dishes
Desserts
Dr. Pepper Chocolate Bundt Cake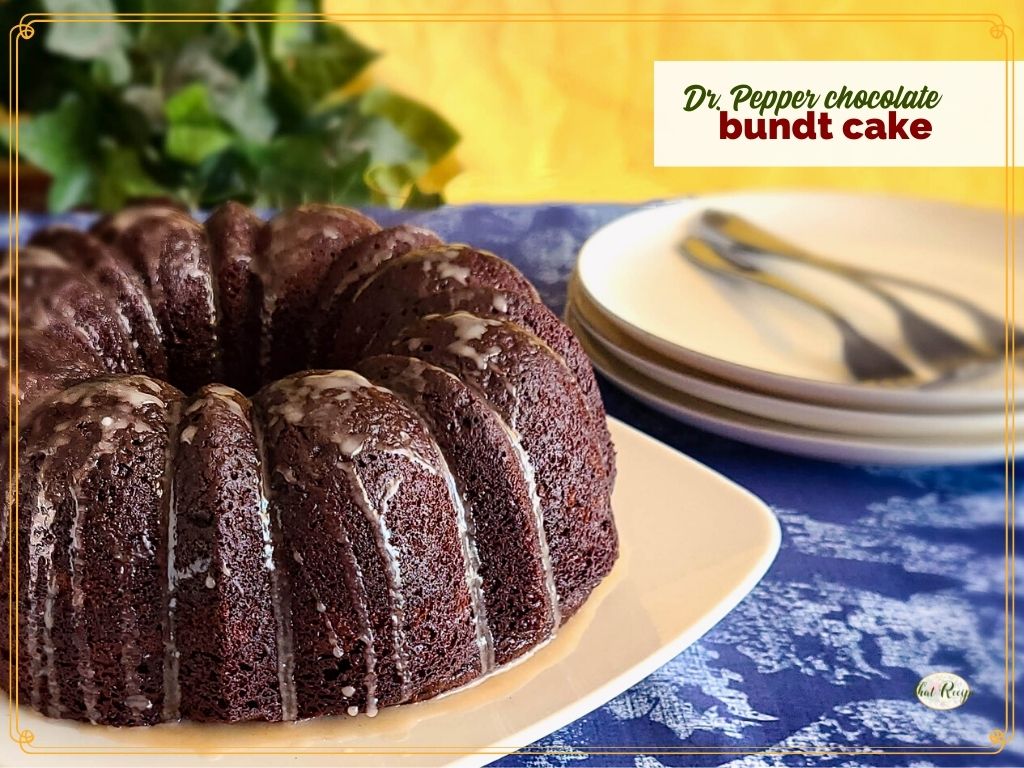 Ingredients
Cake
2

cups

all-purpose flour

1

cup

sugar

1

cup

dark brown sugar

1

cup

unsweetened cocoa powder

1 ½

teaspoons

baking soda

1

cup

regular Dr. Pepper soda

1 ½

cup

chocolate chips

(divided use)

2

large eggs

1

cup

buttermilk

(see note)

¾

cup

vegetable oil

1 ½

teaspoons

pure vanilla extract
Glaze
1

cup

powdered sugar

1

tablespoon

Dr, Pepper soda
Instructions
Make the Cake
Heat the oven to 325° F. Brush the inside of a Bundt pan thoroughly with oil or melted shortening and sprinkle with cocoa powder

In a medium bowl whisk together flour, sugar, brown sugar, cocoa, and baking soda and set aside.

In a medium saucepan heat Dr. Pepper and ½ cup chocolate chips over low heat. Stir until chips are melted. Remove from heat, and set aside.

In a large mixing bowl combine eggs, buttermilk, oil, and vanilla in a mixer bowl on medium speed until combined, about 2 minutes.

Add about half of the Dr. Pepper chocolate mixture and beat for one minute.

Add half of the dry ingredients and mix on medium speed until combined. Repeat with half of the Dr. Pepper mixture then the dry ingredients scraping down the sides of the bowl as needed.

Fold in the remaining 1 cup chocolate chips.

Pour batter into the prepared Bundt pan.

Bake at 325° for 45-50 minutes or until the cake starts to pull away from the center of the pan and a toothpick inserted into the center comes out clean.

Cool the cake in the pan for 10 minutes then lift and shake the pan from side to side to loosen it from the sides. If needed, gently run a knife around the edges to loosen cake.

Place cooling rack on top of pan and invert the cake on top. Remove pan and let cake cool completely.
Glaze
Combine powdered sugar and Dr. Pepper soda to make a glaze. Add more sugar if it is too thin, more soda if it is too thick.

Move cake to a serving plate and drizzle the glaze on top.
Notes
Substitutes for Buttermilk:
combine ½ cup milk and ½ cup plain Greek yogurt
add 4 tablespoons powdered buttermilk to the dry ingredients and use ½ cup milk and ½ cup Dr. Pepper into the liquid ingredients.
Sound fabulous? Share it!
Until next time, happy eating!
~Audrey