Jump to Recipe
Print Recipe
Chocolate Caramel Pinwheel Cake is a fun twist on a traditional cake roll. Fun and easy to make. Fill with whipped cream and your choice of caramel, coconut, peppermint and more.
Chocolate Pinwheel Cake is a cake roll flipped on its side. A delicious and versatile dessert that makes a dramatic presentation, no one needs to know how easy it is to make.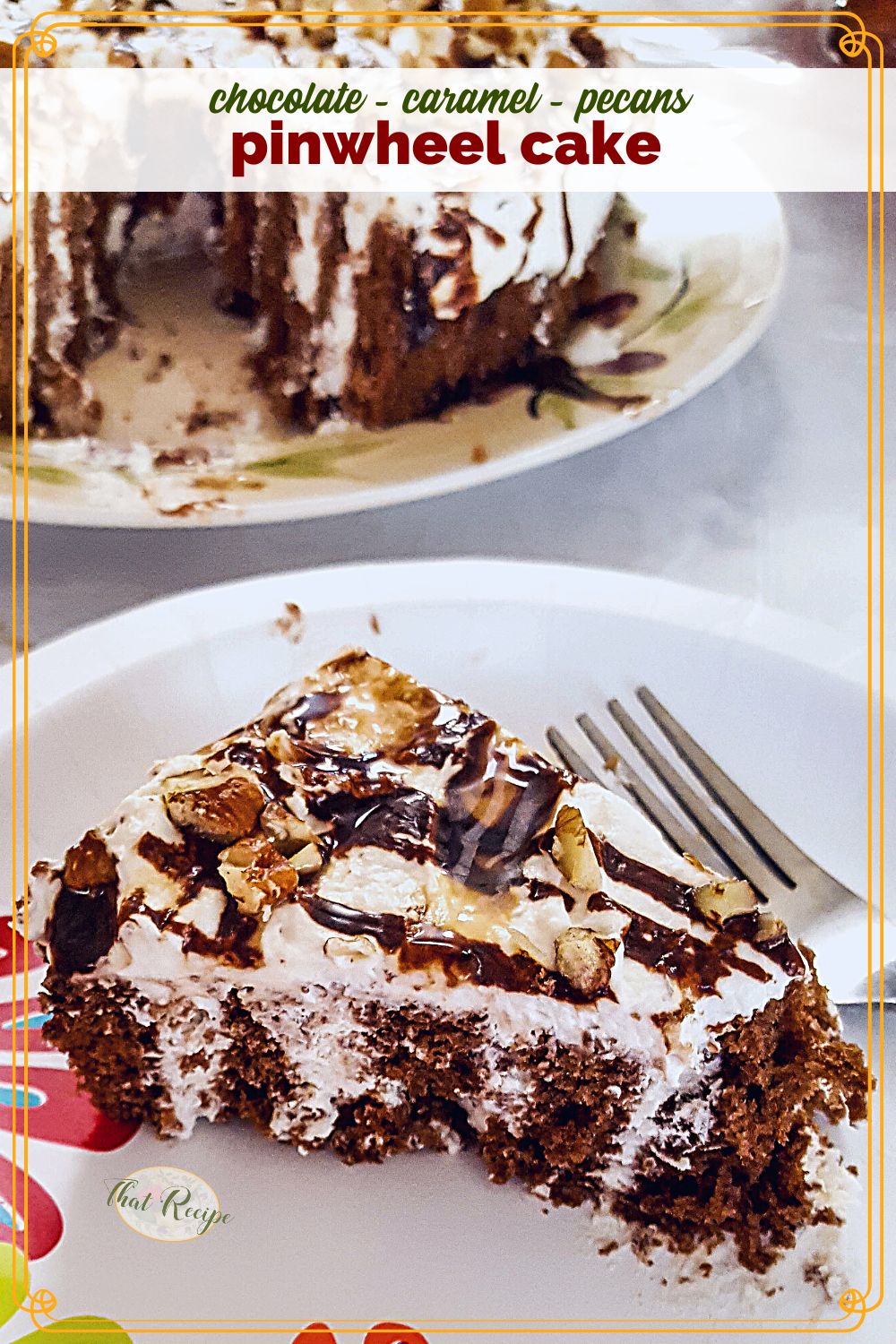 Cake Rolls are so much fun, and they are easy to make too.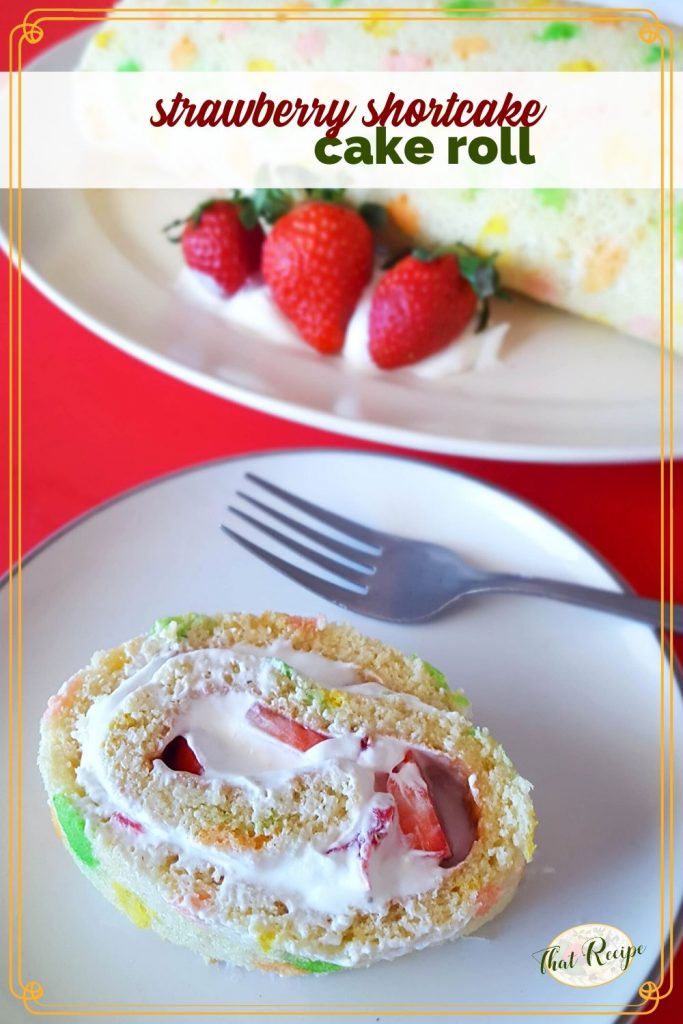 A pinwheel cake is just as easy, flipping the cake roll on it's side. Instead of rolling it up like a log and then slicing, you slice it first and then roll it into a giant spiral.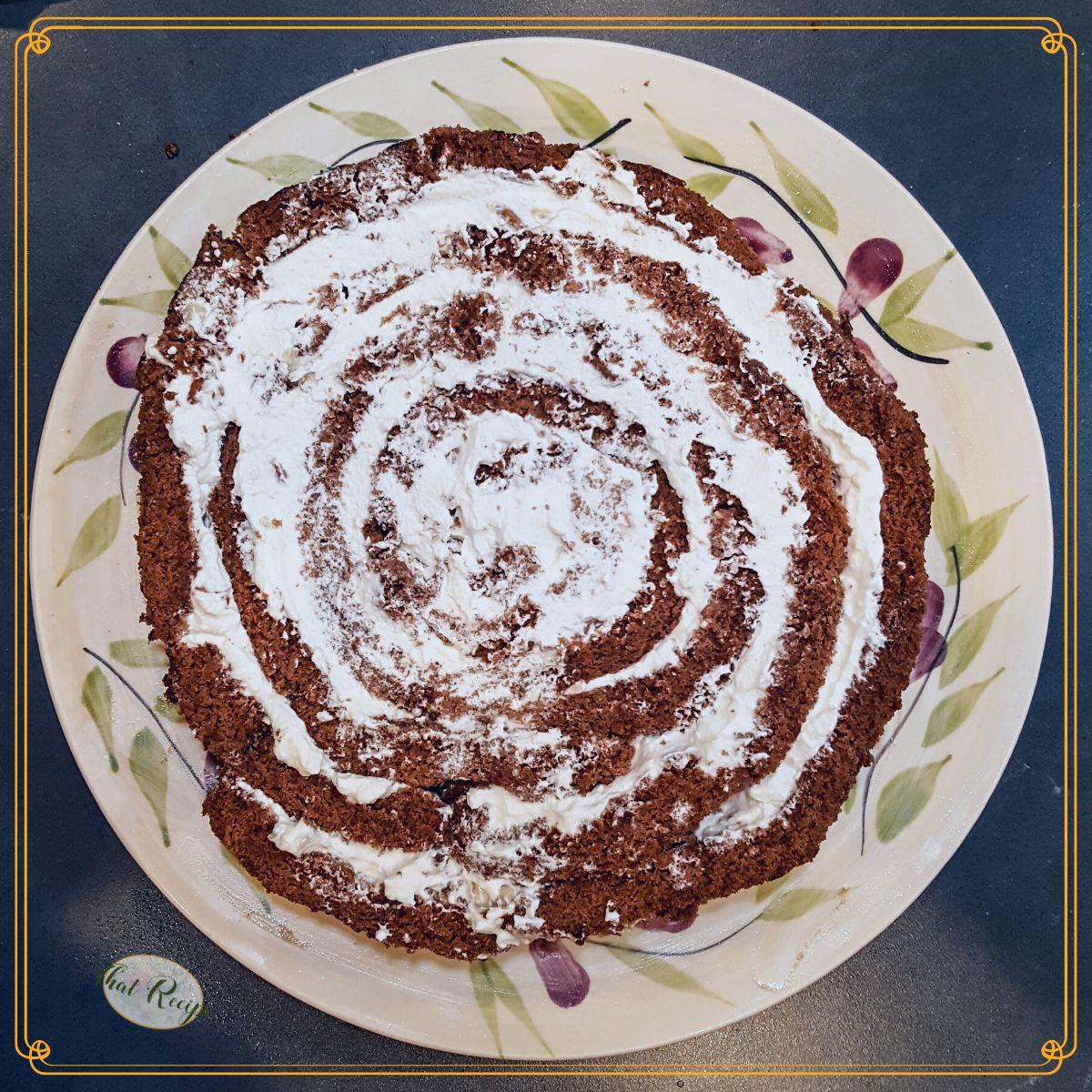 It looks a little messy until you top add the topping, which can be as simple as whipped cream or one of the variations below
Variations for Chocolate Pinwheel Cake
I kept it simple and used store bought whipped cream with chocolate and caramel sauces plus some buttery pecans.
If caramel and pecans aren't your thing, try some variations:
peppermint - crush candy canes or peppermint disks and add to the whipped cream
coconut - whip a can of coconut cream and add shredded coconut to the filling and topping
almond joy - add almonds to the coconut version above
adult version drizzle your favorite liqueur over the cake and/or spike the whipped cream (creme de cacao or kahlua would be amazing)
Chocolate Pinwheel Cake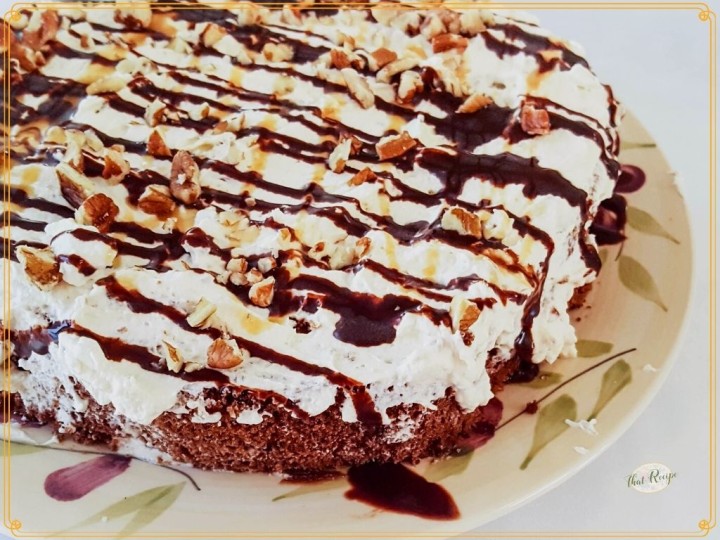 Ingredients
4

large

eggs

1

cup

sugar

⅓

cup

water

1

teaspoon

vanilla extract

¾

cup

all purpose flour

¼

cup

cocoa powder

1

teaspoon

baking powder

¼

teaspoon

salt

powdered sugar for rolling the cake

2

cups

heavy whipping cream

1

cup

chopped pecans

¼

cup

caramel syrup

(plus more for topping)

chocolate syrup

(for topping)
Instructions
Line a jelly roll pan with parchment paper.

In a mixing bowl, beat eggs on high until very thick and lemon colored, about 5 minutes. Gradually beat in sugar.

Turn mixer down to low and beat in water and vanilla extract.

Gradually beat in flour, cocoa, baking powder and salt just until smooth.

Pour into jelly roll pan, spreading into corners completely.

Bake at 375°F until toothpick inserted in the center comes out clean, about 12-15 minutes.

Immediately loosen edges of cake. Sprinkle a towel generously dusted with powdered sugar. Place towel, sugar side down over the cake and invert the cake. Remove the pan.

Roll up the cake and towel from the narrow end. Cool on a wire rack at least 30 minutes.

Beat the whipping cream in a chilled mixing bowl until stiff peaks form. Fold in ¼ cup caramel syrup and ¾ cup of the pecans. Reserve 1-2 cups of mixture for topping.

Unroll the cake and spread the whipped cream evenly on top. Slice cake lengthwise evenly into 6 strips.

On a 10 inch serving plate, tightly roll one strip into a circle. Coil remaining strips around the center.

Top with reserved whipped cream. Drizzle with chocolate and caramel syrups and sprinkle with reserved pecans. Refrigerate until ready to serve.
Notes
If caramel and pecans aren't your thing, try some variations:
peppermint - crush candy canes or peppermint disks and add to the whipped cream
coconut - whip a can of coconut cream and add shredded coconut to the filling and topping
almond joy - add almonds to the coconut version above
adult version drizzle your favorite liqueur over the cake and/or spike the whipped cream (creme de cacao or kahlua would be amazing)