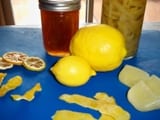 When life hands you lemons, make lemonade.... or
lemon marmalade
limoncello
dried lemon zest
dried lemon slices
frozen lemon juice
frozen lemon zest
It is citrus season here in the southwestern U.S.  Unfortunately I only have about 20 Satsuma tangerines this year, nothing on the two types of oranges, lemons, limes or tangelos this year.  But, Ma'am's Lisbon lemon tree was just getting ripe when we were there so I came back with two full grocery bags. A dozen went to my mother-in-law and I made all of the above with the rest.
The lemon marmalade is incredible, but was a pain in the neck to prepare and I only got 4- ½ pint jars plus a little extra.  Not knowing what a "large" lemon was, I used 15 lemons to get 1 cup of zest and 3 ½ to 4 cups of slices. It took several hours to remove the zest and pith with a vegetable peeler.  If I can find a better/faster way to do this part I would definately make it over and over.
This is my second batch of limoncello in the last few months - I already gave the rest away.  It is pretty easy to do, but you do want it to sit the full 40 days or the vodka is still the predominant flavor.
I haven't done much dehydrating and I have never tried to rehydrate and use something in a recipe.  I may just use the slices for potpourri.  If I try anything else I will let you know how it comes out.
As far as the frozen juice, I did it the way my Dad taught me - in ice cube trays then pop the cubes into a double zippered freezer bag.  Some ideas I have for the frozen juice and few fresh lemons I have left:
lemon rosemary buttons (already made and gave away a batch for Christmas, may try lavender instead of rosemary next time)
lemon peel chicken from Martin Yan's Feast: The Best of Yan Can Cook
lemon curd, but not sure what to do with it if I make it
lemon bars (thanks for the recipe, Pastry Chef Carol!)
lemon meringue pie for my FIL's birthday
lemon blueberry ____, (fill in the blank with muffins, coffee cake or scones) - I like the combo of flavors!
Dr. Pepper with lemon - Ma'am used to heat it up and give it to me when I was sick. Sounds strange but it makes a nice syrup that coats the throat. I also like to drink it cold anytime of year in any health.  Hey - don't knock it 'til you try it.
pomander balls for our linen closet and undie drawers
Mix 2:1 olive oil to lemon juice to make furniture polish (1 cup oil, ½ c juice, put in spray bottle, spray on cloth, dust).
One final suggestion I have if you have too much of any kind of produce is to contact a local food bank to see if they could use them. Citrus fruits are especially needed to help prevent rickets. You can try www.ampleharvests.org or do an Internet Search in your area.
Until next time, happy eating.
~Audrey