Jump to Recipe
Print Recipe
When you want roast beef but don't want to heat the oven, break out your slow cooker. #slowcooker #roastbeef
I snagged a lovely roast on sale at the store and was craving a tender "Sunday" roast beef. You know the kind that cooks in a 225-250 degree oven for HOURS to tender juicy perfection. Unfortunately, it was 100 plus degrees outside. And I did not want to turn on the oven.
Hey wait! How hot does a slow cooker get? 190 degrees on low, 250 degrees on high. BINGO!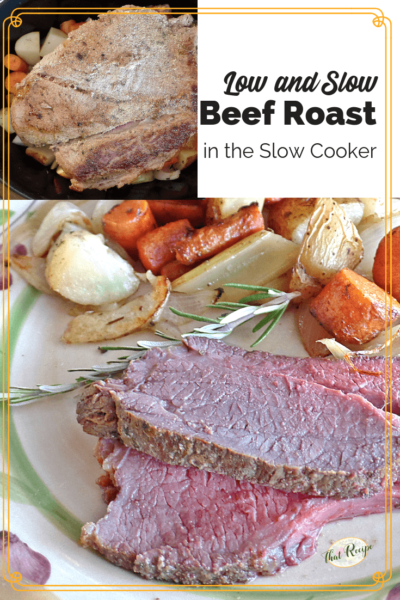 Easy and delicious! I even pulled out the meat slicer to get paper thin slices for "au jus" sandwiches a second night.
Time for some warnings. In my 6 quart slow cooker with a 2.5 pound roast and about 2 pounds of vegetables it took a little over 2 hours on high. BUT, all slow cookers are different. I really recommend reading that little booklet that came with yours that you probably threw away. If that's the case check the manufacturer's website, they probably have it.
Luckily mine came with a temperature probe, which I truthfully never thought I'd use when I bought it. I am now a convert! I stuck it into my roast and let the slow cooker do the calculating for me. I just made sure to time it so I'd have an extra 30 minutes in case it took longer than my guesstimate.
If you are interested, this is the slow cooker I have and love (affiliate link, I may receive commission for any purchases through the link at no cost to you).
[click_to_tweet tweet="Old Fashioned Sunday supper: Low and Slow Roast Beef in the Slow Cooker. #roastbeef #sundaysupper" quote="Old Fashioned Sunday supper: Low and Slow Roast Beef in the Slow Cooker. #roastbeef #sundaysupper" theme="style2"]
Roast Beef in a Slow Cooker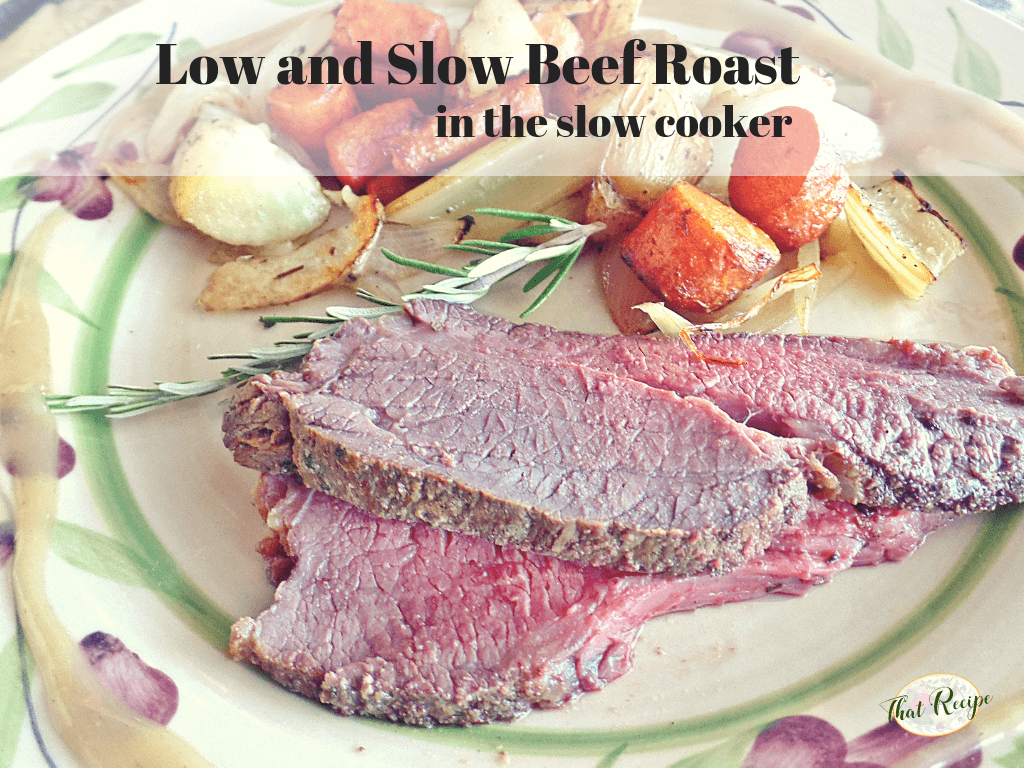 Ingredients
2-3

pound

beef roast

1

teaspoon

salt

1

tablespoon

garlic powder

.5 - 1 teaspoon ground black pepper

1

pound

carrots

(cut in 1 inch chunks)

1

pound

potatoes

(cut in 1 inch chunks)

1-2

cup

onions

1-2

cup

celery

1

tablespoon

vegetable or olive oil

1

tablespoon

dried parsley flakes

1

tablespoon

cornstarch per cup of liquid

(for gravy)
Instructions
Cut off an inch or two piece of fat from the roast and chop into small pieces. Melt in a cast iron skillet over medium high heat. If the roast is very lean, use a tablespoon or two of vegetable/olive oil.

Rub the roast with garlic powder, salt and pepper. Sear the roast in the cast iron skillet once the fat has melted, until browned on all sides.

While roast is searing, chop vegetables. Carrots, potatoes and celery should be in about ½-1 inch chunks. The onion should be cut in half vertically, then cut in large wedges.

Toss the vegetables with the tablespoon of oil and parsley flakes.

Put the vegetables in the slow cooker. Then place the roast on top. If you have a temperature probe, insert it into the roast as directed by the slow cooker manufacturer.

For pan gravy, set aside the cast iron skillet. Do not clean it yet!

For medium rare cook roast until 140 degrees, approximately 2-2.5 hours on high, 4-5 hours on low. For medium cook until 145 degrees, or another 30 minutes to 1 hour.

Remove roast and allow to rest for 10 minutes before slicing. For crispier browned vegetables, place in a single layer on a baking sheet in a 450 degree oven for 10-15 minutes, turning once.

Measure the pan juices then pour into the cast iron skillet and loosen all browned bits.

In a small container combine 1 tablespoon of cornstarch for each cup of liquid with a small amount of water to dissolve. (If you have two cups of juices, use two tablespoons of cornstarch in about 2-3 tablespoons of water.)

Whisk the cornstarch slurry in the juices and bring to a boil, stirring frequently. Boil one minute.
Notes
The times listed below were for my slow cooker. Yours may vary depending on the manufacturer, the capacity of the slow cooker and the amount of food inside. Consult your manufacturer's instructions for more information.
________________________
Please make sure that you follow them in at least one way!  They will be commenting on and pinning many of your posts.
We would love to have you link up to three of your old or new food posts!  
Here are  

just a few requests for this linky:
PLEASE 

follow 

the hosts and co-hosts of this party through one of their social media listed below.

 They visit your post, leave a comment, and pin your post.  Just pick one (or more) of the options below and please follow them.
**Tammy at Creative K Kids (Blog)**
Pinterest/Facebook/Google+/Twitter/Instagram 
**Danielle at Creatively Homespun (Blog)**
Pinterest/Facebook/Twitter/Instagram/Bloglovin 
**Audrey at That Recipe (Blog)**
Pinterest/Facebook/Google+/Twitter/Instagram 
**Ashley at Forgetful Momma (Blog)**
Pinterest/Facebook/Twitter/Instagram/Google+
Please make sure you link up only food-related posts that have never been linked up here before or they will be deleted.  Non-food posts can always be linked up to the Bloggers Brags Pinterest Party! Posts containing alcohol also will not be pinned.
Try to visit a couple of blogs and leave a comment or share their posts.
Place this button or a link to this post somewhere on your site--either on the actual post or on your sidebar or on your party page.
By linking up, you agree to let any of the hosts or co-hosts  use your pictures and links if they decide to feature your post.   Your photo may also be used for promotion on any of their social media outlets.
If you include your e-mail in the linky form below you will be added to a weekly reminder e-mail when the link party goes live. Your e-mail will not to added to any other lists or given out.
Until next time, happy eating.
~Audrey