I recently stumbled on this recipe for Sparkling Strawberry Shrub from The Whole Serving. And I knew I had to try it. And not just because I had a half flat of strawberries in the fridge a friend gave me. It intrigued me.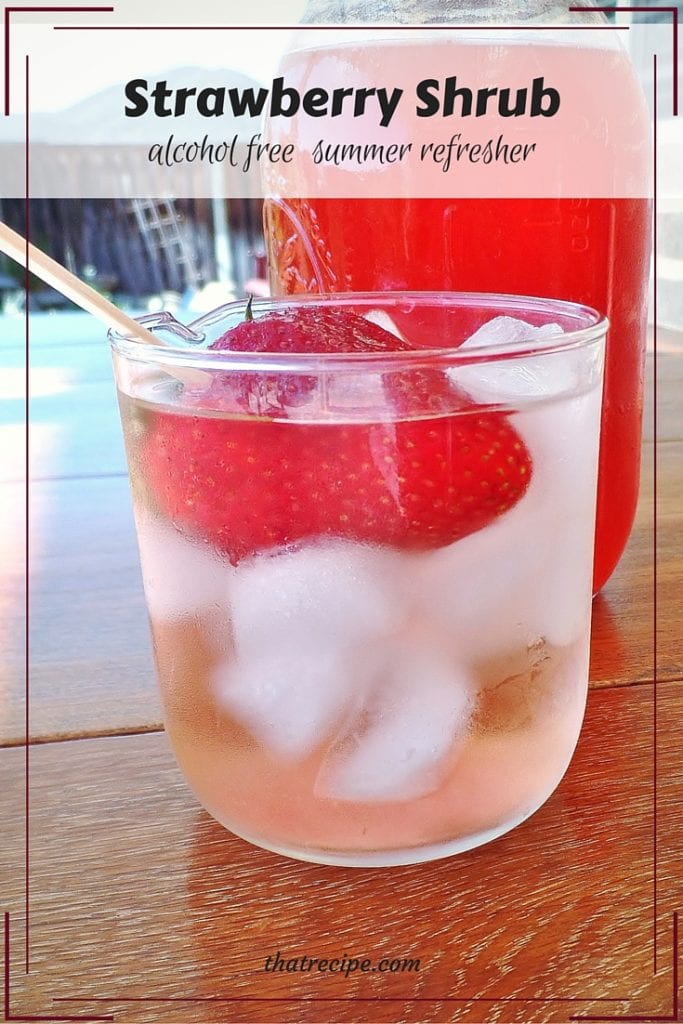 A "shrub", you ask? Say what now? For those of you who've never heard of a shrub before, like me, it is a fruity sweet tart syrup added to drinks. It was popular in colonial times as a way to preserve fruit without refrigeration. Kind of like Rumtopf, without the alcohol.
It is a kin to the simple syrup except a shrub is made with vinegar to give it a pleasant tartness. It can be added to cold water, sparkling water or iced tea for a great summer refresher, mixed with alcohol for a more adult beverage, or ... well when you get to the bottom of the post you'll see two interesting ideas I came up with for it.
How to make the Shrub
To make it you macerate fruit in an equal amount of sugar (example, for 2 cups fruit use 2 cups sugar).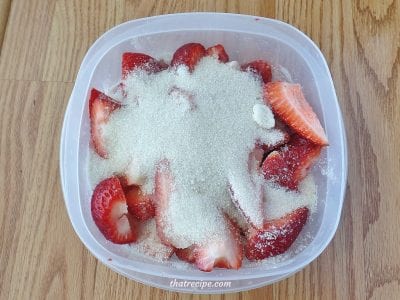 Let it sit for a day or more until it gets nice and syrupy then strain the fruit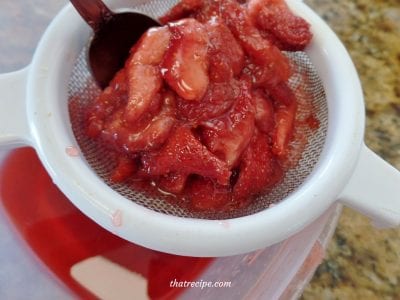 Finally, mix the strained syrup with apple cider vinegar and let it sit for at least a week.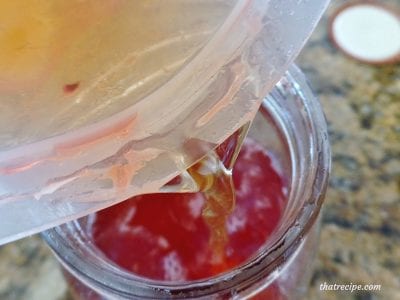 The key is to let it sit and mellow for at least a week. Initially it will be overly sugary and overly tart from the vinegar. You will think I am looney to recommend you drink straight apple cider vinegar laced with sugar if you try it too soon. But, once it sits the flavors blend beautifully. Tart and sweet with a nice strawberry flavor.
I made it just as Celeste recommends. The next time I try it though, I will experiment with different fruits and/or different vinegar and maybe even throw in some herbs too:
peaches and raspberries in champagne vinegar,
strawberries and lavender in white wine or apple cider vinegar,
blueberries and basil
watermelon and honey
What I made with Strawberry Shrub
To make this drink, all I did was add a tablespoon or two to some plain old tap water. Very nice on a 90 degree April day with next to no humidity.
I also mixed it with an equal part of oil as a salad dressing for my mostly homegrown salad (everything but the onions)
As always with the Made It Loved It series, I am sending you to the direct source for the recipe: The Whole Serving.
Have you ever made or had a shrub before? What fruit/vinegar combination would you use? What would make with the shrub? I'd love to hear your thoughts.