Jump to Recipe
Print Recipe
Panzanella is a delightful Italian bread salad made with summer's bounty: fresh tomatoes, cucumbers, and basil.
Do you want to take your summer salad game up a notch?
Panzanella is a traditional Italian salad that is a great way to make use of any leftover bread and vegetables from your garden. Not only is it incredibly flavorful and robust, but it is also incredibly simple to prepare.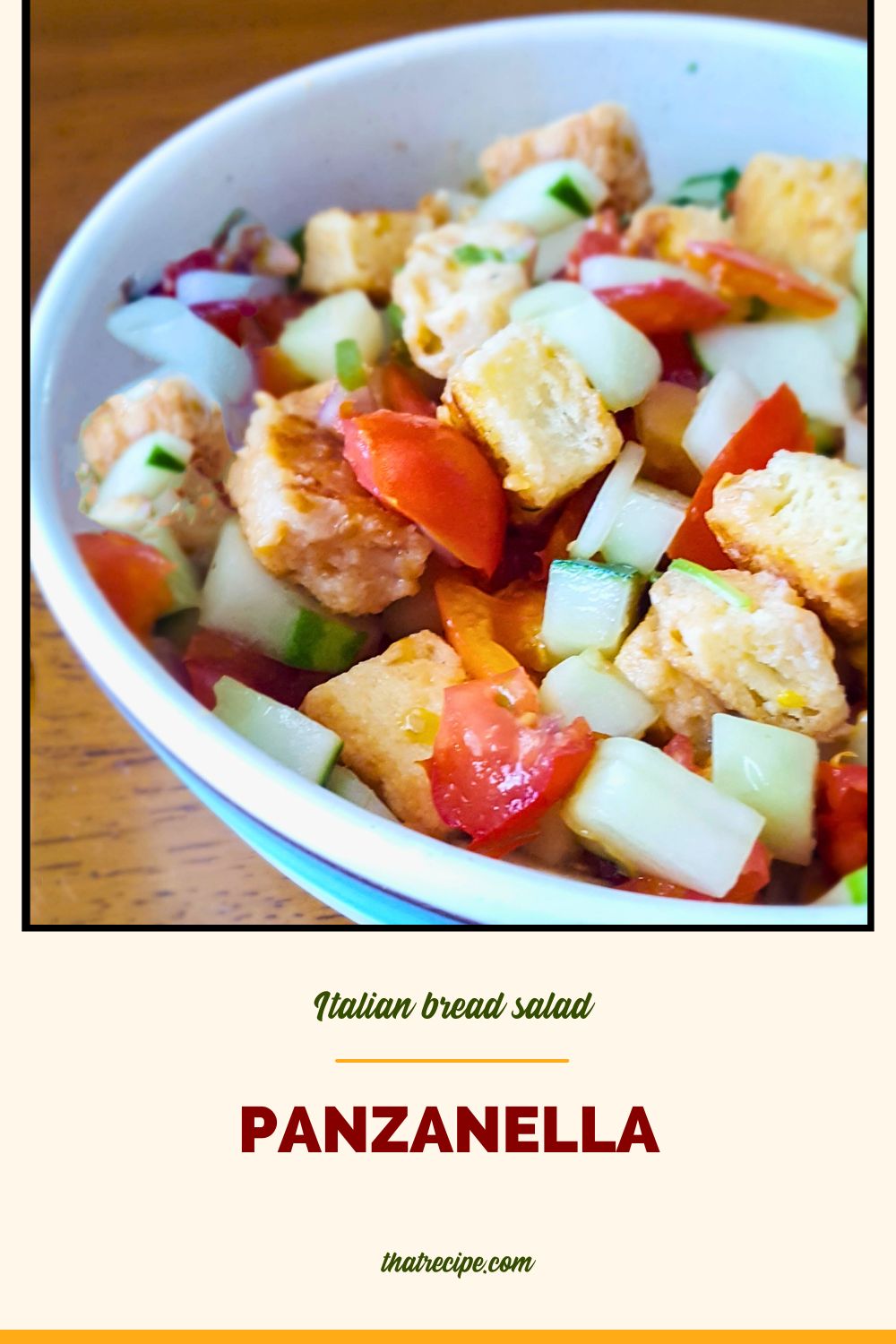 One of the keys to this recipe is not to overthink it too much. It is a simple salad with fresh ingredients, except the bread. Stale bread is fine for this.
I toast the bread in my toaster oven, so I don't heat up the house as much. You can also do it in a skillet on the stove if you prefer. If all you have is sliced bread, pop it in the toaster and then cut it up.
Just don't skip the toasting step. It helps the bread absorb the moisture of the dressing without becoming soggy. No one likes mushy bread blobs in their salad.
Ingredients for Panzanella
This is a "what you have on hand" salad. It is not a recipe that requires exact amount or ingredients.
Use any kind of fresh tomatoes, the juicier the better: cherry, grape, beefsteak, heirloom, etc.
When I made it last, I used a few different loaves of bread that were in danger of spoiling in the heat.
Want to make it gluten free or low carb? Use gluten free or keto bread.
Cucumbers are traditionally added in many places, but if you don't like them, don't use them. I didn't add any bell peppers, but Ina Garten does. Do you.
I made pesto the day before so I didn't have quite as much fresh basil as listed below, but added all that I had.
No shallots? Use a little garlic or green onion.
Instead of the olive oil and red wine vinegar, use your favorite salad oil and vinegar. Though, you might want to avoid balsamic vinegar unless you want a light purple salad.
Panzanella (Italian Bread Salad)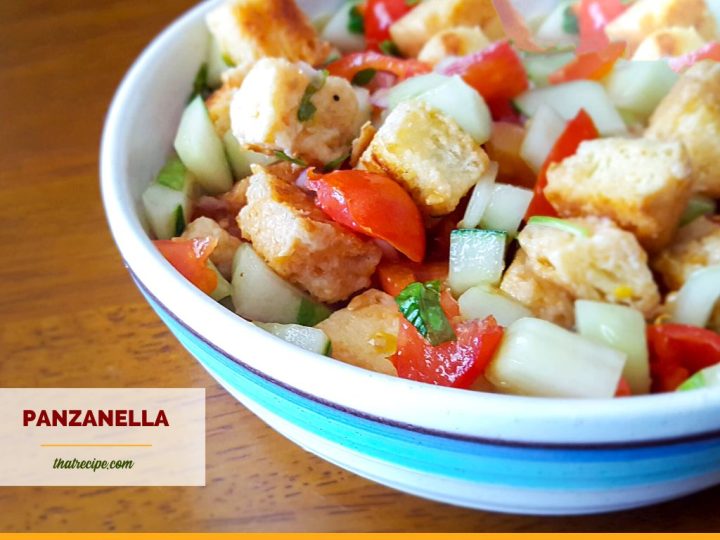 Ingredients
1

pound

loaf Italian or French Bread

(cut in 1 inch cubes)

½

cup

extra virgin olive oil

(divided use)

1 ½

pound

fresh tomatoes

(cut in 1 inch cubes)

½

teaspoon

salt

1

medium

cucumber

(peeled, seeded and cut into slices)

1

small

shallot

(chopped)

¼

cup

fresh basil

(chopped)

3

tablespoons

red wine vinegar

salt and pepper

(to taste)
Instructions
In a large bowl, add bread pieces and drizzle 2 tablespoons olive oil over them to coat. Place in a single layer on a baking sheet and toast in the oven until light brown, flipping once. About 15 minutes.

While bread is toasting add tomatoes and ½ teaspoon salt to the bowl and toss lightly. Let stand 15 minutes. (this is when I chop the remaining ingredients)

Remove bread from the oven and set aside to cool briefly.

Drain the tomato juices to a small bowl. Add cucumbers, shallot, basil and toasted bread to the tomatoes.

Add vinegar and 6 tablespoons oil to the tomato juices. Whisk to combine, then drizzle over the the salad. Add salt and pepper to taste.
Sound fabulous? Share it!
Until next time, happy eating.
~Audrey