Easy homemade Peach Cobbler recipe made with fresh or canned peaches. A quick, easy and comforting summer dessert.
"Easy as pie!"
After a little research I discovered this phrase does not refer to the making of pie as easy, but rather the eating of it. That makes more sense, because making a perfect pie can be a royal pain in the anatomy:
make the perfect pie dough that will be flaky and tender and hold it's shape.
shape the dough into a thin even perfect circle (or two) then gently move it to the pan without it cracking.
add perfect filling (ok, I admit with most pies this is usually pretty easy)
top with another perfect circle of pie crust and crimp edges, vent and decorate - or use another topping like meringue.
bake until the top is perfectly brown, careful not to overbrown any crust decorations on top.
Versus cobbler:
make filling, pour in pan
mix batter for crust, pour on top
bake until brown
It is summer time and beautiful fruit like peaches and berries are ripening. I, for one, do not want to spend the time and effort on making a pie. Cobbler is just as good if not homier and more comforting. And it is almost impossible to screw up.
How to Peel Peaches
Here's a quick video to show you how to blanch the peel off of the peaches if you are not familiar with the process.
If you have a load of fresh peaches, you might want to can up some of these Honey Spiced Peaches so you can make this later in the year as well.
Peach Cobbler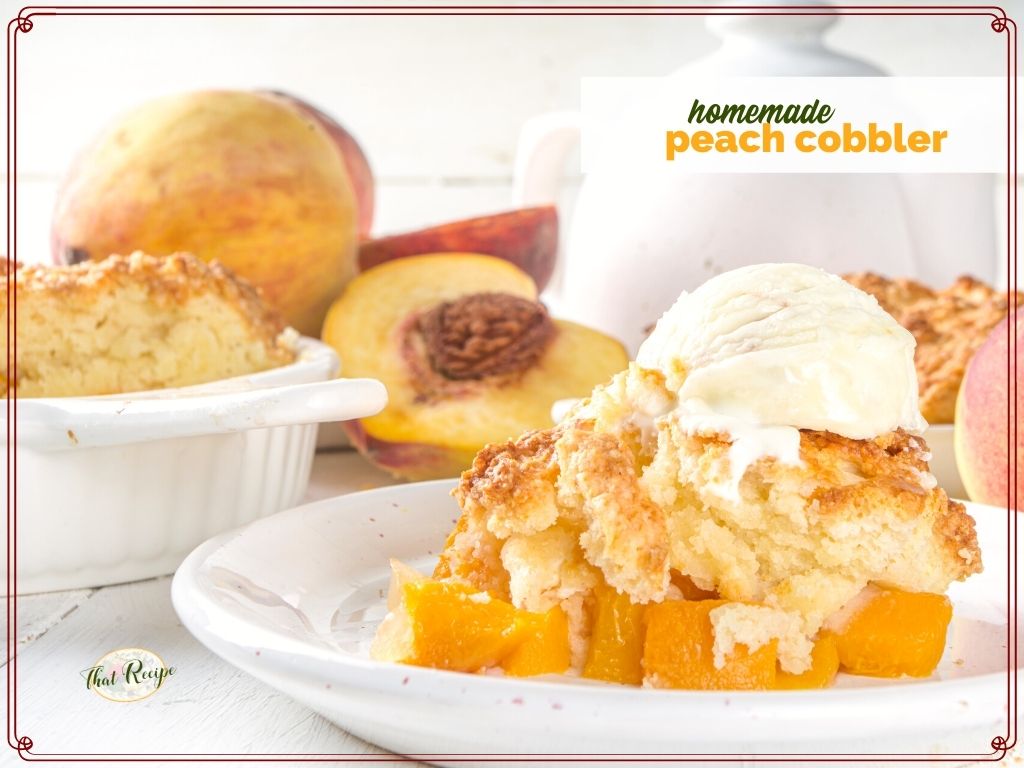 Ingredients
1

can

peaches in light syrup - 29 ounce size can

(or approximately 4 cups of fresh peaches prepared as below)

½

cup

butter or margarine

1

cup

all purpose flour

(or gluten free all-purpose flour)

1

cup

sugar

1

cup

milk

1

teaspoon

baking powder

½

teaspoon

cinnamon
Instructions
Prepare Fresh Peaches
Boil a quart or so of water in a large saucepan. Put cold water and ice cubes in a large bowl. Do not fill either the pan or the bowl above half way! Have a strainer ready in the sink. Score an x on the top of each peach. Gently place peaches into boiling water and boil for 2-3 minutes. Drain peaches in the strainer and then put them in the ice water. The skin should easily slide off.

Remove pit from the peaches and halve or quarter or slice as desired. Try to save any juice from the peeling/pitting process. Pour over the cut peaches plus enough water to almost cover them. Add ¼ to ½ cup of sugar depending on the sweetness of the peaches. You should have approximately 4 cups of fruit and juice.
Peach Cobbler Instructions
Heat fruit and butter or margarine in a sauce pan and pour into a 2 quart baking dish which has been oiled or sprayed with cooking spray.

Mix all other ingredients.

Pour evenly onto heated fruit.

Bake 30 to 35 minutes until top turns golden brown. Best served warm.
---
In my opinion this is best served warm with a big scoop of good vanilla ice cream.
Until next time, happy eating.
~Audrey