Jump to Recipe
Print Recipe
This creamy Peanut Soup is a decadent easily adaptable soup that is perfect for a starter or a meatless meal. With a few simple switches can be vegan.
Disclosure: I received a copy of Jubilee: Recipes from Two Centuries of African American Cooking: A Cookbook by Toni Tipton-Martin for purposes of writing this post. All thoughts and opinions are mine.
Rich decadent Peanut Soup is a delightfully simple soup that is great as a starter or a meatless meal.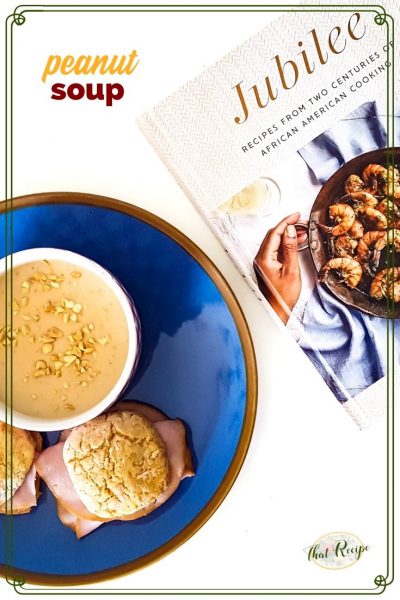 Jubilee by Toni Tipton-Martin
I believe there are two kinds of cookbook readers: read it cover to cover like a textbook or "just show me the recipes".
I am the former. And Jubilee: Recipes from Two Centuries of African American Cooking: A Cookbook is a book you want to at least read some of the introduction. I read the introduction plus all of the recipes and it was fascinating.
Most people would assume that any recipe labeled "African American" cooking will be Southern soul food, the food of the field slaves in the Southern US. But, that is only part of the story of African American cooking.
Thomas Jefferson is credited with bringing French haute cuisine to America, but who do you think prepared the dishes? His slave, James Hemmings. Hemmings went to France with Jefferson and trained in the art of French cooking.
And he was hardly the only one. Besides the plantation chefs, there were also free people that became chefs either working in restaurants and hotels or starting their own businesses. As the former slaves and their descendants spread out from South they expanded their repertoire to created amazing new dishes.  Tipton-Martin has collected hundreds of cookbooks written by African American cooks that expand upon the preconceived notion of African American cooking being solely "soul food".
If you are one of those people that want a cookbook just for the recipes, you probably aren't even reading this paragraph. But that's okay, because this cookbook is jammed with amazing recipes for all tastes. Interspersed throughout are recipes from some of the original cookbook authors as well.
A few recipes on my "I have to make" list:
benne wafers (sesame seed crackers)
honey soy glazed chicken wings
apple hot toddies
orange biscuits
braised celery
oven baked ribs with cola barbecue sauce
creole fried chicken
caramel cake with brown sugar buttercream frosting
peach buttermilk ice cream
southern pecan pie laced with whiskey
Peanut Soup
What I decided to make first was Peanut Soup with some Sweet Potato Biscuits and Ham on the side because I had the ingredients.
Peanut Soup may sound odd to some at first, but it is a staple in Africa and Southeast Asia. For those that have never tried it, this version tastes like ultra creamy peanut butter. It is a delicious meatless meal, and with a few swaps could easily be vegan (coconut oil, vegetable stock and coconut or almond milk).
Originally the chefs would have boiled peanuts then ground them. Tipton-Martin makes it easier by using peanut butter. Be sure to use unsweetened natural peanut butter. I used a slightly crunchy peanut butter because I wanted the extra little crunchy peanut bits. If you want the soup completely smooth you will need to puree it in a blender before serving to mix in the onions and garlic.
Peanut Soup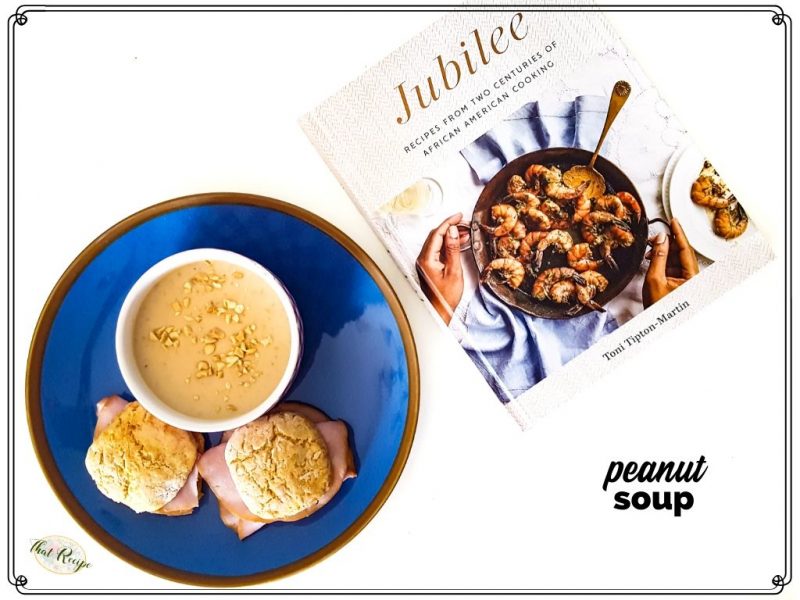 Ingredients
4

tablespoons

butter

((vegan: olive or coconut oil))

½

cup

onions

(finely minced)

1

clove

garlic

(finely minced)

1

tablespoon

flour

1

cup

natural peanut butter (unsweetened)

1

quart

chicken stock

((vegan: vegetable stock))

1

cup

heavy cream

((vegan: coconut or almond milk))

salt and pepper

(to taste)

hot pepper sauce

(optional)

chopped roasted peanuts

(optional)
Instructions
In a medium saucepan, melt butter over medium heat. Add onions and garlic and cook until translucent, 2-3 minutes.

Whisk in the flour to make a roux. Stir in peanut butter until soft. Add chicken stock and mix until smooth.

Cook on low for about 20 minutes, stirring occasionally, until thick.

Stir in cream and cook for a minute or two more until heated. Add salt, pepper and hot sauce to taste.

Serve with chopped peanuts and additional hot sauce if desired.