These Maple Pecan Tassies are a delicious twist on traditional pecan pie or tassies (pecan pie cookies).
It's the first Thursday of the month which means it is time for our monthly Fill the Cookie Jar post, where a group of bloggers get together and post a cookie recipe based on a monthly theme.
And the theme for November is Thanksgiving. I bet you didn't see that one coming.
And what do we have for dessert in most American households on Thanksgiving?
Cheese! ... Oops, that's probably just the Lalanne clan. I meant PIE!
So, I came up with these mini pie cookies: Pecan Maple Cream Tassies.
Pecan Tassies usually have a cream cheese cookie base, but I used real pie crust for these. The Hot Water Pie Crust I posted about on Tuesday. Yes, I said HOT WATER!
For the filling I modified another recipe from Cooking from Quilt Country: Hearty Recipes from Amish and Mennonite Kitchens by Marcia Adams. This is another thrift store treasure Ma'am found. It is from the old PBS cooking series Amish Cooking from Quilt Country about the Amish in Indiana. While some of their cooking is similar to the Pennsylvania Dutch, there are also heavy influences from the American Midwest and the Alsace region (border of France and Germany). My list of recipes to make from this book is at about 20, and I have already made three!
The recipes are fabulous and so are the photographs. Normally I like my cookbooks with pictures of the final product in it, but there isn't a one in this book. It is filled with photos in and around Amish country including some of their food preparation tools as well as some of their legendary quilts.
Enough about the book, you want to hear more about the cookies.
The filling is just three ingredients: maple syrup, evaporated milk and pecans. And to save myself a step, I toasted the pecans in the crust to act as pie weights.
If you want to make this into an 8" pie instead of mini pies: double the filling (which means 1 and ⅓ cans of evaporated milk, blame the manufacturer's for shrinking the can sizes), toast the pecans separately and add to the top of the pie with some whipped cream before serving.
Pecan Maple Cream Tassies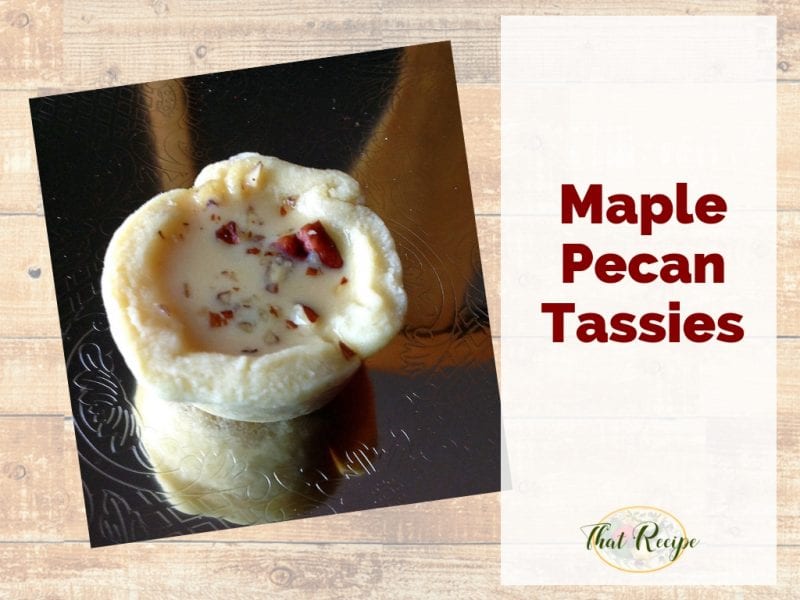 Ingredients
1

pie crust for an 8 inch pie

(UNBAKED)

1

cup

evaporated milk

(about ⅔ of a 12 ounce can)

⅓

cup

maple syrup

½

cup

pecans

(chopped)
Instructions
Preheat oven to 425 degrees.

Roll out the pie crust and cut with a 3" biscuit cutter to make 24 circles. Put a circle in each cup of a mini muffin tin. Press to fit against the sides. Prick a few times with a fork.

Sprinkle some pecans into each crust. Bake until pie crust is golden, about 8-10 minutes.

While crust is baking and pecans are toasting, combine milk and maple syrup in a medium saucepan. Stir constantly until the mixture begins to boil. Cook uncovered for 4 minutes. Remove from heat and allow to cool completely.

Remove pie crusts from the oven and allow to cool. Add filling to each cup. Chill in refrigerator until set, about 30 minutes.
Notes
To make into a full 8" pie, you will need to double the filling part of the recipe. 
Until next time, happy eating.
~Audrey