The tendril nearest my big watermelon was dry, so that means my watermelon was ready to pick. And there is another one that will be ready shortly. Before we all get sick of fresh watermelon I thought I should pop over to that colossal time sucker, Pinterest.
And there I found a Beet Sandia Cucumber Salad in a Pura Miel Lime Dressing with a Blue Cheese Pistachio Mint dress up. Yes, the name is quite a mouthful. But so is the salad.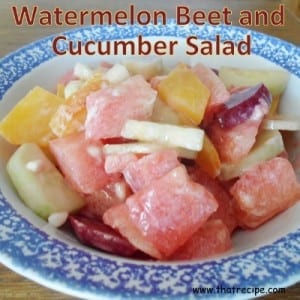 Mine is not nearly as beautiful as Nicole's over at Presley's Pantry, but I bet it was just as delicious. I went for the cut it up into bite sized pieces method instead of artistic slices like she did.
I used feta crumbles instead of bleu cheese and when I tossed the salad with the dressing the feta sort of melted. Next time I will sprinke it on AFTER the dressing. I also forgot the pistashios and mint, but it was still wonderful. If you want the recipe, click on over to her site. No sense in me retyping the whole thing. Plus, I found some other great recipes over there, and you probably will too.
For now, I am heading outside to pick some rosemary to make some Rosemary Watermelon Flavored Water (another Pinterest find)
[Tweet "This colorful and flavorful Watermelon Beet and Cucumber Salad is great during the heat of summer #watermelon #healthyeating"]
Until next time, happy eating.
~Audrey
Save