Watermelon Gazpacho is a quick blender soup with a refreshing sweet and spicy taste that is wonderful in the dog days of summer.
The Crazy Ingredient Challenge is similar to Chopped, without anyone getting voted off. A group of bloggers votes on two separate ingredient lists, then we have to pair those ingredients and post a recipe with them. Scroll below the recipe to see what everyone else made. I got a couple of sneak previews and it promises to be a delicious month.
Our ingredient's had me stumped at first: Watermelon and Goat Cheese. Then I had a vision in the middle of the night. I love it when that happens, don't you? Watermelon Gazpacho served with goat cheese crumbles. PERFECT, especially in this summer heat.
Gazpacho is a Spanish cold soup, traditionally made with tomatoes as the base. But, I have gotten adventurous in the past and made a few other equally delicious gazpacho recipes:
To make this one, I started with little brother's Beet Gazpacho recipe then served it with goat cheese on top for the CIC. The creamy saltiness was a great compliment to the spicy sweet soup.
But, I thought the vegans will balk at the cheese, but a little bit of protein is nice.  Not that I try to please every diet with every recipe, but ... Then I remembered the White Gazpacho adds almonds, so I added that to the recipe as an option.
The recipe can easily be doubled or tripled, but you may need to make it in batches. My blender only held half of a "personal size" watermelon.
[click_to_tweet tweet="This Watermelon Gazpacho is so refreshing on hot summer nights. #blendersoup #coldsoup #summersoup" quote="This Watermelon Gazpacho is so refreshing on hot summer nights. #blendersoup #coldsoup #summersoup" theme="style2"]
Watermelon Gazpacho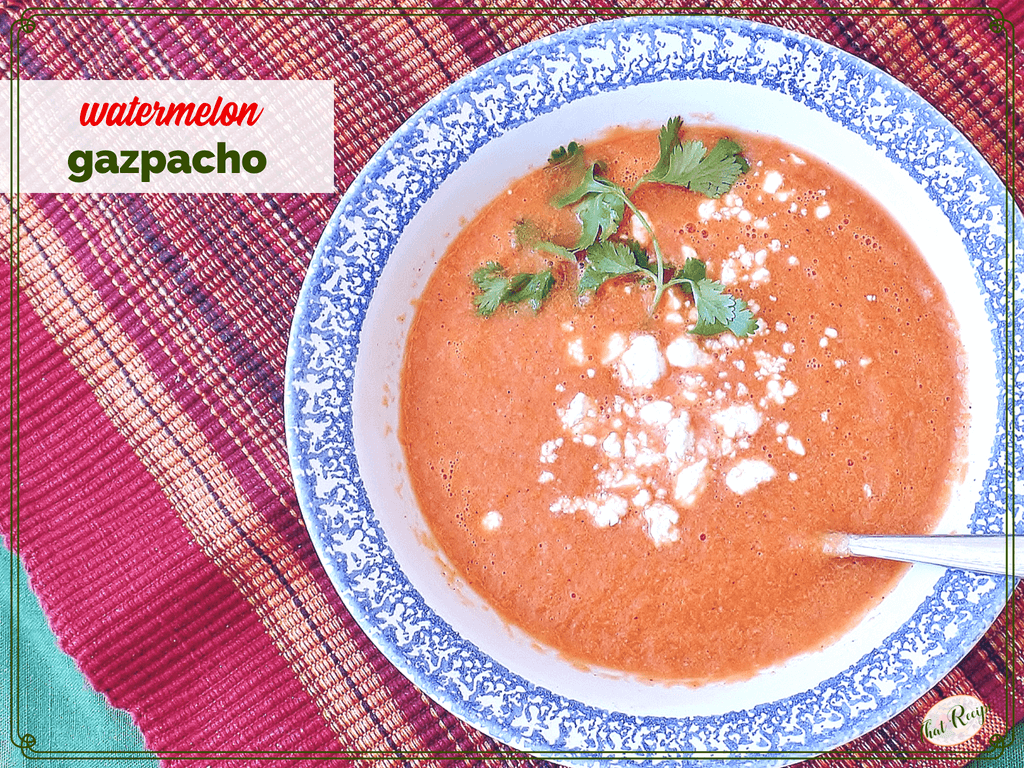 Ingredients
6

cups

watermelon

(cubed)

½

large

cucumber

(peeled and seeded)

½

large

red pepper

(seeded)

¼

large

yellow onion

1

large

clove garlic

1

teaspoon

smoked paprika

1

teaspoon

chili powder

¼

teaspoon

cayenne pepper

½

cup

french bread

(torn into pieces (gluten free if desired))

1

tablespoon

rice vinegar

(or sherry vinegar or white wine vingar)

¼

cup

olive oil

½

cup

almonds

(optional)
Instructions
Put the watermelon, cucumber, pepper, onions and garlic into a blender or food processor and puree until completely smooth.

Add spices and bread (and almonds if using) puree until completely smooth.

Drizzle in vinegar and olive oil.

Serve immediately or chill in refrigerator until ready to serve.
Notes
If you do not have smoked paprika you can quickly smoke it yourself by putting it in a small skillet and heating until it begins to smoke. Watch carefully!!! It will only take a few minutes.
Until next time, happy eating.
~Audrey
Save
Save
Save