Jump to Recipe
Print Recipe
Learn the tricks to making Beef Fried Rice just like at your favorite Chinese restaurant. Easy and delicious.
This Beef Fried Recipe is a taste of your favorite Chinese restaurant in the comfort of your own home. And it is so simple to make.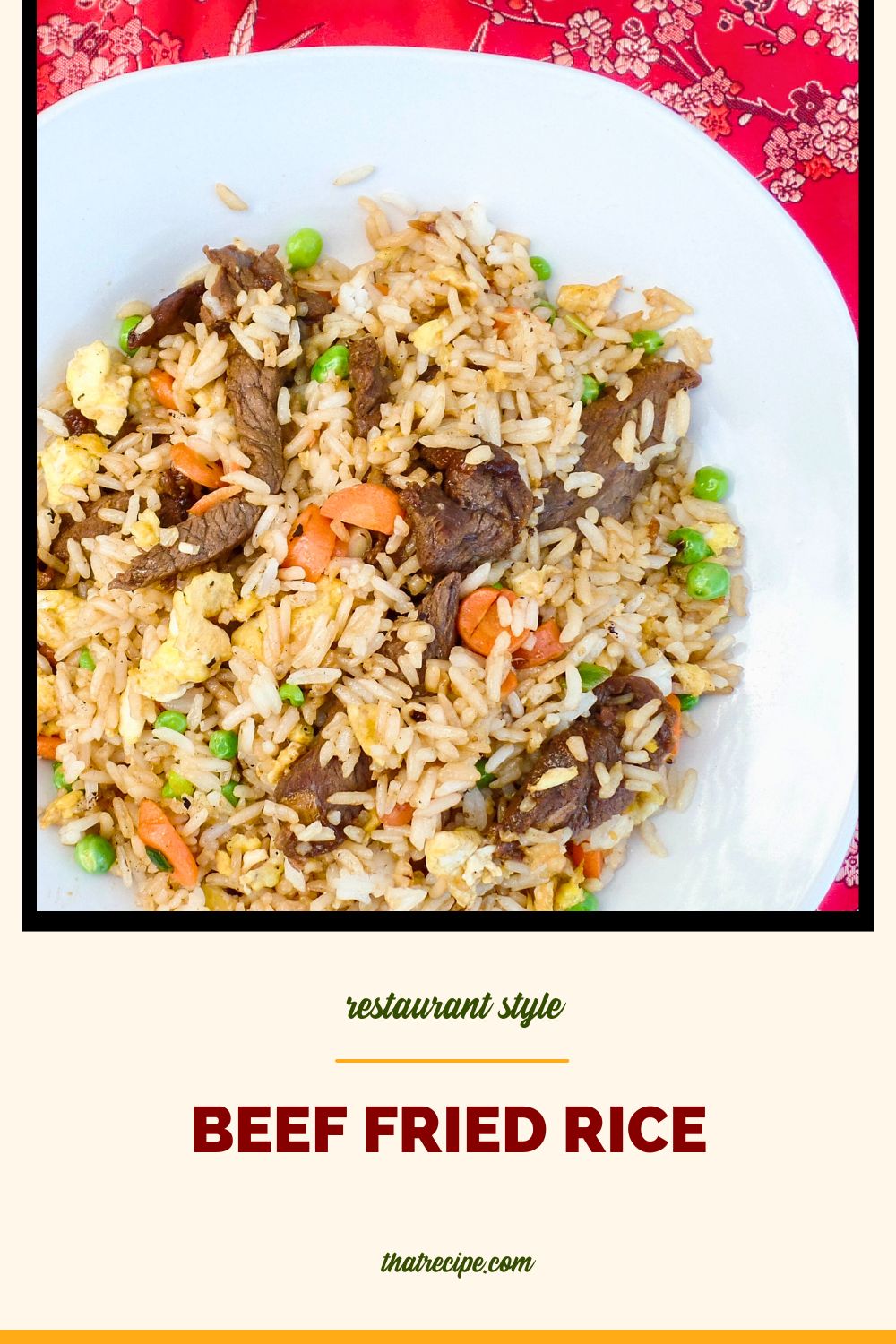 I know, the list of ingredients looks overwhelming at first. DO NOT BE INTIMIDATED!
All of the ingredients are easy to find in most grocery stores. The oyster sauce will be in the Asian food aisle with the other sauces. It adds an amazing umami flavor to marinades.
If you just want to use leftover chicken or beef or pork instead of cutting and marinating the flank steak GO FOR IT! We enjoy "leftover" fried rice at least a few times a month with whatever I happen to have leftover.
Tips for Making the Best Fried Rice
Fried rice is easy to make, but there are two keys to cooking restaurant quality fried rice:
use cold rice
cook in a searing hot wok or skillet
Leftover rice is better than freshly steamed rice for fried rice because of the sticky starch. Even if you rinse the starch off of the rice, fresh rice can still stick to the pan and absorb the oil and make a mess.
Cook once eat twice. Make a larger than normal batch of rice for one meal and save 5 cups to make Fried Rice another night.
In a pinch you can make fresh rice just for this dish. Before stir frying, spread it on a baking sheet then stick it in the freezer for 10-20 minutes before preparing.
I do not have a wok, but use my cast iron skillet on high. You want to sear the outside of the meat and rice instead of steaming it.
Work in batches if you need to. If you overcrowd the pan it will cool off and you won't get the right consistency and texture to the meat and rice.
Beef Fried Rice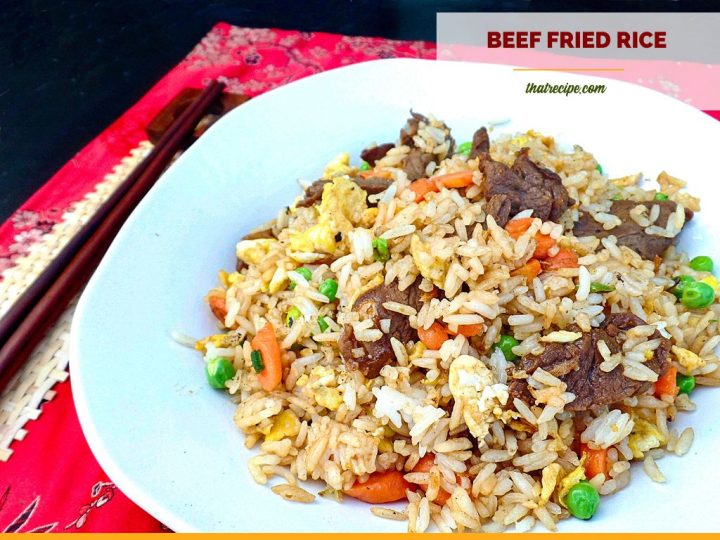 Ingredients
Beef
6

cloves

garlic

1

shallot

(sliced)

½

teaspoon

salt

1

teaspoon

ground black pepper

3

tablespoons

oyster sauce

2

tablespoons

low sodium soy sauce

1

tablespoon

honey or sugar

1

pound

flank steak

(thinly sliced in strips)
Fried Rice
4

tablespoons

canola oil

2

tablespoons

finely chopped garlic

2

tablespoons

finely chopped fresh ginger

1

medium

carrot

(thinly sliced on a diagonal or chopped)

2-3

thinly sliced green onions

(separating white and green parts)

5

cups

cold cooked rice

½

cup

frozen peas

3

large

eggs

(lightly beaten)

2

tablespoons

low sodium soy sauce
Instructions
Prepare the beef
Crush 6 cloves of garlic and shallot with a mortar and pestle (or with the back of a wooden spoon). Mash in salt and pepper. Put in a gallon size zip to lock bag. Add oyster sauce, soy sauce, honey and flank steak. Shake to combine and coat the beef. Marinate at least 1 hour.
Prepare the Fried Rice
Heat a wok or large skillet (preferably cast iron) on high heat. Cook the beef for about 5 minutes, stirring once or twice. Remove from the pan and set aside.

Add 2 tablespoons of canola oil to the pan and reheat. Add ginger and garlic and stir fry until soft, about 2 minutes. Add the carrots and white part of the green onions, cook for another 2 minutes. Add the remaining 2 tablespoons of oil, the rice and peas and cook until heated, 3-5 minutes.

If there is room in your pan, push the rice to one side and add eggs to the empty side and cook like scrambled eggs.

If your pan is too crowded, either remove the rice and scramble the eggs in the pan, or scramble the eggs in a small skillet.

Add the rice, eggs and beef to the pan with 2 tablespoons of soy sauce and cook for a few minutes until everything is hot. Serve with the chopped green onion tops.
More Chinese Food Recipes