Hungarian Kolbasz is a pork sausage loaded with paprika and garlic and allspice. The word looks very similar to Kielbasa that most people are more familiar with or Kovabaca in Ukranian. Each region of Eastern Europe has their own version with a slightly different spelling and spice combination.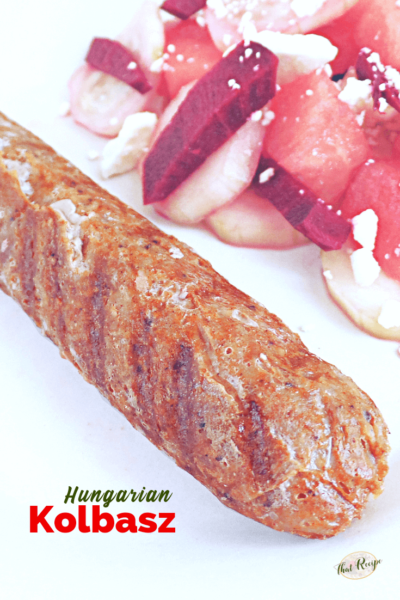 This recipe is from my husband's grandfather. And it is marvelous!
Two quick notes on the ingredients.
Use a ratio of at least 20% fat to 80% meat (30-70 is better). Sausage needs fat or it is a dry crumbly mess.
For authentic taste, use Hungarian paprika. Not smoked or Spanish paprika. Yes, there is a taste difference.
I didn't stuff these into casings, though they should be. I didn't have any so I just used a trick I found online to get the shape. It doesn't have the juicy bite that sausage in a casing will have, but it still worked for what I planned on using it for, which was grilling. And don't tell my brother, but I used this in the Red Beans and Rice this year – yum!
This Hungarian Kolbasz recipe is a simple homemade sausage loaded with garlic, paprika and other flavor full spices.
Click To Tweet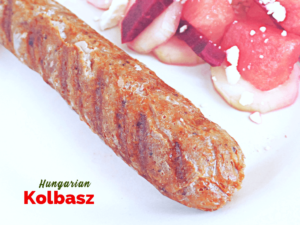 Hungarian Kolbasz
Hungarian Kolbasz is a simple homemade pork sausage spiced with garlic. paprika and allspice.
Ingredients
10

pounds

coarse ground pork butt or pork shoulder

2

cups

ice cold water

1/3

cup

mild Hungarian Paprika

5

tablespoons

salt

2

tablespoons

ground allspice

1

tablespoon

sugar

5-6

cloves

garlic

1/2

tablespoon

corase ground pepper
Instructions
Double grind pork through medium fine plates.

Blend remaining ingredients in a blender, blend on low 30-60 seconds.

Mix spices with ground pork until thoroughly blended (several minutes).

Use as a loose sausage or stuff into casings. Refrigerate overnight. Cook as desired.
Recipe Notes
An alternative to casings is to shape into sausage form and tightly wrap in plastic wrap. Cook in water that is just below boiling for about 5 minutes. Remove sausage from plastic wrap and cook as you would with casings.
Until next time, happy eating.
~Audrey