Rumtopf takes the longest to prepare of any recipe I have on the site. It literally takes MONTHS! But that is all sitting time. The actual work is less than 5 minutes a month.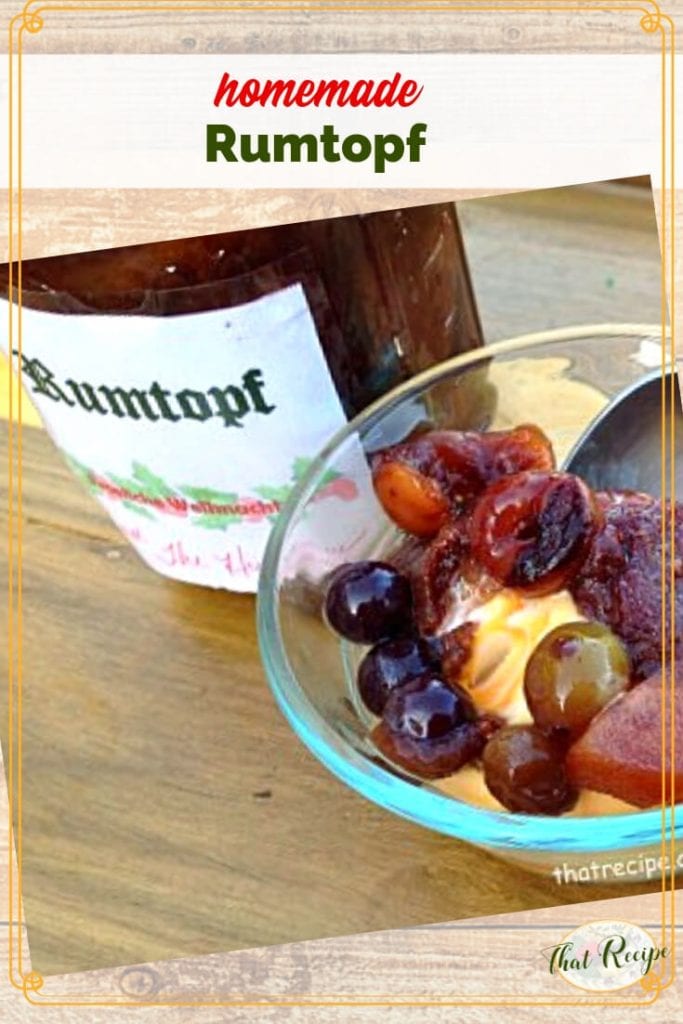 What is Rumtopf? Literally translated it means Rum Pot in German. In Danish it is spelled Rumkrukke. It is a way to preserve fruit when it is ripe to enjoy in the winter time. Quite simply it is fruit and sugar soaked in rum for months. Then in the winter you can enjoy both the liqueur and the fruit.
Traditionally it is made in a crock in rather small amounts. When I first heard of it last year and knew I was going to make it for gifts this winter so I made a big batch in a plastic container. Now I am putting it in mason jars with these printables and a cute bow, to give away to friends and family.
I started in spring with strawberries and raspberries:
I also added peaches in June, homegrown grapes in July, blackberries and cherries (pitted first) in August and eventually apples (peeled, cored and sliced) in September.
For each fruit I covered it with half its weight in sugar (1 pound fruit add 1/2 pound of sugar) let it sit for 8-12 hours, then covered in rum. The fruit rose to the top when I added it to the rum, so I put a piece of plastic and weighted it down with a salad plate to prevent the fruit being exposed to air.
Then I let it sit, checking every week or so to make sure it didn't mold.
After months, the fruit will all have pretty much the same dark purple color. And the rum is sweet and fruity.
The fruit can be put on top of ice cream:
or waffles:
And the liqueur can be served as a cordial or mixed with eggnog.
Rumtopf
Rumtopf, German for Rum Pot, is a delicious way to preserve spring, summer and fall fruits to enjoy in winter. Homemade liqueur and rum soaked fruit in one.
Ingredients
Fruit

ripe, firm and unblemished

Sugar

no substitutes, must be sugar for the preservation process

Dark Rum

minimum 80 proof, good quality
Instructions
When in season, clean fruit. Remove stems, leaves, pits and tough skins from such fruits as apples, peaches and plums. Weigh fruit.

In a bowl, combine fruit and half it's weight in sugar. For every pound of fruit add half a pound of sugar. Let sit approximately 8-12 hours until syrup forms.

Add fruit and juices to a large crock. Cover with rum.

Add additional fruit as it comes into season, ending with apples and pears in the late fall. Let sit for another month before serving or giving as gifts.
Other homemade liqueuers recipes:
Until next time, happy eating (and drinking)!
~Audrey