Jump to Recipe
Print Recipe
Cranberry Sauce with plump whole cranberries in a sweet sauce spiked with brandy (or use orange or cranberry juice for a family friendly version).
If you like your cranberry sauce studded with big juicy cranberries in a luscious sauce try this Brandied Whole Cranberry Sauce.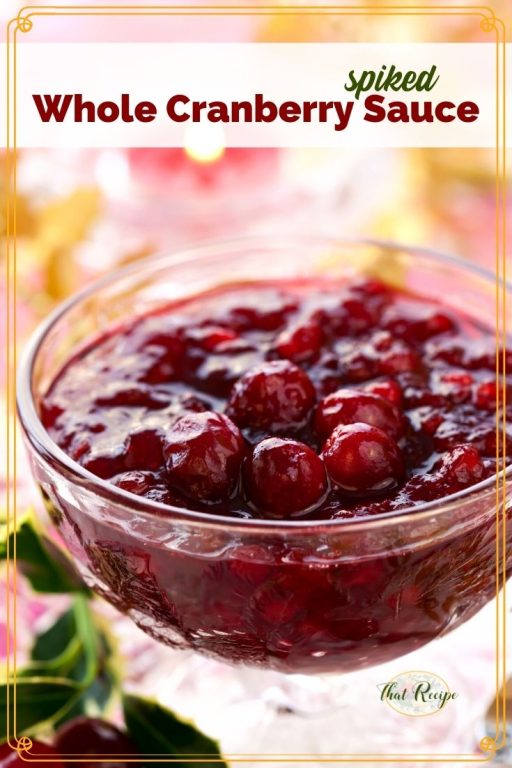 My mother in law makes this version for Thanksgiving and Christmas. The trick to keeping the cranberries big and whole is to bake them low and slow. And adding some brandy or rum, well that just makes it extra tasty.
The recipe is ridiculously easy to make, but takes an hour to bake. Bake? and take up time and room in the oven on Turkey Day? Nah, it is better to make it the day before so the liquid has time to gel.
I had to modify the recipe a little because the original called for 4 cups of cranberries and a 12 ounce bag is only 3 cups now. Grrrr! I hate it when they do that.
This is going to make about 3 cups of sauce. You can easily double or triple it if you are feeding a bigger crowd.
Does the alcohol cook off?
My mother-in-law believed that ALL of the alcohol cooks off due to the long baking time. Well, that's not exactly true.
There are quite a few factors involved in the burning off of the alcohol including the temperature, length of cooking time, size of the pan (larger = more evaporation) etc. You can get some details here, but basically I calculate that a ½ cup serving with brandy at 50-60% alcohol comes out to less than a teaspoon of alcohol per serving.
Which isn't much for most people. But, for those in recovery, pregnant or breast feeding, or those that don't imbibe for health or religious reasons this recipe still contains some alcohol.
Alcohol Free Whole Cranberry Sauce
The easiest option to make this family friendly is to use fruit juice. A few juice suggestions that would work well with cranberries:
orange
cranberry
apple
pomegranate
lemon
lime
any combination of the above
Brandied Whole Cranberry Sauce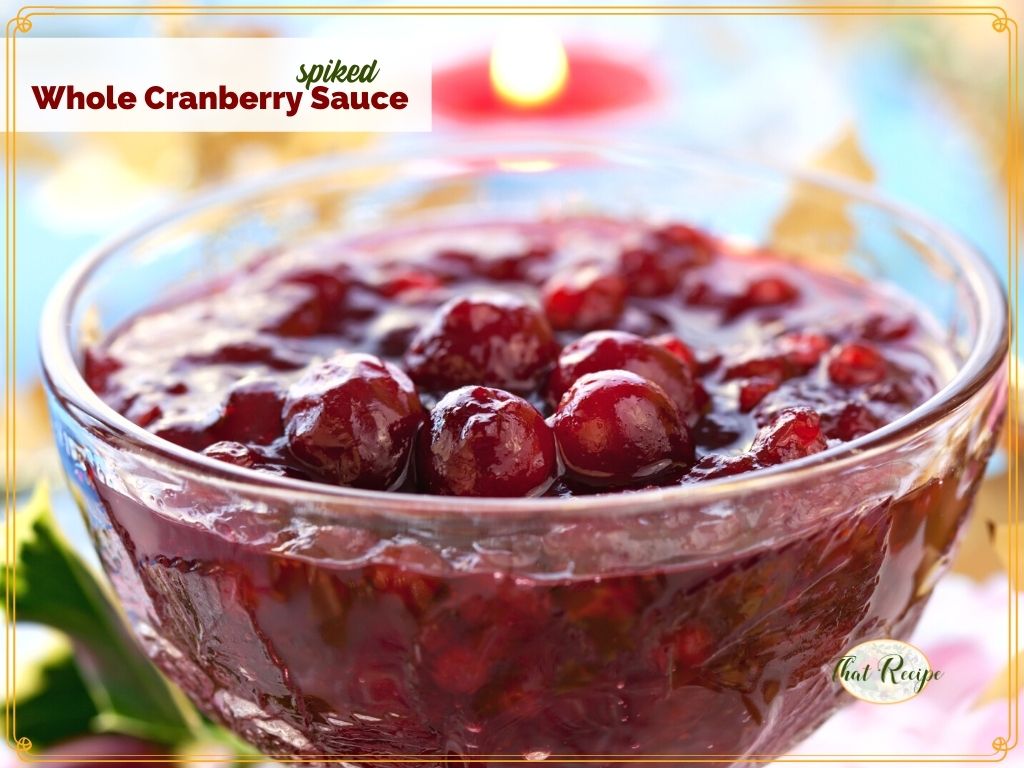 Ingredients
3

cups

fresh cranberries

(one 12 ounce bag)

1 ½

cup

sugar

⅓

cup

brandy or rum or other alcohol

(or orange or cranberry juice)
Instructions
Preheat oven to 300 degrees.

Rinse cranberries and discard any moldy or mushy ones. Spread out in a 9 x 13" pan. Sprinkle with the sugar. Pour alcohol over the top.

Bake for 1 hour. Let chill before serving.
Notes
Best if made the day before to allow the sauce to thicken.
Until next time, happy eating.
~Audrey