Jump to Recipe
Print Recipe
Mango Pineapple Freezer Jam is a bright tropical flavored jam made in small batches stored in the fridge or freezer - no canning needed!
Mango Pineapple Freezer Jam is lovely tropically flavored condiment that keeps it's bright fresh color and taste because of the minimal cooking method.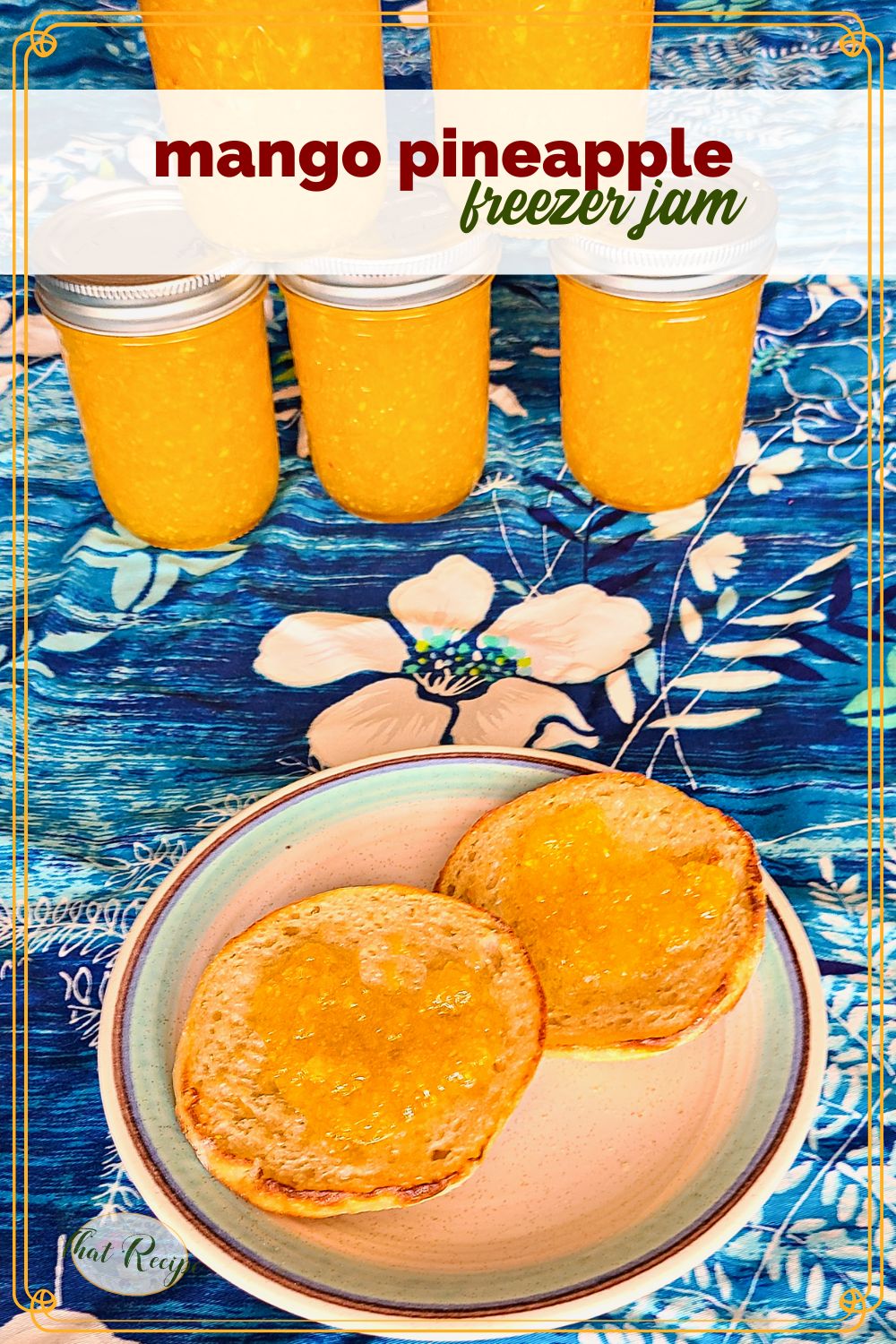 I have made jams and jellies and preserves and marmalades for years. Usually the traditional method of cooking the fruit with sugar and water until the natural pectin thickens and it reaches that classic thick gel consistency.
This was the first time I have tried to make "freezer jam" and I am in love! The taste is like biting into fresh ripe fruit. And the color is so vibrant!
What is Pectin?
Pectin is a gelling compound that is found naturally in fruit. Some fruits like apples, cranberries and citrus fruits are loaded with it. Others like strawberries, blackberries, peaches and cherries do not have much.
Commercial pectin is available to help gel the fruit with little pectin or to make freezer jam.
What is Freezer Jam?
Instead of boiling the fruit and sugar for 20 or more minutes to reach the gelling point as you do for traditional jam, freezer jam is made by mashing the fresh fruit with some sugar and then adding some pectin to it.
The jam is then left on the counter in the jars for 24 hours then stored in the fridge (for up to 1 month) or freezer (for up to one year).
Freezer Jam is not shelf stable like traditional jam. It must be kept in the fridge or freezer.
Freezer jam has a looser consistency than traditional jam, but it still makes a marvelous topping for toast, pancakes or even some ice cream!
What Jars Can You Use for Freezer Jam?
I used traditional glass half pint mason canning jars leaving ½ inch head space to leave room for the frozen jam to expand.
My jars in the freezer have been just fine, with no breakage. You can also use plastic freezer jars like these if using glass in the freezer makes you nervous.
More Jam Recipes from #OurFamilyTable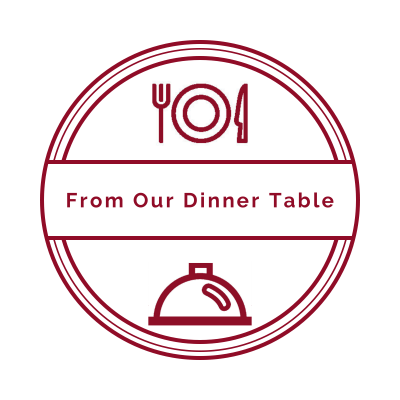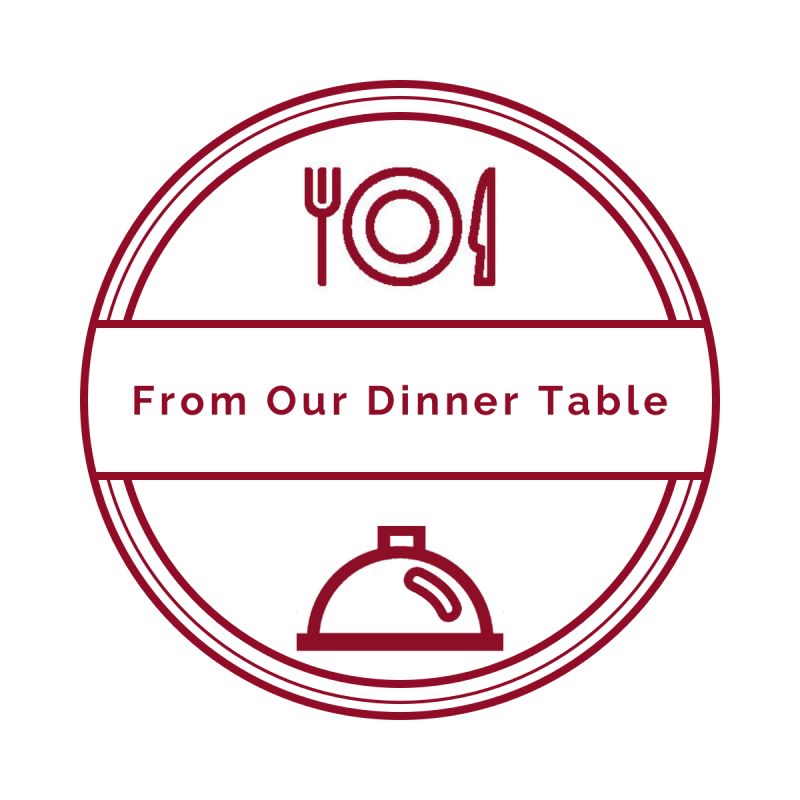 If you want more traditional jam recipes, here are a few more:
Jammin for Jams

We share Recipes From Our Dinner Table! Join our group and share your recipes, too! While you're at it, join our Pinterest board, too!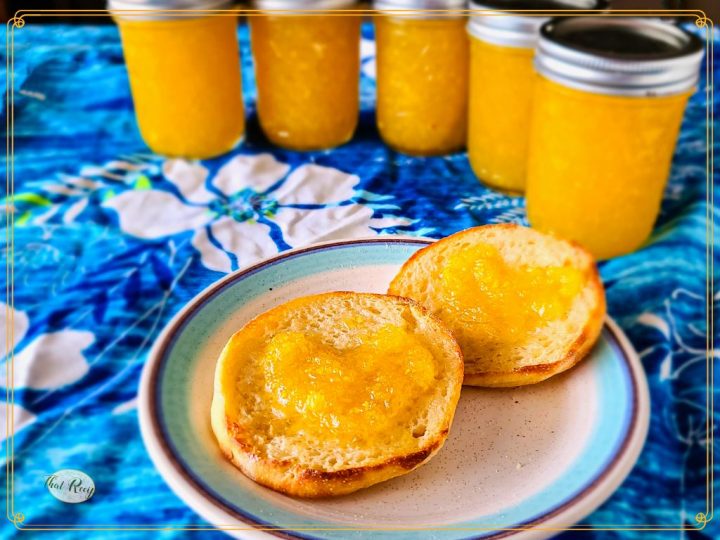 Ingredients
3

cups

very ripe mango pieces

(approximately 2 large mangoes)

¼

cup

pineapple juice

5

cups

sugar

1.75

ounce

package liquid pectin

¾

cup

water
Instructions
Sterilize 5 half pint jars and lids and set aside.

Peel and seed the mango. Mash fruit by hand or in a blender. Measure 3 cups of fruit.

Combine mango and sugar in a large bowl until mixed. Set aside.

In a small saucepan, combine liquid pectin and water. Bring to a boil and cook for 1 minute.

Add pectin to mango and sugar. Stir until sugar is completely dissolved.

Ladle into half pint jars leaving ½ inch from the top of the jar so the jam has room to expand. Tighten lids and let sit at room temperature for 24 hours.

Store jars in fridge for up to one month or freezer for up to one year.
Sound fabulous? Share it!
Until next time, happy eating!
~Audrey