Jump to Recipe
Print Recipe
Rose Pomegranate Jelly is a beautiful homemade ruby red jam with a sweet and tangy taste and a light floral accent.
Pomegranate Jelly is delicious as is, but add the light floral flavor of roses and it becomes amazing. Easy recipe using pectin to make jelling a breeze.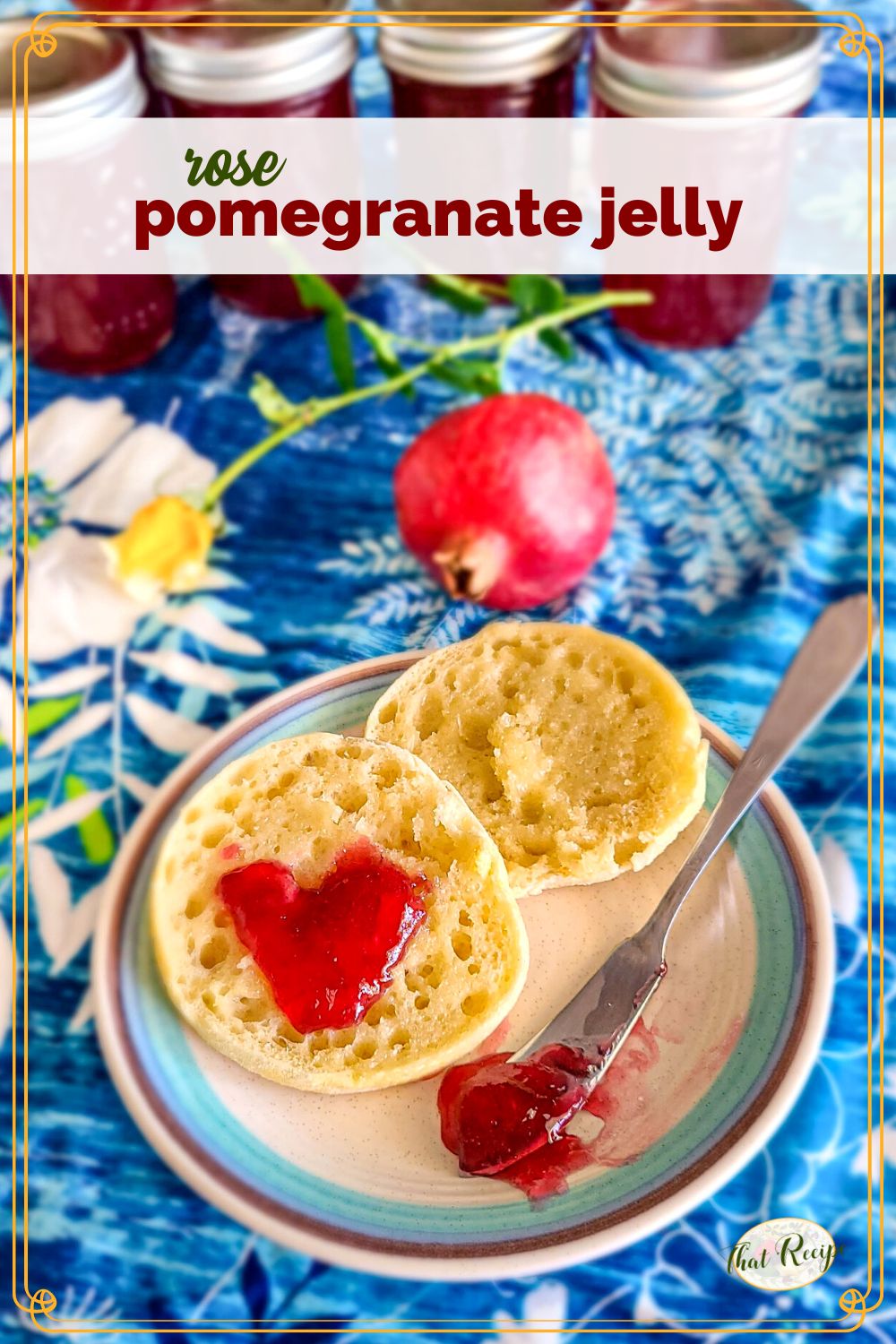 Pomegranates are one of my favorite Autumn treats. Bright red tangy sweet deliciousness.
Here in California pomegranates are in season from September through November. I have a pomegranate tree that produces huge fruit... that don't fully ripen until late December/ January.
So, I actually made this Rose Pomegranate Jelly recipe months ago for Christmas presents and am just publishing now that pomegranates are actually in season for most people.
What Do Roses Taste Like?
Edible flowers and floral extracts taste like they smell. Roses, lavender, rosemary blossoms are some of my favorites.
This recipe uses a splash of Rose Water, which is made by distilling rose petals. You could make your own if you have pesticide and herbicide free roses with a strong smell. I buy mine, and a little goes a long way.
You can omit the Rose Water, swap it for some lavender extract, or add some sprigs of fresh herbs while you are boiling the jelly and remove before canning.
Tips for Jelly Making and Canning
Some people use the leftover pomegranate arils wrapped in cheesecloth to add extra pectin to make sure the jelly gels.
I skipped that and went for the sure fire method of using added pectin, making this a great recipe for beginning jelly makers.
If you are new to canning, be sure to read these water bath canning instructions before beginning.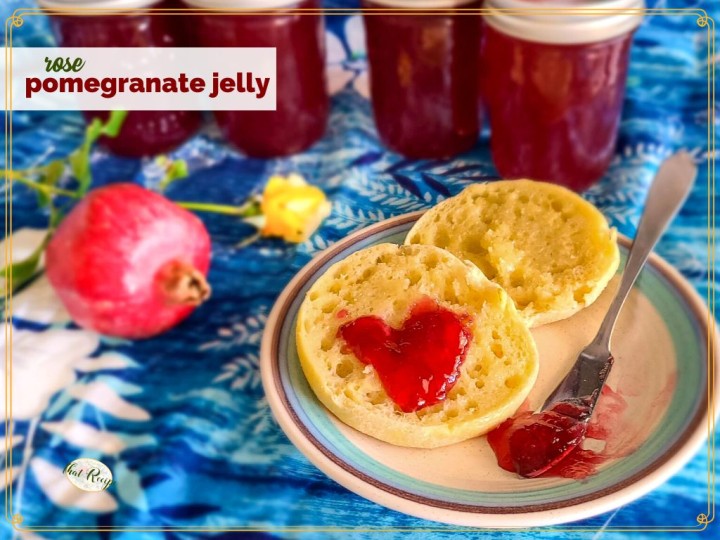 Ingredients
3-½

cups

prepared or bottled pomegranate juice

6

tablespoon

powdered pectin

5

cups

sugar

½

teaspoon

rose water
Instructions
If using fresh pomegranates: roll around to soften the arils, cut in half and squeeze using a citrus reamer.

Heat pomegranate juice in a large saucepan. Gradually stir in pectin. Bring mixture to a full rolling boil over high heat, stirring constantly.

Add sugar, stirring to dissolve. Return mixture to a full rolling boil. Boil hard 1 minute, stirring constantly. Remove from heat, add rose water.

Pour into jelly jars (half-pint) and process in a boiling water canner for 10 minutes.
Sound fabulous? Share it!
Until next time, happy eating!
~Audrey