Jump to Recipe
Print Recipe
Gougeres are French cheese puffs made with a simple pate a choux dough. Serve them plain like a roll or cut them open and fill for an appetizer.
Gougeres are crispy airy cheese puffs, that are great for dinner or snack.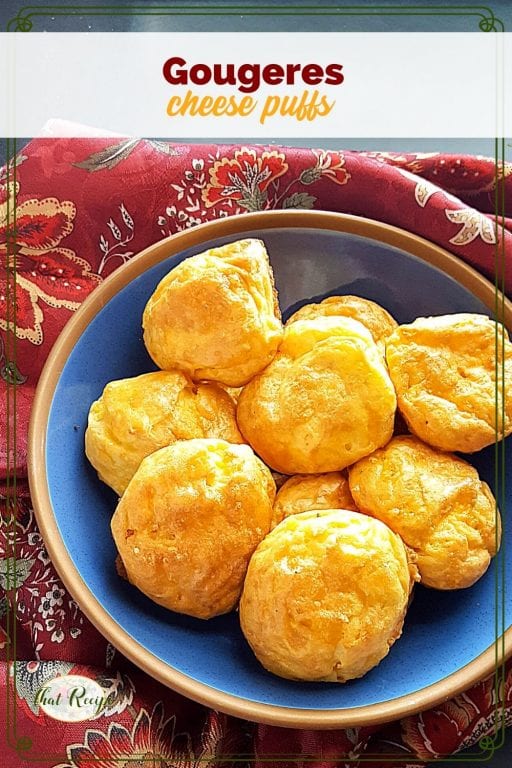 This week the Family Table Bloggers are celebrating Julia Child.
I grew up watching her and all of the other PBS chefs every Saturday afternoon when my mom took over the TV after my brother and I had our weekly cartoon binge. This was way back in the late 1970s and 1980s when neither cooking shows nor cartoons could be watched 24/7 let alone on demand.
She was entertaining to watch then, and still is. I have been binge watching Julia and Jacques Cooking at Home on Amazon Prime lately and have a growing list of recipes I want to make soon.
After watching her and Jacques Pepin making pate a choux, or choux pastry I decided it was high time I tried. It is the dough used to make profiteroles and cream puffs among other pastries.
I am not sure why I was so intimidated to try before, they are quite simple and forgiving. Just a few basic ingredients cooked and beaten together then baked and you have a beautiful pastry shell that is crunchy on the outside and soft and airy inside.
I added cheese to the basic choux dough and left them unfilled, but you could easily cut them open and add some delectable savory filling like sauteed mushrooms, goat cheese and herbs or a creamy salmon mixture.
They were a huge hit and I am sure I will be making them again.
Julia Child books I recommend:
Julia Child Inspired Recipes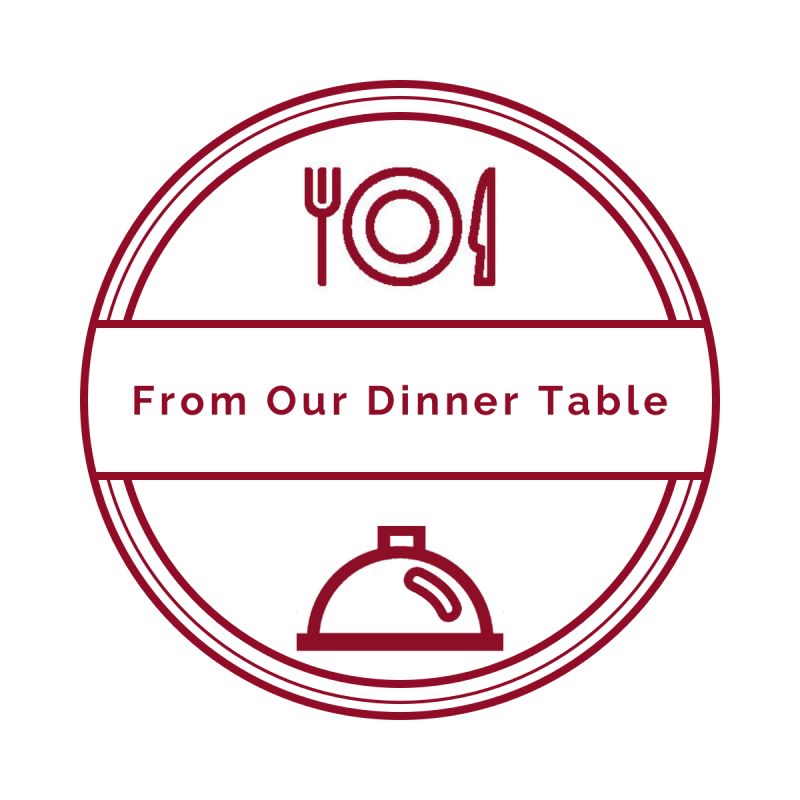 We share Recipes From Our Dinner Table! Join our group and share your recipes, too! While you're at it, join our Pinterest board, too!
Gougeres (cheese puffs)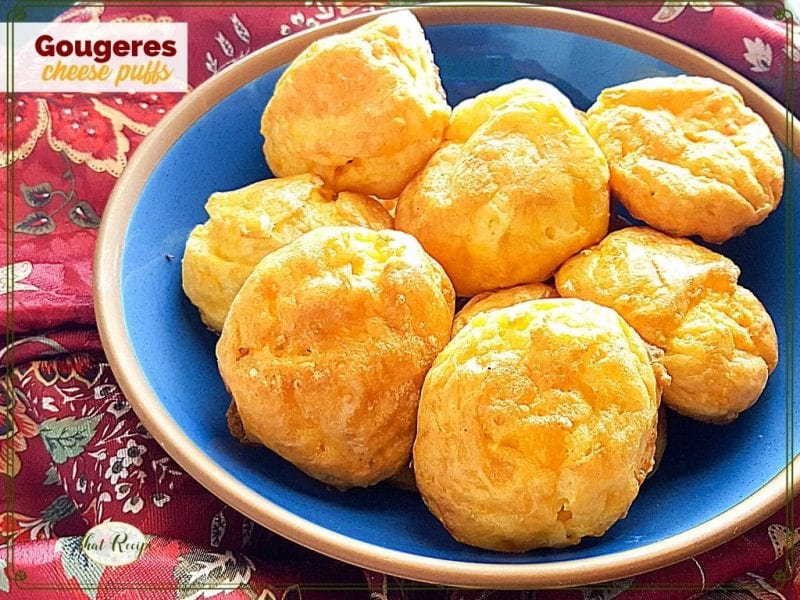 Ingredients
1

cup

water

6

tablespoons

butter

(cut into pieces)

½

teaspoon

salt

⅛

teaspoon

pepper

pinch

nutmeg

1

cup

all purpose flour

4

large

eggs

1

cup

cheese, grated

((Swiss, cheddar, Parmesan, etc.))

1

large

egg
Instructions
Preheat oven to 425°F. Line a baking sheet with parchment paper.

In a heavy bottom pan bring water, butter, salt, pepper and nutmeg to a boil. When butter is melted and water is boiling, remove from heat.

Stir in flour and cook over medium high heat for 1-2 minutes. The dough should leave the side of the pan clean and a slight film on the bottom. Remove from heat.

Make a well in the center of the dough and add one egg. Beat in egg until incorporated. Repeat with three more eggs, stirring each one in completely before adding the next.

Stir the cheese into the warm dough.

Place dough in a pastry bag or use a soup spoon to make 1 inch diameter and 1 inch high mounds (optional: for a true Julia Child touch, make a small peak on the top of the mound).

In a small bowl combine remaining egg and ½ teaspoon of water. Brush the egg mixture on top and sides of the puffs without letting it drip all the way to the parchment paper. This will prevent the puffs from rising.

Bake about 20 minutes until golden brown. Remove from oven and turn the oven off. Pierce each puff with a knife to release steam and return to the turned off oven for 10 minutes to dry out.
Other Julia Child Recipes