Jump to Recipe
Print Recipe
Popovers are a delightful treat, crispy on the outside and filled with air on the inside. Learn to make them at home. Julia Child recipe | classic cooking | popovers
Homemade Popovers based on Julia Child's classic recipe.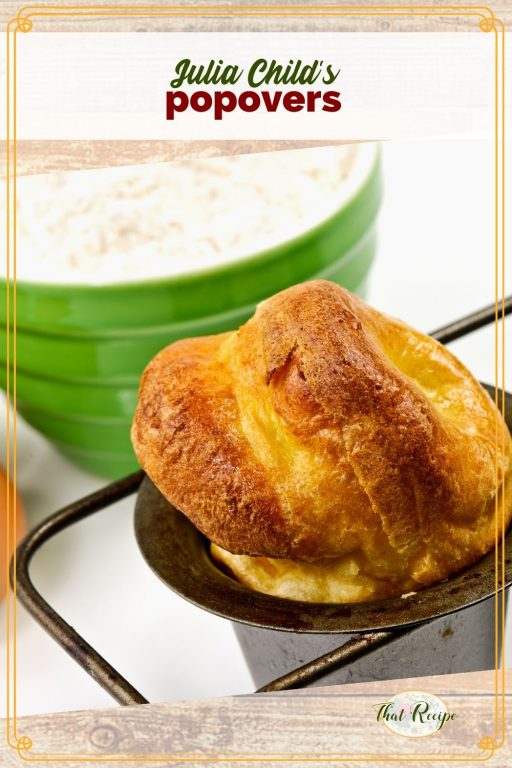 I still remember the first time I had a popover at my mother's suggestion. The waiter brought me this giant muffin looking thing that was almost empty inside with a crust that was both crunchy and custard-y at the same time.
I was hooked.
I checked out a copy of Baking with Julia: Savor the Joys of Baking with America's Best Bakers (affiliate link) from the library and saw at least 10 recipes I wanted to make. But, I started with this one because the popover pan my mother had given me was buried in the back of the cabinet crying from neglect.
Yes, I have popover pan.
No, you do not need one.
Custard cups or muffin pans will work fine if you follow the directions below.
Tips for Making Julia Child's Popovers
There is no denying popovers can be tricky, I have failed more than once, especially when I haven't made them in awhile.
But, here are a few tips to help you achieve that beautiful pop with the empty middle:
have the eggs and milk at room temperature
do not overfill the cups
if using a muffin pan leave every other one empty
oven rack must be on the lowest possible position
slice with a sharp knife immediately after removing from the oven (Julia doesn't mention this, but....)
And remember, even if they aren't perfect, they are still delicious.
Julia Child's Popovers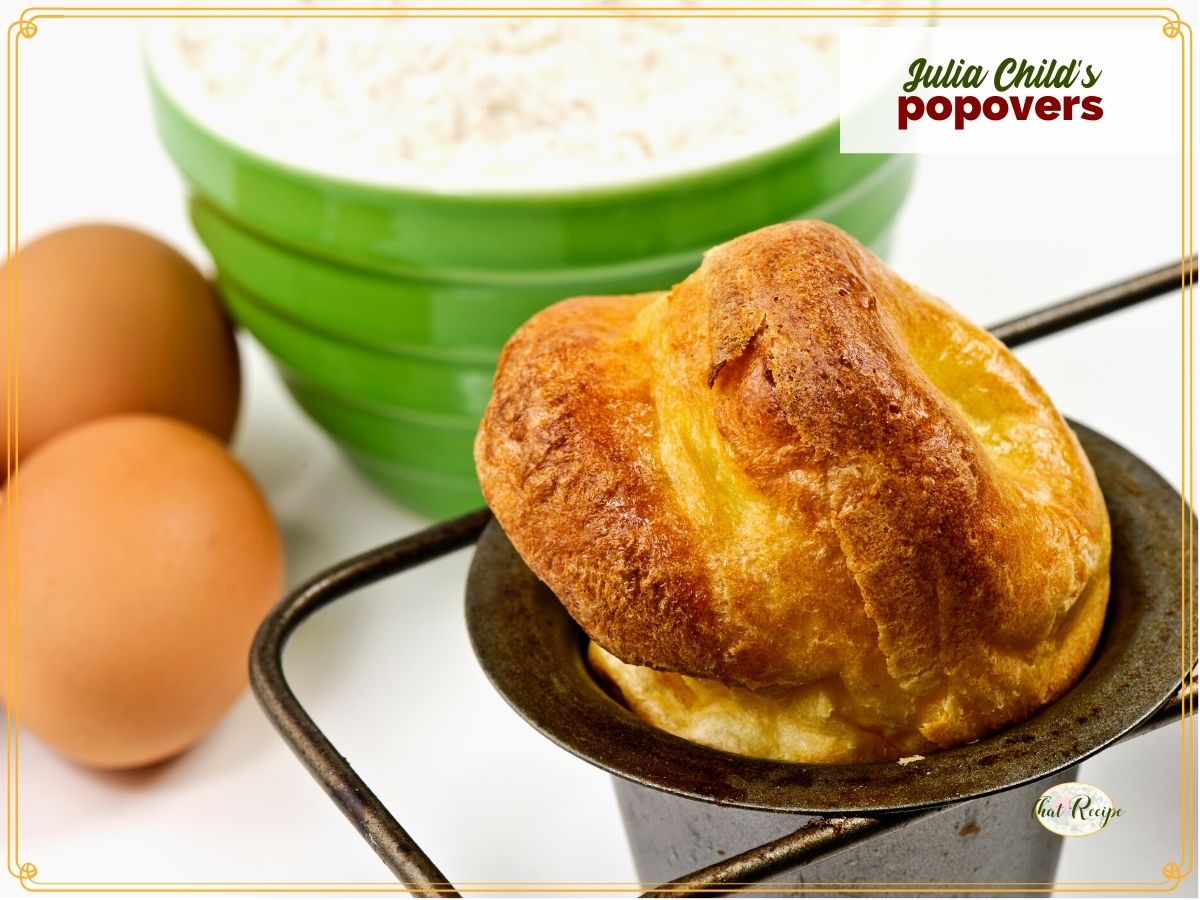 Ingredients
1

cup

all purpose flour

1

cup

whole or 2% milk

(room temperature)

3

large

eggs

(room temperature)

2

tablespoons

unsalted butter

(melted)

½

teaspoon

salt
Instructions
Move the oven rack to the lowest possible position. Preheat oven to 425° F. Liberally grease the popover pan, custard cups or every other cup of a muffin pan with butter or cooking spray.

Be sure to have milk and eggs at room temperature before proceeding. Combine all ingredients in a blender and mix until smooth. No lumps!

For the popover pan or custard cups: pour ⅓ cup batter in each.

For the muffin pan: pour ¼ cup of batter into every other cup.

Bake for 25 minutes WITHOUT OPENING THE DOOR!

Lower the oven temperature to 350°F and bake for another 15-20 minutes (FYI, mine were done in 10 minutes, but I'm telling you what the recipe says).

Remove from oven and cut a slit in the top to allow the steam to escape. Serve immediately.
Notes
The right pan is critical for these. If you do not have a popover pan (affiliate link) you can use every other cup of a 12 muffin pan (you'll want two) or ¾ cup capacity custard cups on a rimmed baking sheet with plenty of room in between
Sound fabulous? Share it!
More Recipes