Jump to Recipe
Print Recipe
Ladyfinger Ice Cream Cake is easy to adapt with your favorite flavors of ice cream and and spirits, or chose to go alcohol free.
Ladyfinger Ice Cream Cake is a spectacular frozen dessert made with just a few simple ingredients in about 10 minutes. The hardest part is waiting for it to freeze.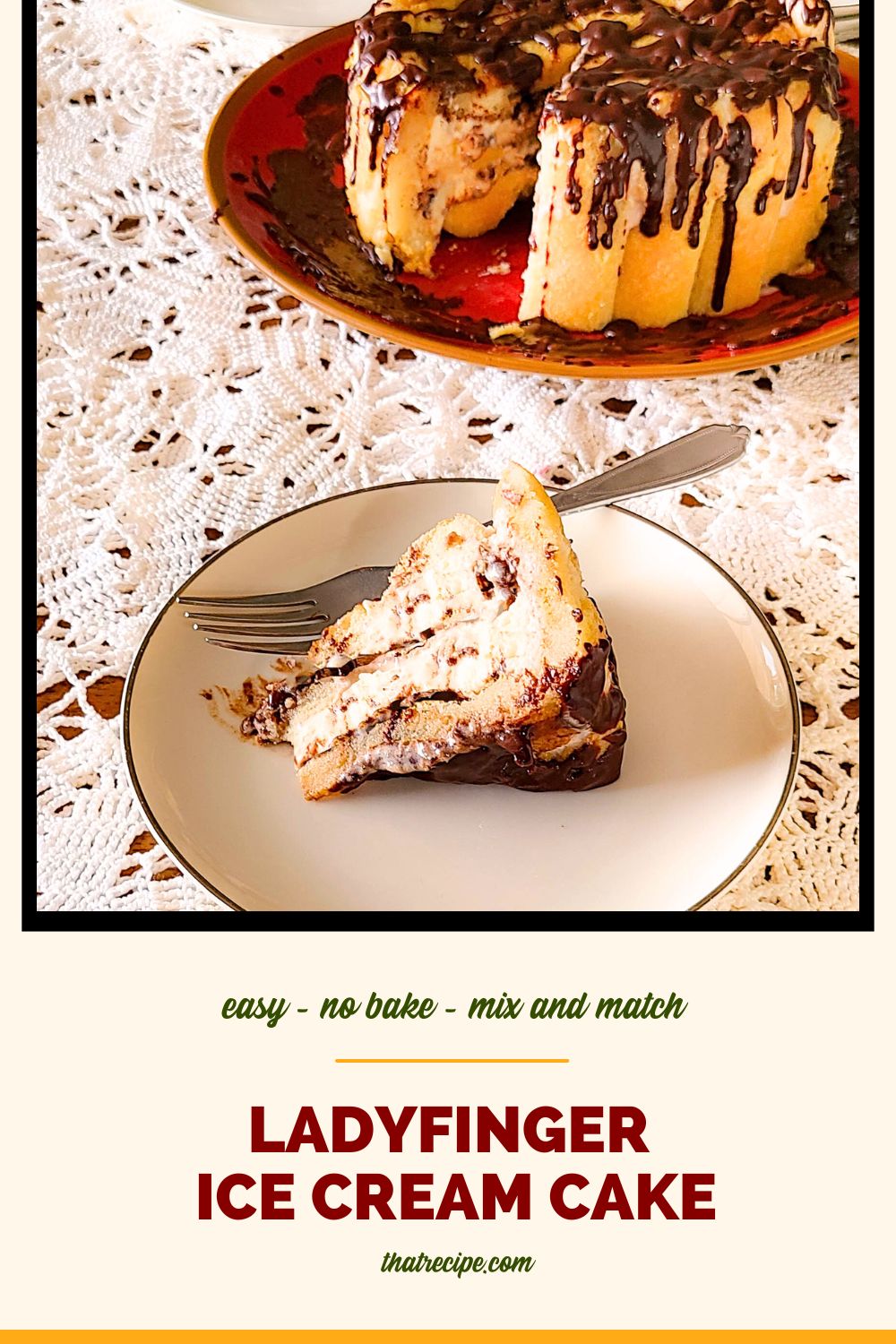 One Christmas Eve a long long time ago, my mother made this delicious ice cream cake with rum and chocolate. Recently, I wanted to recreate it and my mother knew just what I was talking about since she responded "Oh, Julia Child!"
Apparently one Saturday afternoon, during her cooking show time, she saw Julia Child make this on her PBS Show The French Chef and wrote down the recipe. Unfortunately, she didn't keep it.
Off to Amazon I went to find The French Chef Cookbook so I could make my own Temple de Glacé a la Martiniquaise (Mold of Ice Cream with Rum and Chocolate).
The cookbook contains all of the recipes from the original show, and I have used it to make quite a few other recipes such as croissants, cheese puffs and almond orange crepes.
What can I use instead of Rum?
The recipe calls for ¼ cup of rum, which is split over 6-8 servings, so there is about 2 teaspoons of rum per serving. Not a lot, but it really isn't necessary for the recipe.
If you want the rum flavor without alcohol, use a tablespoon of rum flavoring with no alcohol added. Check the label, most rum flavor extracts are made with alcohol.
Or you can use what I did... coffee syrup. I went with French Vanilla because... you guessed it... that's what was in the house.
Mix and Match Ladyfinger Ice Cream Cake
I kept mine vanilla and chocolate which was fabulous!
But, this is such a simple dish to mix and match ice cream and soaking liquid.
peppermint ice cream and Peppermint Schnapps
coffee ice cream and Kahlua
peach ice cream and Amaretto or raspberry syrup
butter pecan ice cream with caramel syrup
cherry chocolate chip ice cream and brandy
More Cookbook Recipes from #OurFamilyTable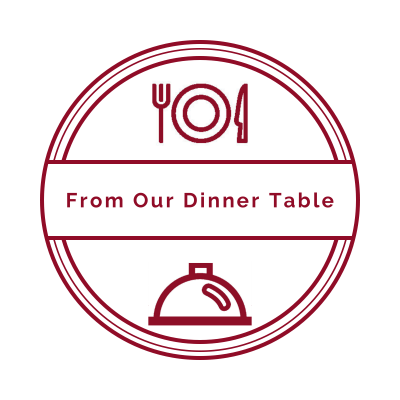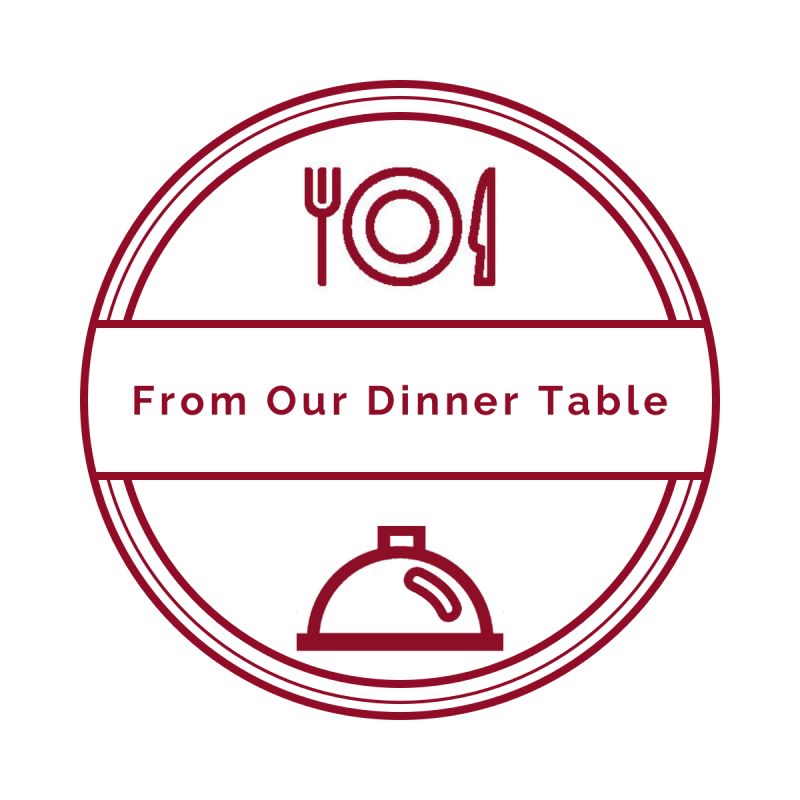 Today we are sharing recipes from some of our favorite cookbooks. Get the recipes and check out the cookbooks too.
Cookbook Recipes

We share Recipes From Our Dinner Table! Join our group and share your recipes, too! While you're at it, join our Pinterest board, too!
Ladyfinger Ice Cream Cake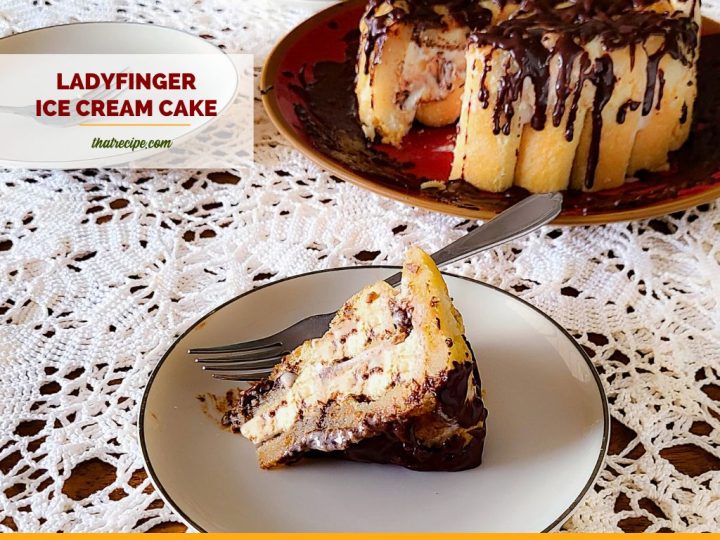 Ingredients
1

quart

vanilla ice cream

1

package

ladyfingers

(approximately 7 ounce size)

1½

cup

semi sweet chocolate chips

(divided use)

¼

cup

dark rum

(see note)

1-2

tablespoons

sugar
Instructions
Remove ice cream from freezer to let it soften slightly.

In a 2 cup or larger microwaveable dish (I use my measuring cup) combine 1 cup chocolate chips and ¼ cup water. Microwave for 20 seconds, remove and stir. If chips are not completely melted microwave in 10 seconds increments mixing afterwards until the chocolate is melted and smooth.

In a shallow bowl that can fit the ladyfingers, combine the rum and ¾ cup water. Sweeten with sugar to taste.

Line the bottom of a cylindrical bowl with straight sides about 3-4 inches high with a round of waxed paper.

Dip ladyfingers for about 5 seconds in the rum water and line the bottom and sides of the dish. Don't soak too long or they will turn to mush.

Spread a few tablespoons of melted chocolate over the bottom.

Spread a few scoops of ice cream evenly to fill dish about ⅓ of the way.

Repeat layers of soaked ladyfingers, chocolate and ice cream to reach the top.

Cover with plastic wrap and freeze for at least 3-4 hours. Overnight is fine. Save any extra chocolate sauce.

To serve: Melt ½ cup chocolate chips with any leftover chocolate with a few tablespoons of water in the microwave as before.

Soak the dish in a pot or bowl of warm water for 30 seconds to 1 minute just to loosen the sides. Place serving plate on top and invert, lift the dish off. Drizzle with melted chocolate and serve.
Notes
Coffee flavoring syrup can be used instead of rum. Use

½

cup syrup with

½

cup water, omitting sugar. 
Sound fabulous? Share it!
Until next time, happy eating!
~Audrey