Jump to Recipe
Print Recipe
Pomegranate Syrup is a sweet and tangy treat for topping pancakes or use it as a glaze for chicken, fish or pork.
Pomegranate Syrup is an easy way to preserve the tart taste of autumn to enjoy for months to come. It is great on pancakes and waffles, drizzled on ice cream and even as a glaze for chicken or fish.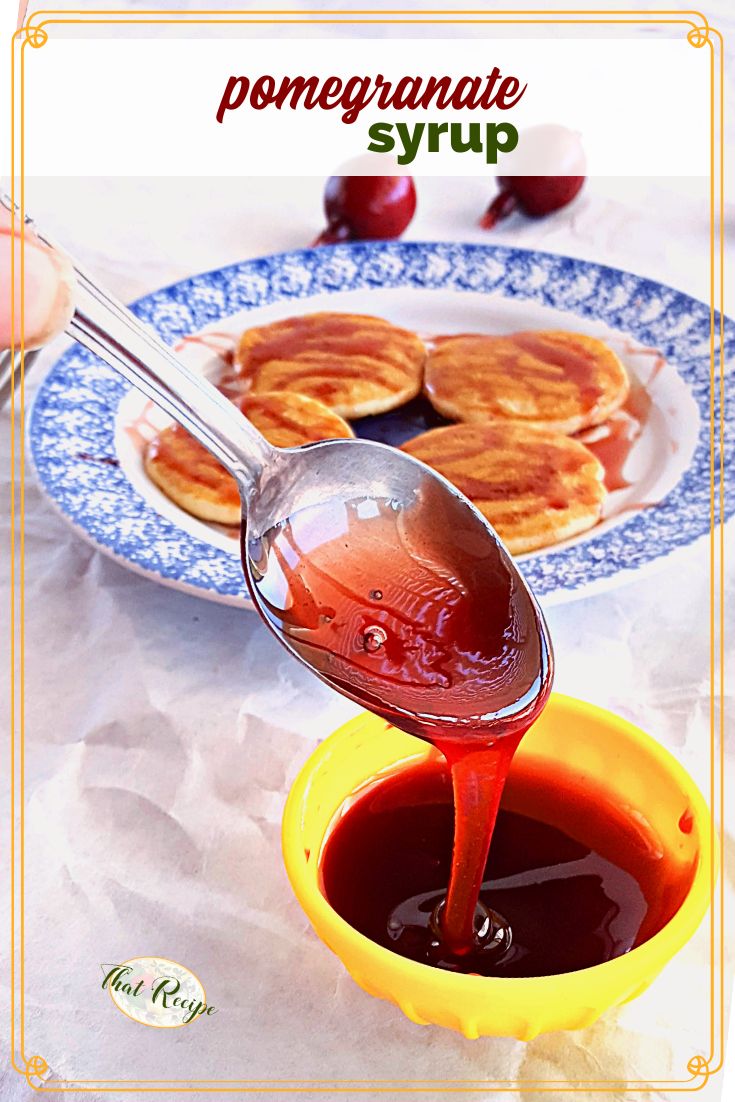 You can use bottled pomegranate juice or fresh pomegranates.
I used some homegrown pomegranates. To get the juice, I busted out my inner clown.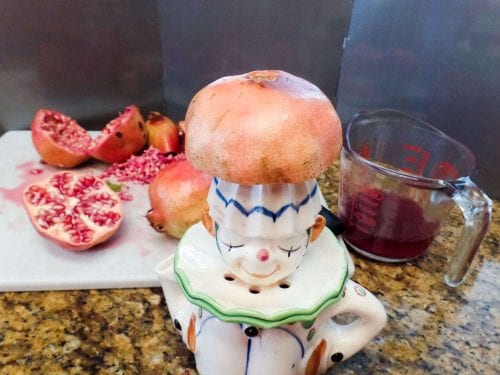 Well, the vintage clown reamer that has been in my family forever anyway. Just roll the fruit around a little to break open the arils a little, then slice it in half and juice it like you would citrus fruit.
Options for Pomegranate Syrup
If you want to twist it up a bit, add some fresh herbs such as rosemary or basil in the cooking process.
To make Pomegranate Molasses, just cook it longer until the liquid is reduced by 75% instead of just 50%.
Pomegranate Syrup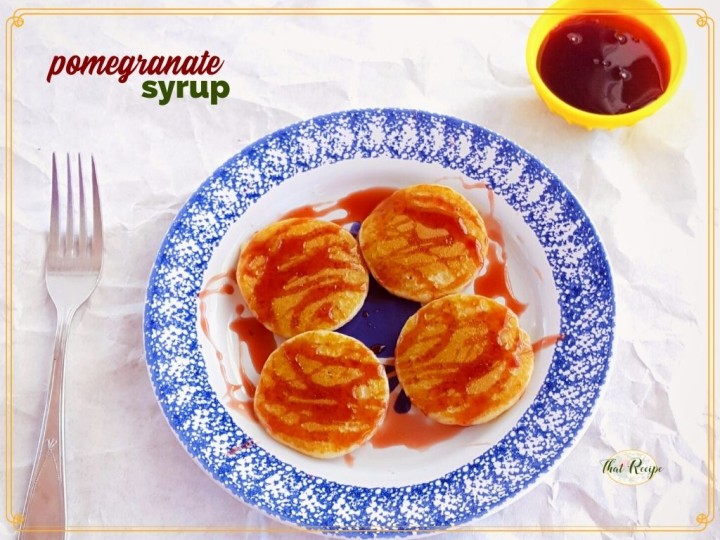 Ingredients
2 ½

cups

pomegranate juice

(about 5 large pomegranates)

¼

cup

lemon juice

½

cup

sugar

sprig

fresh herb, such as rosemary or basil

(optional)
Instructions
Cut pomegranates in half and use a juice reamer to squeeze out the juice. Measure out 2.5 cups.

In a medium saucepan, combine pomegranate juice, lemon juice and sugar. (add herbs if using, keep whole on the stem)

Bring mixture to a boil, stir to dissolve sugar. Reduce heat to low and cook until the mixture is reduced by half, 45-60 minutes. (remove herbs with a slotted spoon, if using).

Store in refrigerator.
Notes
You can double the recipe and can in half pint jars processing in a boiling water canner for 10 minutes.