Jump to Recipe
Print Recipe
Classic Caesar Salad is a simple but delicious salad made with romaine lettuce, Parmesan cheese and croutons with a savory dressing.
Caesar Salad is incredible simple, yet oh so delicious. One little tip though, you might not want to mention the anchovies to most people. Or maybe that is just my husband and son that wouldn't touch it if they knew.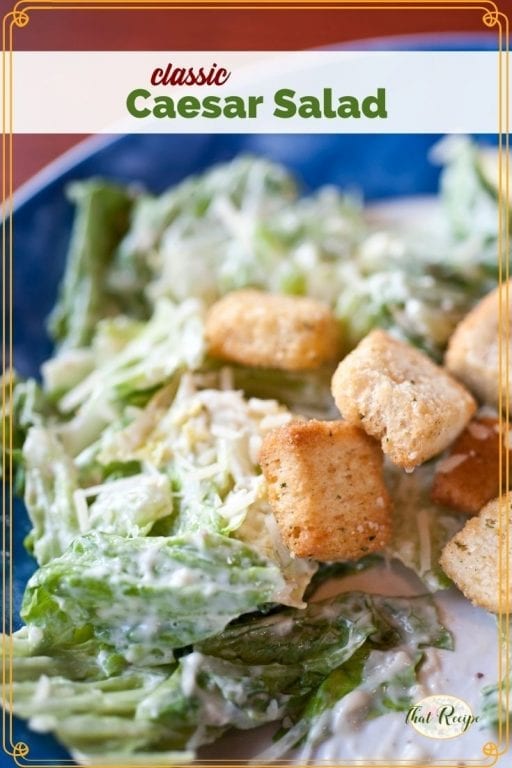 The traditional Caesar Salad was originally prepared at Cardini's Restaurant in Tijuana, Mexico in the 1920's. It was a very simple salad consisting of whole romaine lettuce leaves topped with Parmesan cheese, croutons and a dressing made with raw eggs and either anchovies or Worcestershire sauce (which is made from anchovies).
This was my Dad's recipe and to be honest I have no idea where he got it. I just remember he always made the dressing in a cute little 1cup metal shaker cup like this.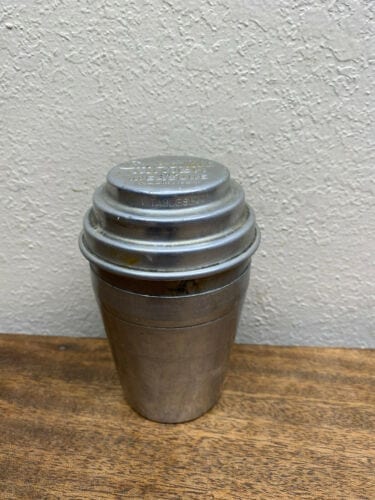 Health Tip:
Since the dressing uses a raw egg, be sure to use the healthiest (safest) egg you can.
What exactly that is depends on who you ask so I am not going to outline the differences between cage free, pasteurized, pastured, organic, etc. My eggs are locally grown free range eggs from a supplier I trust.
Do what you think is best.
Classic Caesar Salad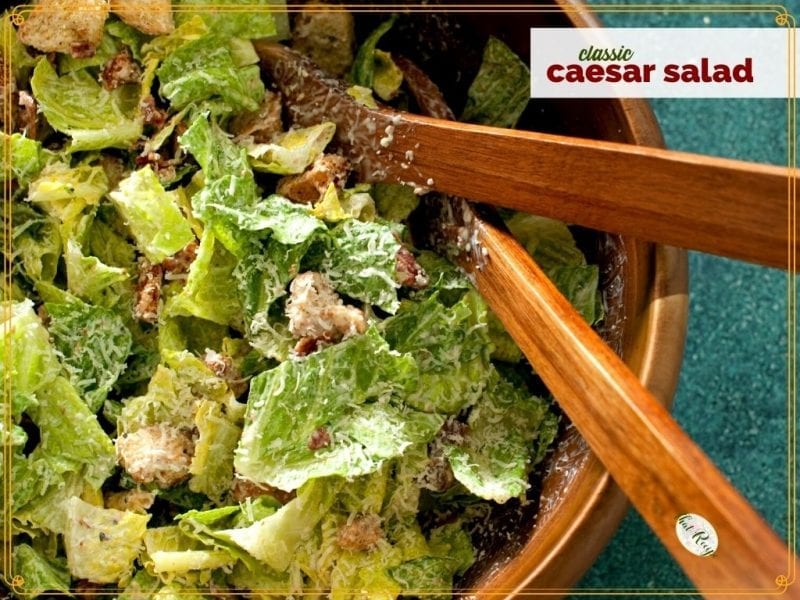 Ingredients
1

head

Romaine lettuce

1

can

flat anchovies

1

large

egg

(room temperature)

1 ½

tablespoon

lemon juice

¼

cup

olive oil

(approximate)

2

teaspoons

garlic powder

½

cup

garlic croutons

grated Parmesan Cheese
Instructions
Remove lettuce leaves from stem, rinse and shake dry. Tear lettuce if you prefer or use center leaves (the Romaine hearts) whole. Dad was team tear.

Drain anchovies reserving oil. Finely chop anchovies.

Add enough olive oil to reserved anchovy oil to make ¼ cup.

Mix anchovies, egg, oil, lemon juice and garlic thoroughly, preferably in a shaker or jar.

Add croutons to lettuce and pour dressing mix over all. Toss. Sprinkle Parmesan over salad to taste. Toss again and serve.