I am guessing I am not the only parent to have this experience. You take your kid(s) to the fair (carnival, beach, amusement park, etc.), you are wandering around taking in the sights and having fun - then WHAM! They see it. The sickeningly sweet brightly colored spun sugar stuffed into bags dangling from snack booths everywhere you look.
"Can I have some cotton candy? PUH-leeeeeeeease."
You promise "on the way home" and hope they forget. But as you head for the exit, the kid that can't remember to wash his hands after he goes to the bathroom remembers you said he could have cotton candy. You try to pick the smallest bag they have ($5 plus tax!!!) but by the time you get home you have a sticky kid and a half a bag of cotton candy left. The kid is done with it, if you leave it sitting around it will harden and shrink (or you will be tempted to eat it.)
You can't throw it out because you spent good money on it. So, what do you do with it?
That was me on Wednesday after a trip to the County Fair. But, I kid you not, that night I found a pin for Cotton Candy Cooler. SCORE!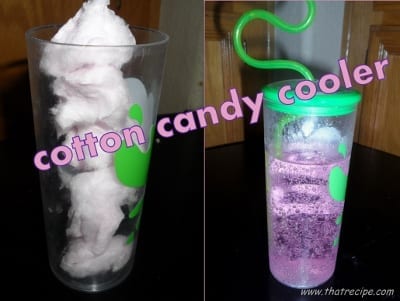 The recipe is simple. You need cotton candy and sparkling water/ club soda/ seltzer etc. It can be flavored or not according to your tastes. You just want it to be unsweetened. Not sugar free or diet, NO sweeteners of any kind. The cotton candy will take care of the sweetness. I got lime flavored sparkling water because that was the first thing I saw at the store and I wasn't going to dawdle to find anything else.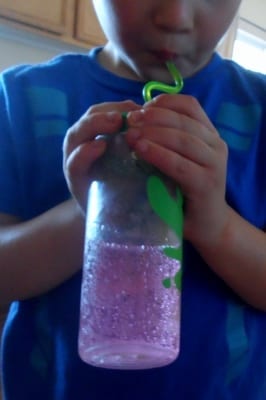 Chill the sparkling water. Stuff cotton candy into a glass and SLOWLY pour the sparkling water over it. The water will fizz, the cotton candy will melt and you will be left with a fizzy colored and sweetened beverage. Stick a twisty straw in it because everything is more fun with a twisty straw and serve!
The lime flavor was too sour for my finicky drinker so after I stopped rolling my eyes I dropped in some more cotton candy and he was happy.
This would work equally well for an adult "designated driver" drink as it would for a kids party. Or a summer Sunday afternoon.
Until next time, happy eating (and drinking)!
~Audrey