Jump to Recipe
Print Recipe
Garlic Ice Cream is a fun novelty treat perfect for adventurous eaters and garlic lovers. This semi homemade recipe is quick and easy to make at home.
When you first read Garlic Ice Cream you probably had one of two reactions:
"Are you insane?"
or
"GILROY!"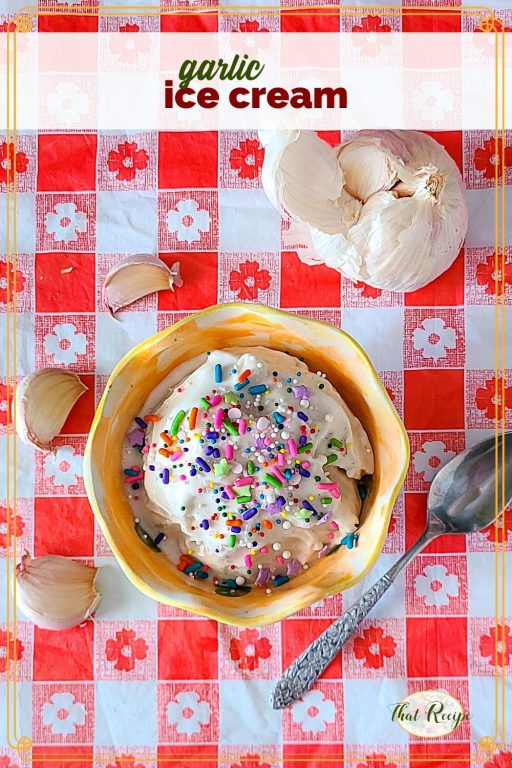 I did not dream up this concoction. The first time I had Garlic Ice cream was at the Gilroy Garlic Festival where they celebrated all things garlic! Plus great music, wine and beer tasting as well as arts and crafts sale. It was all done to benefit local charities and it become a central California institution every summer.
But the festival is no more.
There was no way my husband and son would care to partake in the Great Garlic Ice Cream Tasting Adventure - translation they would gag at the mere suggestion of trying it - so I cheated, and just added minced garlic to vanilla ice cream.
I actually got my son to try a small bite, and 5 seconds later he was running to the bathroom to spit it out and try to get the taste out of his mouth. Well, at least he can brag to his friends he tried something new.
Wow! what a ringing endorsement to try this recipe! hahaha!
If you are up for a culinary adventure, give the recipe a try. Who knows you may like it. And if not, you can say you gave it a try and Californians are crazy.
What does it taste like?
Vanilla ice cream with a garlicky aftertaste.
I am not going to lie, it isn't my favorite ice cream flavor. It isn't even in my top 100 favorite ice cream flavors. But, it does kind of grow on you after a few bites.
How do you make real homemade Garlic Ice Cream?
If you want to go all in and make 2 quarts from scratch use this Country Vanilla Ice Cream recipe and add a clove or two of finely minced garlic before freezing.
Can you use powdered or granulated garlic?
I would stick with minced and mashed fresh garlic cloves instead of powder or granulated simply for the texture. But, you do you.
More Ice Cream Recipes
If Garlic Ice Cream isn't your thing, or you just can't get enough homemade ice cream, here are some other recipes from some of my favorite bloggers.
You Scream, I Scream, We All Scream For Ice Cream! Yes! What else can help us chill off the summer. We are celebrating National Ice Cream Day in our #FestiveFoodies hosted by Radha from
Magical Ingredients
Join us for celebrating #NationalIcecreamDay with wonderful flavors of ice cream perfect for the summer.
Garlic Ice Cream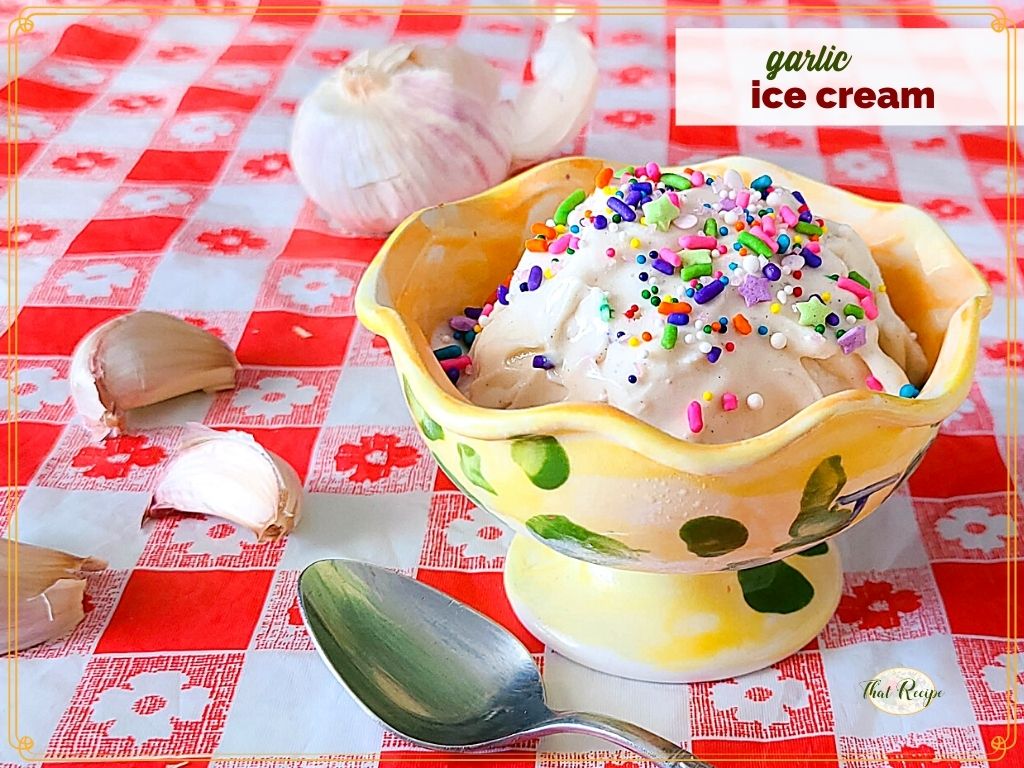 Ingredients
2-3

cups

vanilla ice cream

1

small

clove garlic

( about ¼ teaspoon or less minced)
Instructions
Remove ice cream from the freezer for about 5 minutes to soften.

Finely mince the garlic, then turn the knife sideways and mash it with the flat part of the knife.

Mix the garlic into the ice cream gently. Do not over mix and let the ice cream melt or it will ice up when refrozen.

Cover the ice cream and place back in the freezer to refreeze for a few hours before enjoying.
Sound fabulous? Share it!
Until next time, happy eating!
~Audrey