Do you know someone that loves to cook and need some unique gift ideas? I pulled together a list of tools, ingredients and classes to inspire your culinary gift giving.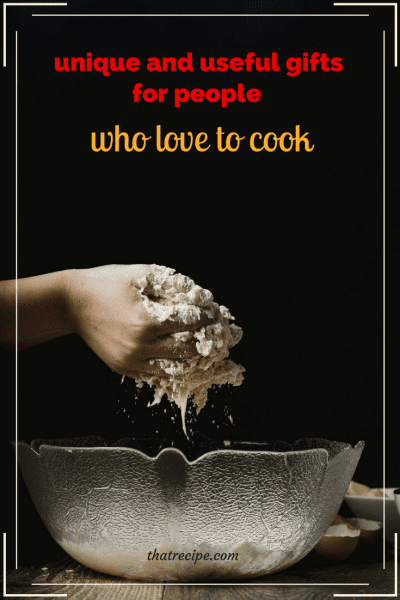 The links below are affiliate links. I may receive a commission, at no cost to you, for any purchases made through these links. Read the full disclosure here.
Kitchen Tools
Everyone needs nifty cooking gadgets like this 5-in-1 Uni-Tool. It is a slotted spoon, a solid spoon, a spatula, a turner and has a cutting edge.
This may not be unique, but it is definitely useful. A sharp quality knife
is actually safer than a cheap dull one. Knives and knife sharpeners
can make thoughtful gifts for the foodie on your list.
Another not so unique, but very useful item is cookware. These quality aluminum pans are made in the USA with no harmful chemical coatings and are built to last for generations.
Silicone baking mats like these keep your baked goods from sticking and make clean up a breeze. And they are reusable so they are good for the eco-friendly folks in your life as well. Add in a good spatula
and cooling racks
to please any cookie baker

Give them a gift of gourmet Pizza Nights with a pizza stone (pictured below), pizza peel
and pizza cutter
.

An apron can be a fun choice.


Cooking is messy, help them clean it up with some fun kitchen towels like these extra large chalkboard cotton towels.
[Tweet "Gift ideas for the #foodie or #chef in your life. "]
Gourmet Ingredients
Foodies know fresh, quality spices and spice blends can be critical to a dish's success. Make a little gift basket with several blends from SpicesforLess. (try the Berbere or Chaat blends for something exotic, or classic Italian or Creole blends). Add some spice jars
like these for attractive storage and easy access.

Treat them to a gourmet dine at home meal with this Wild Alaskan Salmon Dinner for Two. Or have some smoked salmon sent their way for the to prepare as they see fit.

Buy them a pre-packaged DIY kit like this tasty Risotto Kit

For the BBQ lover, consider a BBQ Box subscription with a monthly delivery of barbecue sauce, rub, wood chips and snack chosen by Myron Mixon (of BBQ Pit Masters fame). They also have one time purchases of sauces, rubs and wood chips.
Cooking Classes
Do you know anyone who would love cooking classes from Gordon Ramsey?

This Masterclass features 20 videos of Gordon Ramsay teaching everything from basic knife skills and kitchen layout to making pasta and the classic Beef Wellington. And you can upload videos to get feedback from the class (and maybe Ramsay himself!).
I hope you find some ideas for your loved ones. Or maybe some things to add to your own wishlist.