Jump to Recipe
Print Recipe
Homemade Bear Claws are a delightful flaky pastry filled with a rich sweet almond filling and more almond slices on top.
Looking for a special pastry for breakfast or dessert? Try these flaky almond Bear Claws.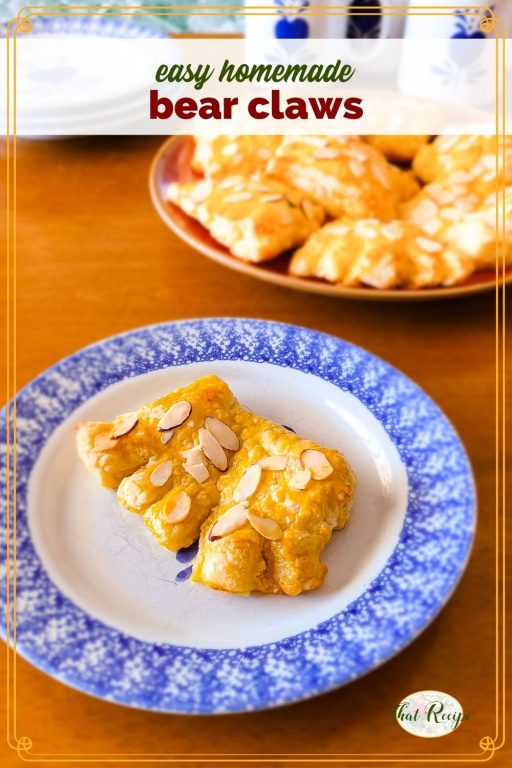 My husband and I were playing a video game and the reward for one battle was a "rare claw". Both of us immediately said "OOO, bear claws!". Sometimes I think we share a brain... or a stomach.
I had some puff pastry in the freezer because Our Family Table group was planning a puff pastry post. So I knew what I was going to make for our virtual party.
You can buy the almond paste premade or make your own. It adds an extra 2-3 minutes to the recipe, at most.
Making Bear Claws Ahead of Time
These would be great for a holiday breakfast or a party. But who wants to stand there rolling these up while the kids are unwrapping presents or you have guests to chat with.
Luckily you can make them right up to the baking point and pop them in the refrigerator for a few hours, up to overnight. Then just preheat and pop them in the oven to get golden and delicious.
More Puff Pastry Recipes from #OurFamilyTable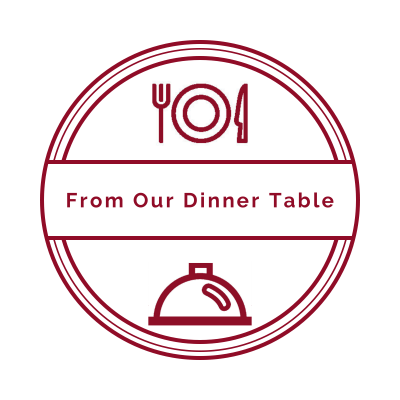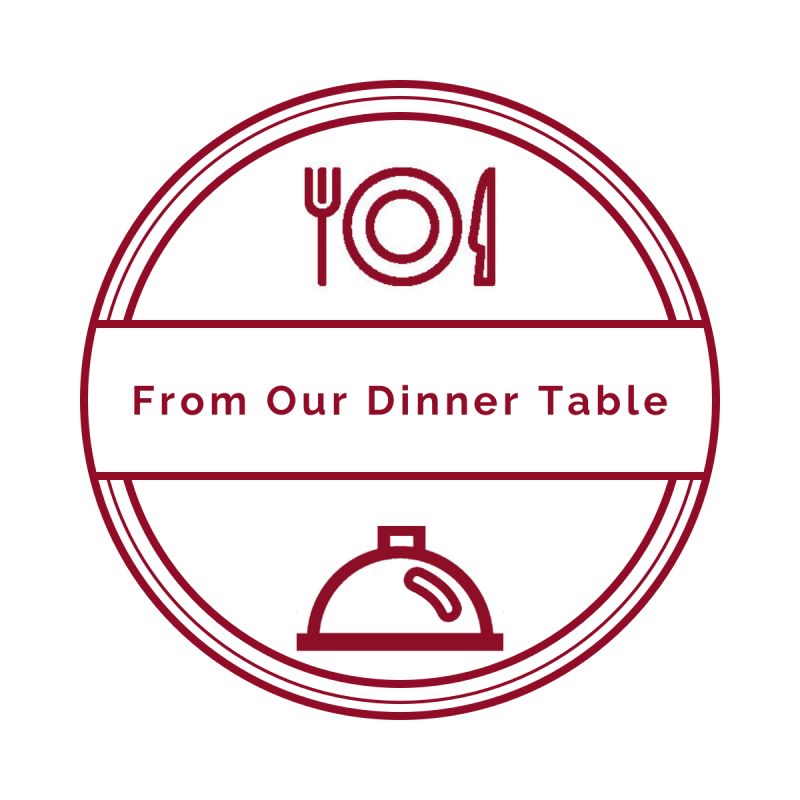 Perfectly Puffed Pastry

We share Recipes From Our Dinner Table! Join our group and share your recipes, too! While you're at it, join our Pinterest board, too!
Homemade Bear Claws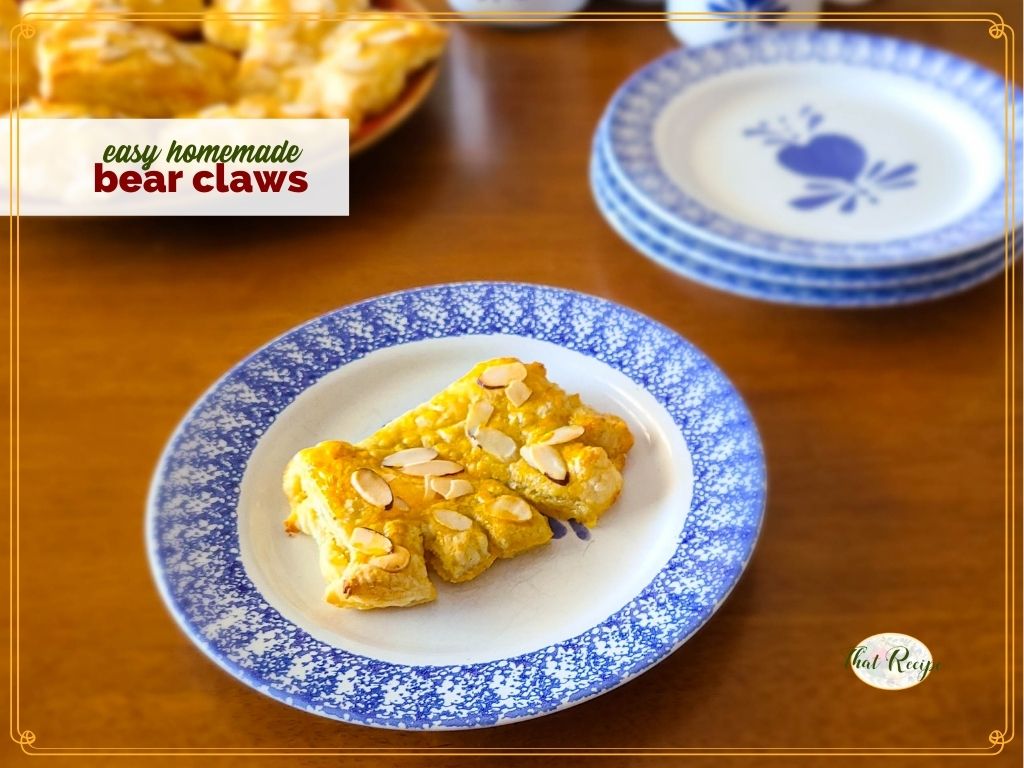 Ingredients
1

sheet

puff pastry, thawed

4

ounces

almond paste

¼

cup

butter

¼

cup

granulated sugar

1

large

egg, lightly beaten

1

tablespoon

all purpose flour

¼

cup

sliced almonds

2

teaspoons

coarse sugar

½

cup

powdered sugar

(optional)

½

teaspoon

almond extract

(optional)
Instructions
Thaw the puff pastry per package directions.

Preheat oven to 400°. Line a baking sheet with parchment paper or a silicone baking mat.

In a food processor (or in a bowl with and electric mixer) combine almond paste, butter and sugar until crumbly. In a small bowl beat the egg until combined. Add half of the egg and the flour to the almond paste mixture and reserve the other half of the egg for brushing on the pastry.

Roll out the puff pastry to a 16" by 16" square. Cut in half, then cut along the other side to make 8 rectangles.

Place a scoop of almond filling on the lower half of each rectangle, then spread almost to the edges. Fold over the top half and press the sides together firmly.

Make four small slits along the long side to make 5 little claws. Move to the baking sheet.

Brush each claw with the remaining egg. Sprinkle with sliced almonds and a pinch of coarse sugar.

Bake at 400°F until golden, about 15 minutes. Remove from oven and transfer to a cooling rack. Some of the filling will probably ooze out of the claws, just cut it off with a knife and nibble on it (baker's privilege).

Optional Glaze: If desired, while pastries are baking combine powdered sugar with enough almond extract to make a glaze. Drizzle over the bear claws after they have baked and cooled for at least 5 minutes.
Sound fabulous? Share it!
More Homemade Pastry Recipes
Until next time, happy eating!
~Audrey