Jump to Recipe
Print Recipe
Chocolate Croissants with their flaky buttery crust and chocolate center are easy to make at home with basic pantry staples.
Homemade Chocolate Croissants are simple to make at home and make a special treat for any occasion.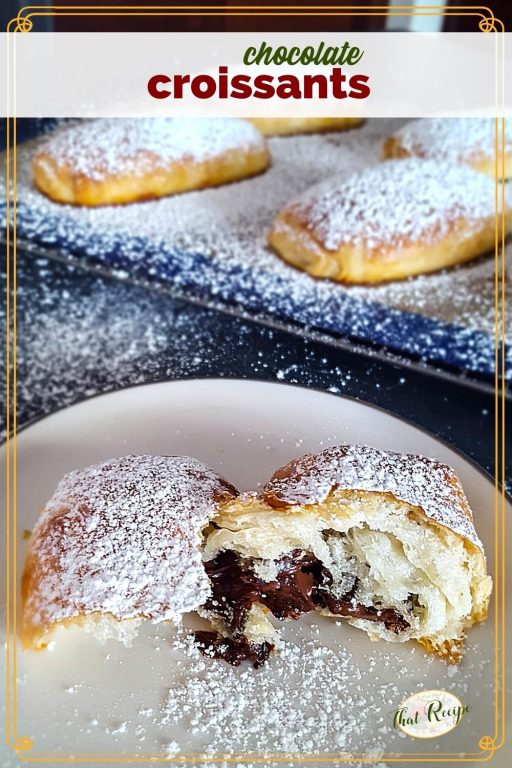 Croissants are easy to make with ingredients you probably have on hand, BUT they take most of the day to make because you have to wait multiple times for the dough to rise plus allow it to rest and chill multiple times throughout the process.
The good news is you can stop at almost every point and freeze it to continue making later. Once the butter was folded and rolled into the dough 4 times, I made traditional croissants with half of the dough and froze the other half to make the chocolate version.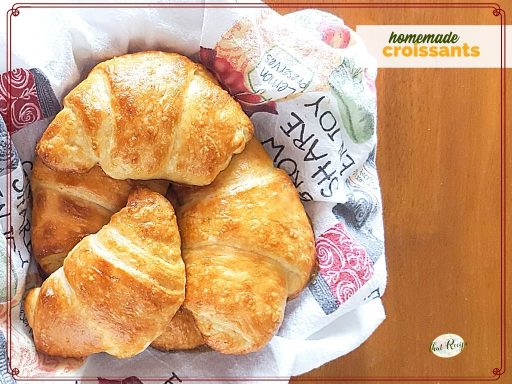 Choctoberfest
It's the best time of year: #Choctoberfest! I think we can all agree on one thing this year… 2020 needs more chocolate.
Choctoberfest is our annual celebration of chocolate recipes, now in its 6th year. I've teamed up with some talented food bloggers to share dozens of milk, dark, and white chocolate dishes for this year's virtual event. Be sure to keep scrolling past the croissant recipe to see what the other folks made today.
Participating Bloggers
Chocolate Croissants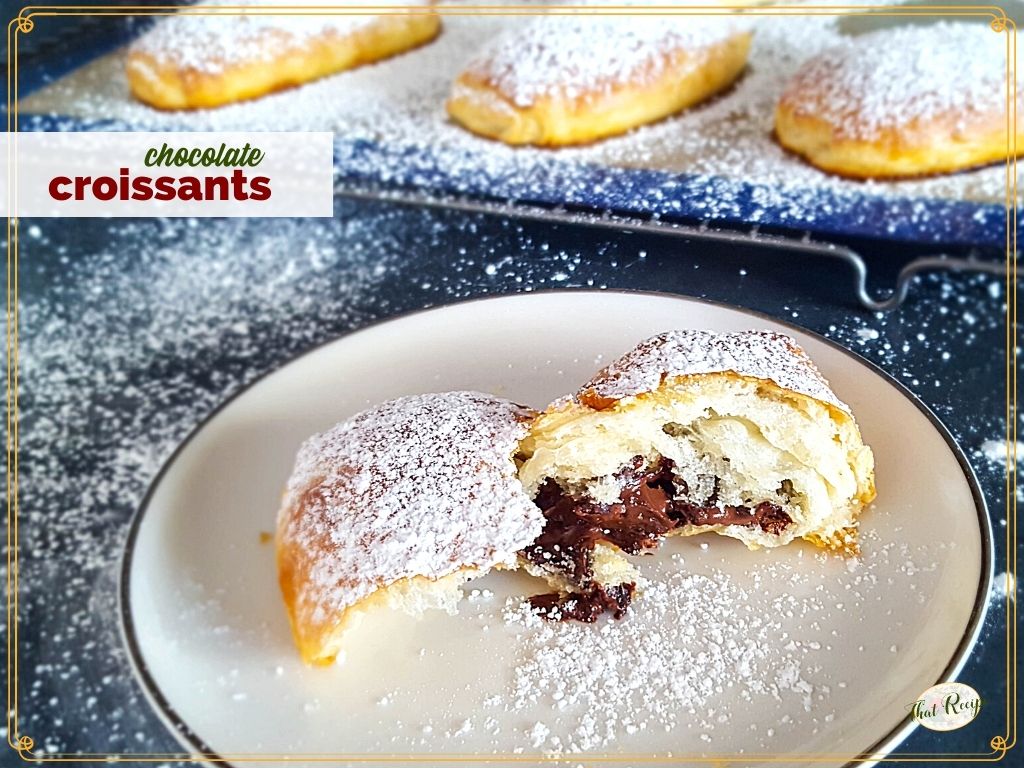 Ingredients
¼

cup

warm water about 100°F

1

package

active dry yeast

(2 ¼ teaspoons)

2

teaspoons

sugar

½

teaspoon

salt

2

cups

all purpose flour

2

tablespoons

vegetable oil

(if using bleached flour increase to 4 tablespoons)

1

tablespoon

sugar

½

teaspoon

salt

⅓- ½

cup

milk at room temperature

¼

cup

butter

1

large egg

1-2

cups

semi sweet or milk chocolate chips

½

cup

powdered sugar
Instructions
Proof the yeast: In a small bowl, dissolve yeast, 2 teaspoons sugar and ½ teaspoon salt in the warm water. Let proof until bubbly, about 5 minutes. (If the mixture is not bubbling in 5 minutes your yeast is probably bad and the croissants will not rise properly).

Make the dough: In a mixing bowl combine flour, oil, remaining sugar and salt. Add yeast mixture and ⅓ cup milk and mix until a soft dough begins to form.

Turn dough out onto a floured board and knead until smooth and elastic, 3-5 minutes. If dough is too dry add more milk 1 tablespoon at a time. If it is too sticky, add more flour a tablespoon at a time.

Place dough in a large greased bowl, cover with plastic and let rise in a warm place until doubled, about 1 – 1½ hours.

Punch down dough and shape into a circle. Cover with plastic and refrigerate 20 minutes.

{Dough can be placed in a zip to lock bag and frozen at this point. Allow to defrost in refrigerator then proceed.}

Add butter to dough: Roll out the stick of butter until softened slightly with no lumps but not beginning to melt. Shape into a 5 inch square and chill until dough is ready. (I stick mine in the freezer for about 5 minutes.)

On a floured board, roll out the dough to a 9 inch circle. Place the 5 inch butter square on top and fold the sides up over the top. Gently push the top dough corners in towards the center so the butter is completely enclosed in dough.

{Dough can be placed in a zip to lock bag and frozen at this point. Allow to defrost in refrigerator then proceed.}

Roll and Fold #1: With a rolling pin, roll the dough square away from you to form a 15 inch by 5 inch rectangle. Fold the top of the dough down ⅓ of the way, and the bottom up like you are folding a business letter to get a 5 inch square again.

Roll and Fold #2: Turn the dough ¼ turn so the top edge is on your right (or left if you prefer). Repeat the Roll and Fold step above. Cover in plastic and chill for at least 2 hours.{Dough can be placed in a zip to lock bag and frozen at this point. Allow to defrost in refrigerator then proceed.}

Roll and Fold #3: Place the dough on a floured board with the top open edge on your right (or left if that was what you did above) and roll into a 15×5 rectangle and fold back into a 5 inch square.

Roll and Fold #4: Turn the dough ¼ turn and repeat the roll and fold one last time. 4 foldings equals 81 butter layers between 82 dough layers!

Wrap in plastic and chill for at least 2 hours (yes again!)

{Dough can be placed in a zip to lock bag and frozen at this point. Allow to defrost in refrigerator then proceed.}

Shaping the croissants: With a rolling pin, roll dough into a 20 inch by 5 inch rectangle. Cut in half and stick half in the fridge while you shape the first half.

Cut into rectangles: With a rolling pin, roll out the dough to a 12 inch by 5 inch rectangle, cut into 6 rectangles 2 inches thick. Roll out each rectangle to be 5 inches by 7 inches.

Fill and Roll: Add chocolate chips to the top ¼ of the rectangle at least ¼ inch from the edge. Roll the dough over the chocolate chips into a cylinder, pinching the sides closed. Place on a baking sheet with seam on the bottom several inches apart. Repeat to make 12 total croissants.

Rise and Bake: Let rise one hour until almost doubled.{Risen croissants can be frozen and baked later. Place in freezer while on baking sheet, then place croissants in a zip to lock bag until ready to bake.}

Preheat oven to 475°F.

In a small bowl beat the egg with ½ teaspoon water. Brush on the croissants.

Bake until golden 10-12 minutes. Let cool and dust liberally with powdered sugar.

{Baked croissants can be frozen and reheated in a 400° oven for a few minutes before serving and then dust with powdered sugar.}
More Chocolate Recipes