Jump to Recipe
Print Recipe
Hungarian Chocolate Torte combines red wine, chocolate and walnuts into a fluffy decadent dessert sure to please any chocolate lover.
This simple Hungarian chocolate and walnut torte makes a wonderful dessert for any occasion.
This recipe comes courtesy of one of my favorite fellow foodies and chocolate lovers, my mother-in-law. Her recipe calls for using a 9x13 pan, but you could also use a springform pan if you want a more dramatic presentation. I made a half recipe in a 1.5 quart casserole dish.
Does the wine cook off?
It bakes for about an hour at 325F, so most if not all of the alcohol will cook off leaving the rich fruity flavor behind to enhance the chocolate flavor.
How to Adapt Hungarian Chocolate Torte
The recipe calls for a whopping 1 teaspoon of bread crumbs to give just a little body to the torte. Use gluten free bread crumbs for a gluten free dessert or crushed matzoh for a lovely leavener free Passover dessert.
Allergic to walnuts or just don't care for them, use pecans or almonds instead. If you are allergic to those as well, sunflower seeds would probably be the best alternative.
More Summer Games Recipes
Welcome to #SummerGamesWeek 2021 hosted by Amy from
House of Nash Eats!
We are celebrating the start of the Tokyo Games with over 50 recipes representing more than 25 countries competing in the upcoming Summer Games! Come join me and my fellow Summer Games Week bloggers as we bring you recipes from appetizers to drinks to entrées and desserts!
My recipe choices this week all reflect my family heritage:
Mititei on Monday - mini beef sausages from Romania (my father in law)
Fried Polenta on Tuesday - cornmeal cakes from Italy (my dad's father)
Tea Brack on Wednesday - fruit laden tea bread from Scotland and Ireland (my mother)
Chocolate Walnut Torte - from Hungary (my mother in law)
Tomates Farcies on Friday - stuffed tomatoes from France (my dad's mother)
Thursday #SummerGamesWeek Recipes
Hungarian Chocolate Torte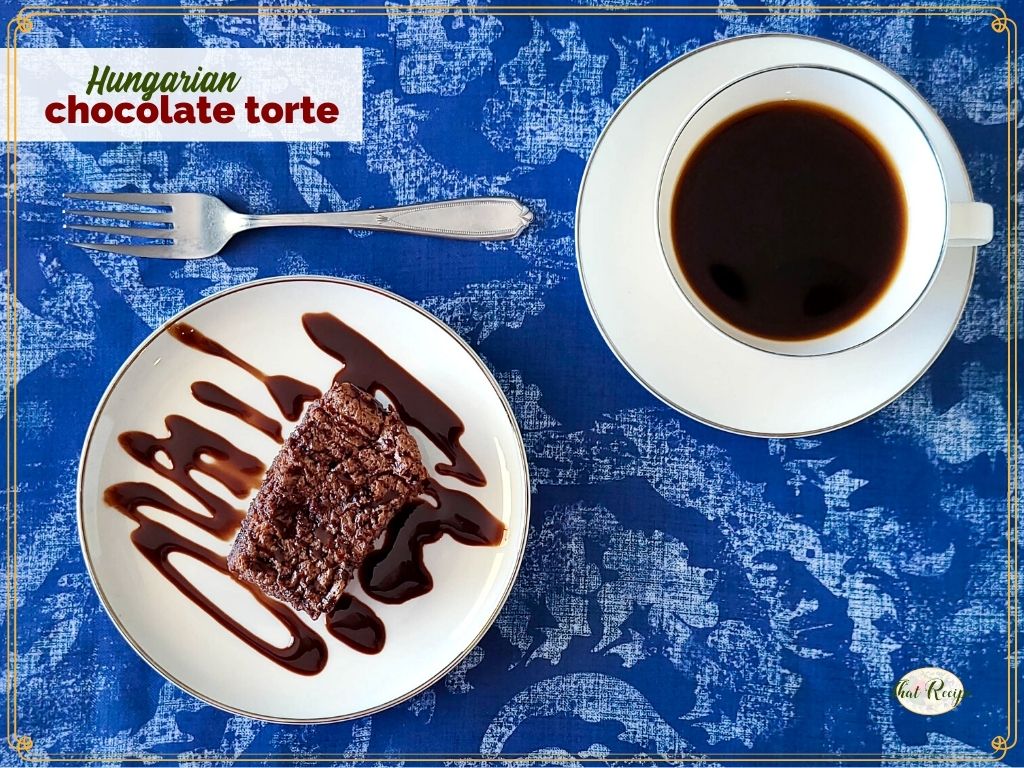 Ingredients
1

cup

walnuts

¾

cup

dry red wine

¾

cup

sugar

1

teaspoon

fine bread crumbs

6

ounces

good quality semi sweet or dark chocolate chips

((or bar cut into pieces))

6

large

eggs
Instructions
Preheat oven to 325°F. Grease the bottom and sides of a 9 inch springform pan or 13x9x2 inch pan. Set aside.

In a food processor, finely chop the walnuts until almost flour like.

In a small saucepan, combine wine, sugar, breadcrumbs, nuts and chocolate. Cook over medium heat stirring constantly until chocolate has melted, about 5 minutes. Immediately remove from heat and cool.

Separate eggs. Whip whites until they reach the stiff peak stage (the mountain formed when you pull out the beater stays upright).

In a separate bowl, beat egg yolks until light. Add cooled chocolate mixture.

Gently fold in the egg whites just until combined. Pour into prepared baking pan.

Bake at 325° until the center is set, about 1 hour.

Let cool completely. Serve with your choice of powdered sugar, whipped cream, chocolate sauce, shaved chocolate, etc.
Sound fabulous? Share it!
Until next time, happy eating!
~Audrey