Why have that plain old boring Iced Tea this summer when you can create your own unique blend. Get inspired by these recipes for a flavor filled summer.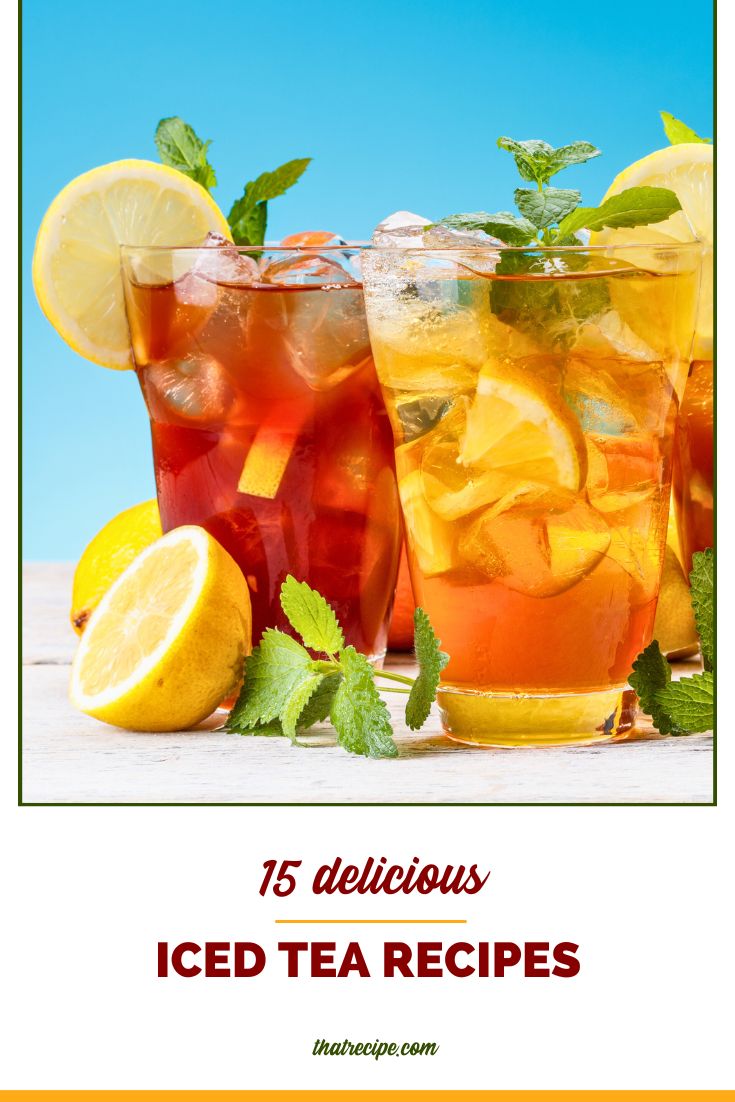 Many people just pick up some plain tea bags when they make iced tea, which is delicious, but can get a bit boring after awhile.
You can easily vary the tea, the preparation method and/or the additions to come up with your own signature blend.
I am sipping on some sun tea as I write this made with a blend of store brand decaf tea and Sangria Zinger (a blend of hibiscus, pineapple, blood oranges and other citrus).
I am currently out of my mom's absolute favorite iced tea from Luzianne. She even bought me a few boxes online a month or so before she passed away because we couldn't find it locally.
Sun Tea is Dangerous, possibly
Some people insist sun tea is dangerous because you can get food poisoning. Oh those joy suckers trying to ruin all the fun in everything using science.
Yes, it is absolutely possible to get food poisoning from sun brewed tea.
If the jar is not sanitized or the tea itself has bacteria your sun tea jar could be a microorganism breeding ground because it is brewed in the "danger zone" of 40°F to 140°F. It is not hot enough to kill the bacteria, and actually can encourage it's growth.
How to make Iced Tea: 2 ways
With all of the above dangers listed, I still drink sun brewed tea in the heat of summer. It only takes a few hours in the sunny Southern California heat.
I use a 2 quart mason jar because I am usually the only one that drinks it. I recommend one like this with a nice lid for pouring. The smaller amount chills quickly in the fridge, to minimize time in the danger zone.
If the sun isn't out or I don't feel like waiting, I will brew the tea in 2 cups boiling water and add ice and water to fill up my jar.
Recipes for Iced Tea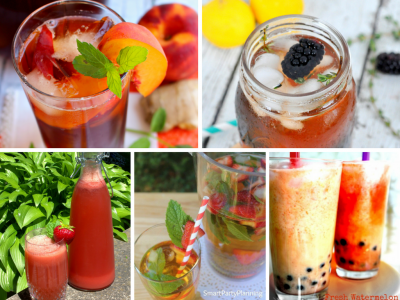 Ginger Peach Iced Tea from Delightful E Made
Blackberry Thyme Tea Lemonade from My Suburban Kitchen
Red Iced Tea with Grapefruit and Cranberry from Marlys This and That
Iced Green Tea Infused with Strawberries and Mint from Smart Party Planning
Fresh Watermelon Milk Tea Boba from Momma Cuisine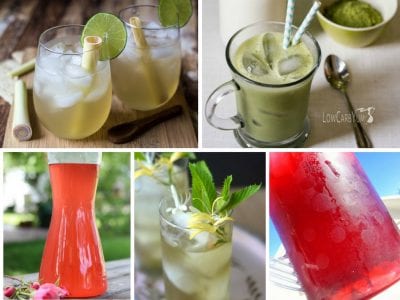 Fresh Lemongrass Tea from the Wanderlust Kitchen
Iced Vanilla Matcha Green Tea Latte from Low Carb Yum
Rose Petal Iced Tea from Creative Homemaking
Honeysuckle Iced Tea from The View from Great Island
Berry Hibiscus Cooler from That Recipe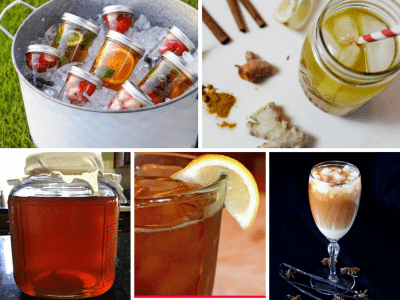 Summertime Sun Tea from Thirsty for Tea
Turmeric Ginger Iced Tea from Plant Based Cooking
Homemade Kombucha from Mainly Homemade
Instant Pot Sweet Iced Tea from Digital Mom Blog
Thai Iced Tea from Savoring the Good
Until next time, happy eating (and drinking)
~Audrey