Is Meal Planning one of your New Year's resolutions? Do you want to make it easier on yourself and create healthy meals your family will love? If the process overwhelms you and you aren't sure where to begin, you need to check out Menu Planning Central today.
The links in this post are affiliate links, I may receive a commission if you order through them at no additional cost to you. The opinions are all mine (namely the service is a great value, the recipes are easy and delicious and you owe it to yourself to get a free week just to check it out).
Menu Planning Central has been around since 2007, but it was recently taken over by my virtual friend, Trish Lindemood. Let me tell you, Trish knows her way around the kitchen. I have tried more than a few of her recipes myself and they are always a hit. They are always clear, concise and most importantly delicious.
What you get
For $9 a month you get 4 sets of weekly meal plans each including 6 dinner recipes, a breakfast/brunch recipe and a dessert. That's 32 recipes folks! You won't be hearing "not that again!" from your family with variety like that. Plus, you'll get a customized shopping list to make it even easier to create those recipes.
The recipes
You might be thinking "sounds like a great deal but are the recipes any good?" How does Bone-In Pork Chops with Creamy Mushroom Sauce or Easy Instant Pot Carnitas or Baked Strawberry Crisp sound to you? My guys might not love the mushroom sauce, but everything else would be devoured.
But, don't just take my word for it. Take a look at this Quick Chicken Shawarma recipe. I would put that Greek Yogurt Sauce on everything.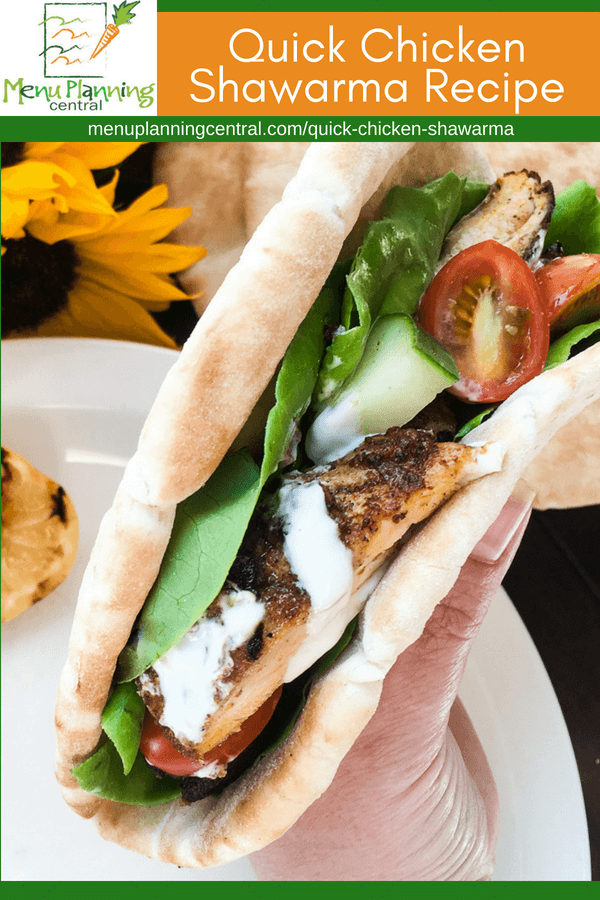 There are also sample meal plans and more sample recipes on the site and
Try out a Free Week
You can even try a sample week for free. That's a real free "no credit card required" trial, not one of those give me your credit card and remember to cancel gimmicks.
You get 6 dinner recipes, one breakfast recipe, one dessert recipe, the customized shopping list and 4 illustrated recipe cards to sample.
Three plans to choose from... soon anyway
Currently there is one meal plan, the Family Favorites plan. But in the next few months they will be adding two other meal plans to choose from:
Healthy 30-Minute Meals Menu Plans (all recipes are gluten free and do not contain any refined sugar or other processed ingredients.) coming February 1
Vegetarian Meal Plans (meat free recipes with no refined sugar or dairy) coming March 1
You can get a sneak peek at the Healthy 30-Minute Meal menu plan here. Sign ups should be live for the free sample week soon.
Putting the Customer in Customer Service
From personal experience I can tell you if there is the slightest hiccup with your order or even if you decide it isn't for you and you want to cancel, the folks at Menu Planning Central will take care of you.
All that and a coupon code
To make the deal even better for my readers, you can use the coupon code SAVE10 at checkout to save $10 off an annual membership dropping the price to just $4 a month!
So what are you waiting for?
If you have been thinking about meal planning and are looking for an easy way to get started, head over to Menu Planning Central and learn just how easy it can be.