Jump to Recipe
Print Recipe
Moroccan Lentil and Tomato Soup is a healthy lentil soup loaded with flavorful spices. Includes instructions to pack it into a mason jar as a gift.
Oh, do I have a treat for you! This Moroccan Lentil and Tomato Soup is flavorful, vegetarian, gluten free and "guaranteed" to bring you good fortune in the new year if you eat a big bowl on New Year's Day.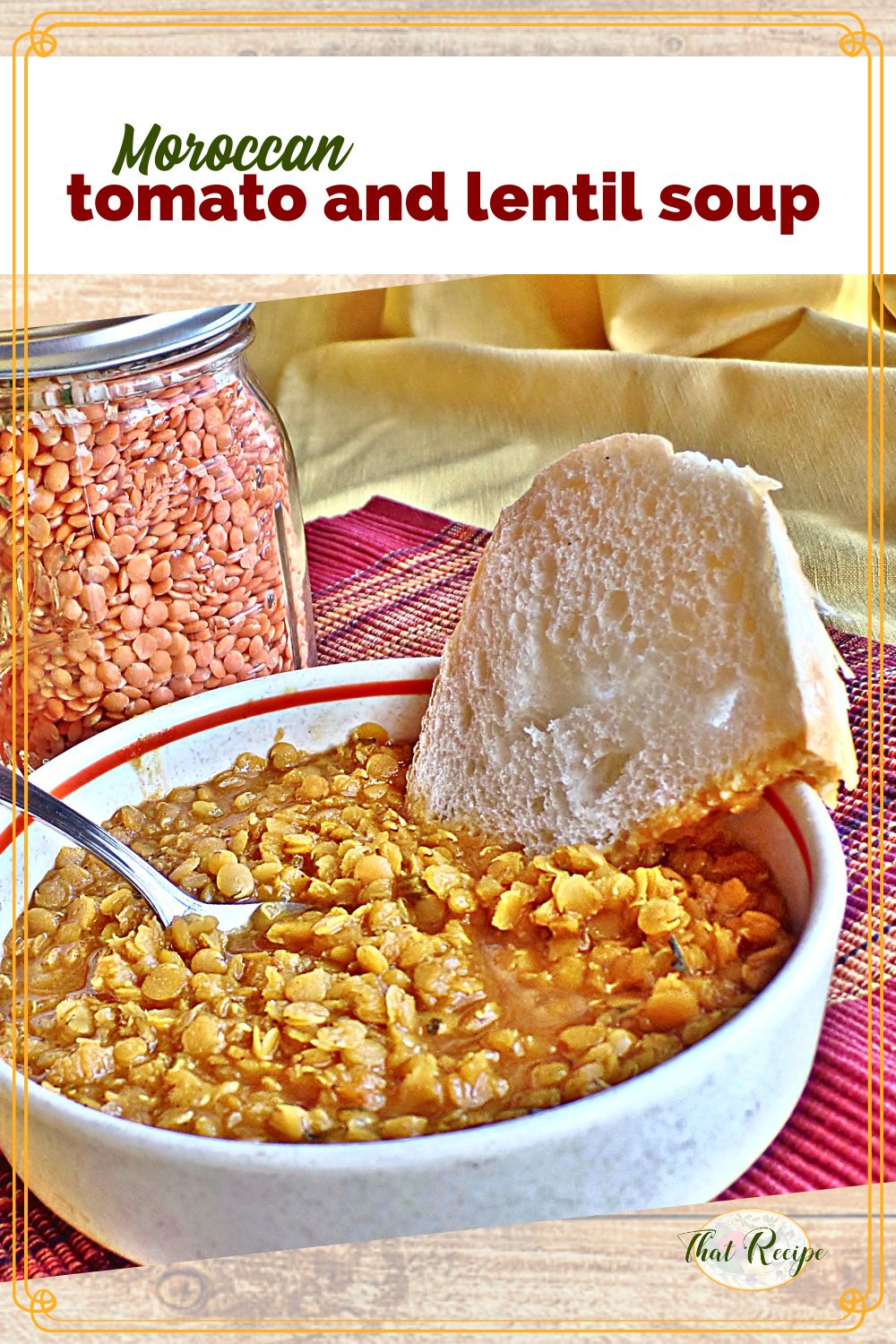 Well, the last part is folklore, but these lentils were fabulous!
I had planned to make my mom and in-laws jars of Lentil Soup Mix for Christmas so they would have an easy homemade meal for when they didn't fee like cooking. But, I forgot to buy the barley.
So, I had to decide: go back to the store or come up with another recipe with what I had on hand. I made the right choice.
The spice combination is amazing. It isn't spicy hot, just incredibly flavorful. Turmeric can be a bit expensive, but it absolutely makes this dish! Plus, it is reputed to be quite good for you.
Moroccan Lentil Soup Mix in a Jar
The instructions below are to make it with fresh ingredients, but I also added the details for how I made them into a mix in a jar.
In addition to the lentils and spices you will also need:
Pint sized mason jars or other containers (like these latch top jars).
Dehydrated onions also called onion flakes or minced onions
Dehydrated celery also called celery flakes
Tomato Soup Mix I use this brand
Moroccan Lentil and Tomato Soup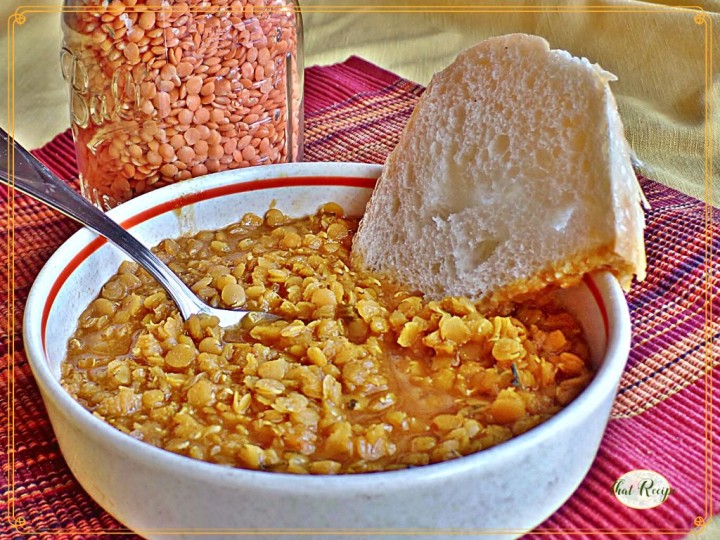 Ingredients
1

tablespoon

olive oil

1

cup

onion

(diced)

½

cup

celery

(diced)

4

cloves

garlic

(minced)

1

teaspoon

ground cumin

1

teaspoon

coriander

1

teaspoon

turmeric

¼

teaspoon

cinnamon

¼

teaspoon

ground black pepper

28

ounce

can diced tomatoes

1

quart

broth

(chicken or vegetable)

water or additional broth

(as desired for thickness of soup)
Instructions
In a large soup pot, heat olive oil over medium heat. Saute onions, celery and garlic until onions begin to turn translucent. Add spices and heat for 1 minute.

Add remaining ingredients and bring to a boil. Reduce heat and simmer until lentils are soft, about 20 - 25 minutes.

Add more water or broth if you want it soupier.
Notes
To make a jar of soup mix for gift giving, add the following to a clean and dry pint jar:
1 bag lentils
2 tablespoons dehydrated onions
1 tablespoon dehydrated celery
Combine the following in a small bag and attach to jar:
1 tablespoon tomato and chicken bullion
2 teaspoon garlic powder
1 teaspoon ground cumin
1 teaspoon coriander
1 teaspoon turmeric
¼ teaspoon cinnamon
¼ teaspoon pepper
Add instructions:
Combine contents of jar with 4-6 cups of water, bring to a boil and simmer until lentils are tender, about 20 -25 minutes. Add additional water if desired.
Until next time, happy eating.
~Audrey