I took a huge tray of cookies to the staff at J's school this morning that included the Chocolate Cream Cheese Cookies and Chocolate Dipped Citrus Peel Cookies (sans the chocolate dip) plus some simple Almond Cherry Spritz cookies. I figure sugar is going to help them through this last week before vacation.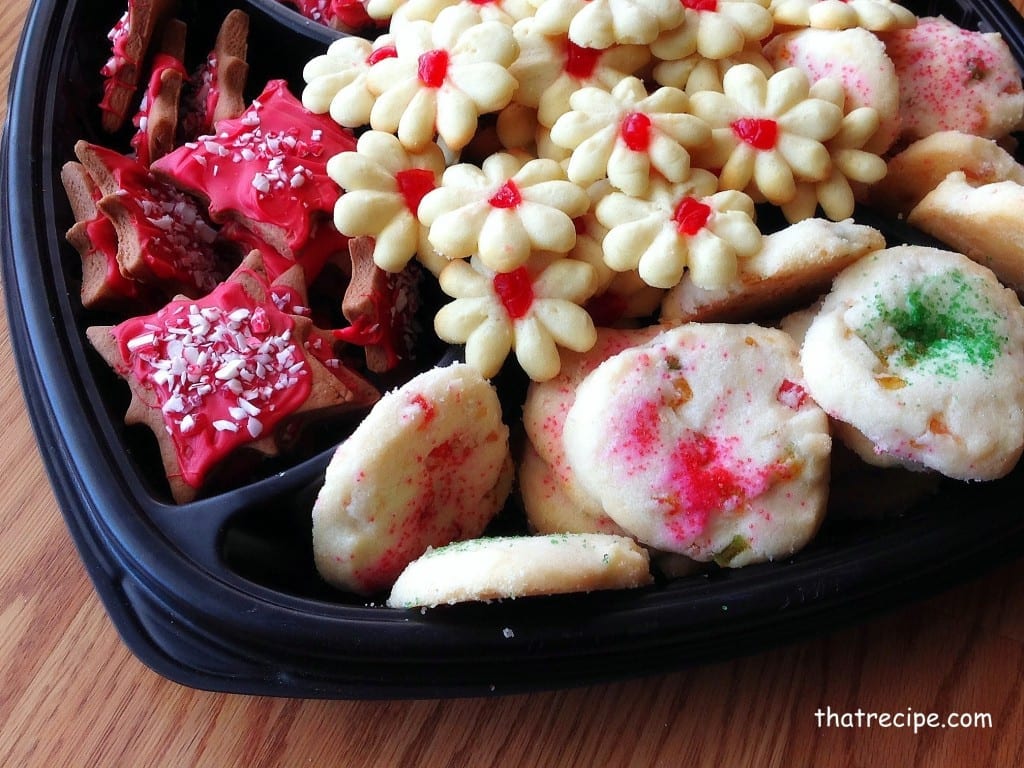 The class is going in on a gift for the teacher already, but we needed to do something a little extra. And I think this Soup-er Lentil Soup Mix will be much appreciated.
I picked up a free Kindle book the other day called Gifts in Jars: Recipes for Easy, Delicious, Inexpensive DIY Gifts in Jars By Margaret Lowe. They have plenty of great looking recipes from breads and soups to desserts.
I opted for the Lentil Soup Mix for a few reasons:
Other than water/stock no other ingredients need to be added.
It cooks in under hour.
Lentils are a good luck food if eaten on New Year's Day in Italy.
I had lentils in the cupboard that I knew the guys wouldn't eat.
I made some changes to the original. She puts it into a 1 quart jar then tells you to make it to scoop out a cup of mix and add 4 cups of water. The ingredients are all neatly layered, how are you supposed to get out 1 cup. And without any bullion, plain water was going to leave it a bit bland.
Another great thing about this soup mix is that is Vegetarian, Vegan, corn-free, sugar-free, low fat, low sodium, dairy-free and gluten-free (use gluten free pasta or brown rice) just in case you are dealing with any special diets in your gift giving.
To make it up, all you need to do is gather the ingredients and some clean and dry pint jars.
Layer ingredients in the jars:
I used a few wide mouth jars and some standard. The wide mouth jars seemed to be a little smaller than the others and the ingredients were in danger of spilling over.
I tamped down the jar by putting the lid on gently and tamping down the ingredients by banging it lightly on the table.
I decided I'd better test the soup itself to make sure it was tasty. I added water per the original instructions:
It was a bit bland as I suspected, which is why I changed the water to broth (chicken, beef or vegetable). Also salt and pepper to taste.
Nice lunch for me and hopefully a nice present for his teacher and aide. For gift giving I just printed these instructions, cut them out and glued them to some construction paper. Or you can tape them directly on the jar.
Lentil Soup Mix
Print recipe
Recipe and instructions for a lentil soup mix in a pint mason jar for gift giving. Vegetarian, vegan, gluten-free, dairy-free.
Ingredients
1 pint jar with lid (clean and dry)
1/2 cup green split peas
1/2 cup lentils
1/2 cup pearl barley
1/4 cup alphabet shaped pasta (or star shaped or brown rice for gluten-free)
2 tablespoons dehydrated onion flakes
1/2 tablespoon dehydrated celery flakes
1 teaspoon parsley flakes
1 teaspoon thyme
1/4 teaspoon white pepper
Note
The instructions below are for 1 pint jar which will make about 8 cups of soup. Each one-pound bag of lentils (and barley and peas) will yield approximately 2 cups so you can make 4 pint jars.
Click here for a printable label.
Directions
Layer ingredients in the jar in order given.
For gift giving include the following instructions: "Combine soup mix with 2 quarts of chicken, beef or vegetable broth and one cup cooked and chopped beef, chicken or ham (optional). Bring to a boil then reduce heat to low. Cover and simmer for 45 minutes to 1 hour, until peas are tender. Add salt and pepper to taste."
Until next time, happy eating.
~Audrey