Jump to Recipe
Print Recipe
Pickled Cherry Tomatoes are a simple way to preserve your cherry tomato harvest. Great on sandwiches, a cheese tray and more.
These Rosemary and Garlic Pickled Cherry Tomatoes are insanely easy to make and are a great way to preserve your cherry tomato harvest and create a taste sensation for your salad.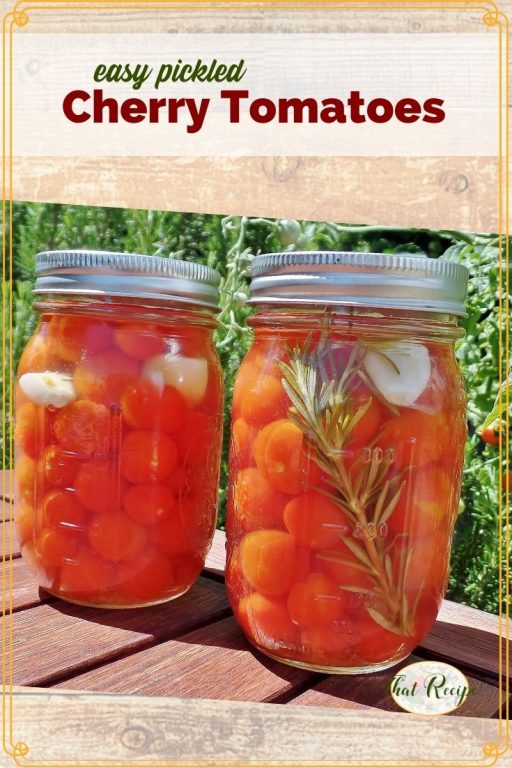 I have three out of control cherry tomato plants this year. Unfortunately with cherry tomatoes you get a whole bunch all ripe at once. And I am not letting a single one of those ripe red beauties go to waste. You can make one jar for yourself, or a bunch of them to share your harvest.
Grape tomatoes can be used in place of the cherry tomatoes, and you could use different herbs, like oregano or basil, instead. I went with rosemary because my tomatoes happen to be planted in between my two huge rosemary bushes.
If you can boil water, you can make these. Seriously! All you do is boil some water, vinegar and salt then pour it over the tomatoes in your jars. Let them sit for 24 hours or more and that's it!
You do not have to seal the jars on these if that intimidates you, but then you will have to keep the jars in the refrigerator. But, water bath canning is so easy you might just want to give it a try so you can keep these for eating later in the year ... or so you can ship a jar off to your baby brother on the other side of the country who was run over by his own car (don't ask...). Get more info from the pros at Ball if you are new to canning.
Throw them in a salad, or on an antipasto plate, or in a sandwich, or sneak them straight from the jar late at night... hey, I was just taste testing them for the blog, repeatedly, uh... to make sure the flavor didn't change, yeah that's it!
Give these a try and I think you will be pleasantly surprised.
Pickled Cherry Tomatoes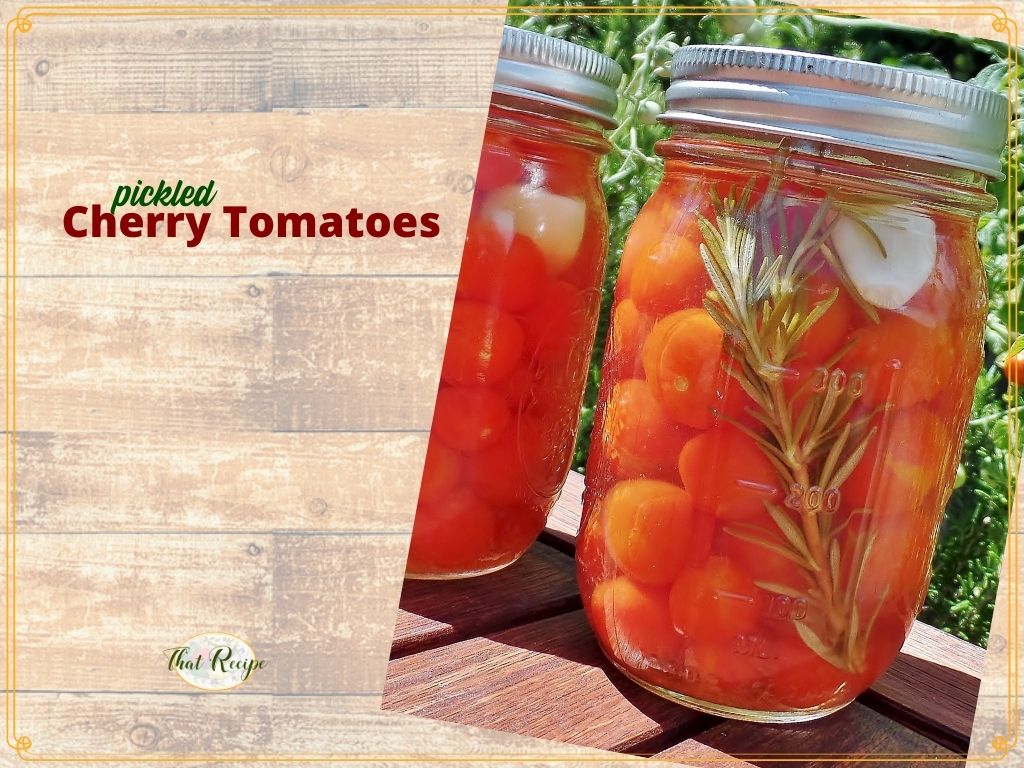 Ingredients
½

teaspoon

salt

½

cup

white wine vinegar

(or apple cider vinegar)

½

cup

white vinegar

2

cups

water

1

quart

cherry or grape tomatoes

2

cloves

garlic

(peeled and sliced into two long halves)

2

sprigs

fresh rosemary

(length should be approximately the same as the jar)
Instructions
Combine salt, vinegars and water in a small saucepan. Bring to a boil, reduce heat and simmer for 10 minutes.

Remove stems and wash the tomatoes. Gently prick tomato skins twice on opposite sides to prevent skin from cracking.

Pack tomatoes in hot sterilized jars (two pints or four 1-cup jelly). Add one half of garlic half way and the other clove on top.

Ladle vinegar over tomatoes to ¼ inch line. Add a rosemary sprig to each jar.

If sealing jars: run a knife along the inside edge of the jars to remove ALL air bubbles. Finger tighten the lid.

Process jars in a boiling water canner for 10 minutes starting your timer as soon as you put the jars in. Leaving them longer will cause the tomatoes to pop.

If you are not sealing the jars, let cool to room temperature, put on lids and store in refrigerator.
Notes
makes 4 half-pint jars or two pint jars
adapted from Ball Blue Book Guide to Preserving
Save
Save