Jump to Recipe
Print Recipe
Red Grape Lavender Jelly is less sweet than traditional Concord grape jelly with a light floral twist thanks to the lavender flowers. Great for gifts.
This Red Grape Lavender Jelly is a great way to preserve homegrown grapes and makes wonderful gifts for family and friends.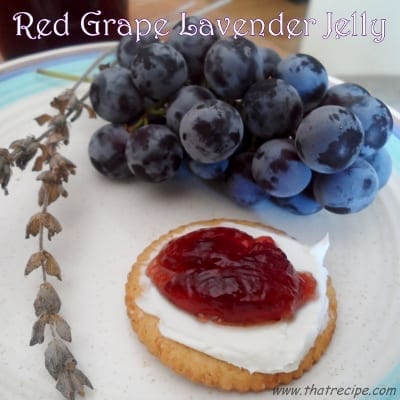 When I bought my two grape plants they were labelled Thompson and Red Table. I swear the Red Table did not say anything about seeds! I never would have bought it and planted it and nurtured it so that this year it produced over 20 cups of grapes with annoying little seeds in them. All ripe at the same time.
This recipe calls for pectin. I know some people do not like adding packaged pectin to their jams and jellies. Red Grapes do not have enough natural pectin in them to gel like Concord Grapes do, which is what is normally used to make grape jelly. I even tried to add apples once (as suggested in Joy of Cooking), but it still wasn't enough pectin to make it gel.
The jelly itself is quick and easy to make, but it takes a day to properly make the juice. You need to boil the fruit, strain it then let it sit for 12-24 hours and strain it again to prevent tartrate crystals from forming in the jelly. They aren't harmful to consume, just don't look pretty, so skip this step if you want.
To mix things up this year I added some lavender flowers to the boiling grapes. I tried it once before with strawberry jam, and it was an equally delicious addition to the grapes. A delightful extra layer of floral flavor.
Red Grape Lavender Jelly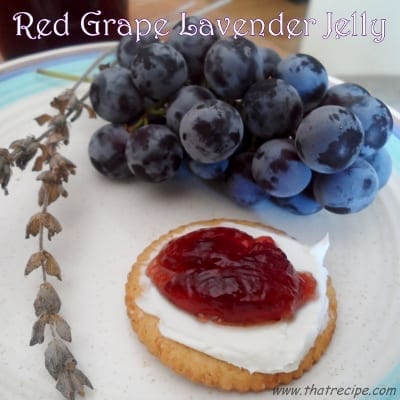 Ingredients
4

cups

grape juice

(from about 3 pounds of grapes prepared as below)

¼

cup

dried lavender flowers

7

cups

sugar

1

pouch liquid pectin
Instructions
Remove grapes from stems and wash. Put both grapes in a large saucepot with ¼ cup water. Slightly crush the grapes. Rub lavender flowers between your hands to release the essential oils as you sprinkle them over the grapes. Cover and simmer until grapes are soft. Strain through a damp jelly bag make shift jelly bag or several layers of cheesecloth to extract juice. NOTE: be sure cheesecloth or jelly bag is wet before pouring in the fruit/juice or the cheesecloth will absorb your juice! (experience talking there).

To prevent formation of tartrate crystals, let juice sit in a cool place for 12-24 hours and strain through a few layers of damp cheesecloth before proceeding.

Measure out 4 cups of juice from above and put into a large saucepan. Add sugar and stir until dissolved. Open pectin pouch and put in a cup next to the stove. Bring juice/sugar to a boil over high heat, stirring constantly. Stir in liquid pectin. Bring back to a roiling boil and boil hard for 1 minute, stirring constantly. Remove from heat and skim foam if necessary.

Ladle hot jelly into hot jars leaving ¼ inch headspace. Adjust two piece caps. Process 10 minutes in a boiling water canner.
Other homemade jams, jellies and preserves:
---
Until next time, happy eating.
~Audrey