Today we have a guest blogger: Carleta Vineys (alias Ma'am, my mother, the founder of this site). She wrote this for the Super Bowl a few years ago and I thought it was so good I am just reprinting it.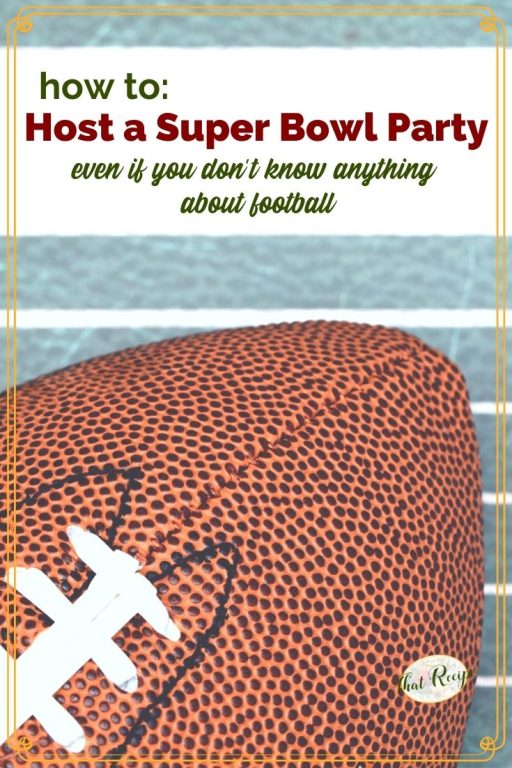 Training Camp
If you know which team won Super Bowl XIII, congratulations, you can graduate to Pregame.
You haven't a clue about punting and blitzing.  Special teams?  Do your homework first and read up on the rules to become familiar with the ins and outs of the game.
Some reminders:
Don't ask, "Why do they do that?" during the game play. Make a mental or written note and ask your question during a time out, commercial or half time.
Making comments about the design of team uniforms is not popular with die-hard football fans, either. They are totally oblivious to the fact that tight fitting leg coverings may expose the obesity of the guards.
Figure out early in the game which team is wearing what colors. Hint: those guys wearing black and white vertical stripes and constantly waving their arms furiously are game officials, not team players. These guys don't carry or catch the ball, cannot make touch downs or kick field goals AND should not be tackled.
Be prepared for incessant TV replays (some from Clan of the Cave Bear era) with players wearing weird looking leather, close-cropped helmets and uniforms that look like turn of the 20th century swim outfits. This can throw you off your rocker losing track of what is happening live in the game.
Expect the announcers to make dumb statements. They have a lot of empty time to fill and have not learned the value of "pregnant pauses".
Pregame
Number 1 rule for any entertaining is to prepare most everything ahead of time. Number 2 rule is to let others help you and encourage guests to bring food to share.
For most real football fans a Super Bowl party is not about gourmet cuisine. It is about watching football. (Sorry, Food Network.) We are going to give you some tips to make a successful party, no matter who wins the game. It is really about enjoying each other company.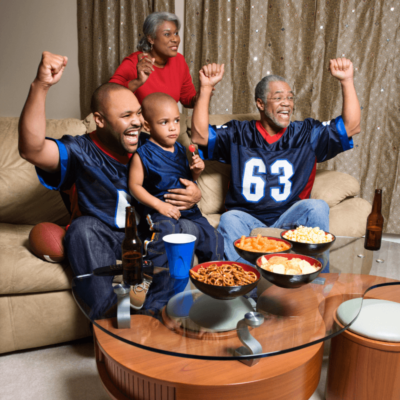 Set the scene. Provide plenty of comfortable seating so everyone can see the TV screen clearly and provide a stable surface for everyone to place a drink and plate. Younger, agile members of the crowd can sit on large pillows or cushions on the floor.
You may choose to decorate in the colors of your crowd's favorite team. (If your favorite team is not in the Super Bowl, that's okay. Red and Gold will work!) Put up crepe paper streamers and football-shaped Mylar balloons. Display some team posters on the walls. If you have some prized, signed footballs or jerseys, you probably have them on display already. Encourage guests to dress in football attire. Publicize a contest for the most "spirited" attire and give the winner a small prize such as a NERF football.
If you have guests who are not interested in the big game, set up a table in a room away from the TV with board games or cards for those folks to enjoy. Plan for young guests who may have short attention spans and provide some games or entertainment for them. If you have a TV with DVD or VHS player in another room, set up some child-friendly videos for their viewing. And provide some special kids' food for them.
First Quarter
Set up an ice chest or two in the kitchen.  Fill with ice and beverages.  If  beverages are warm, ice them down about an hour before your guests arrive.  Put a recycle bin nearby for empties. This is not an occasion to be mixing the perfect "shaken-not stirred" Martinis or Cosmopolitans. Serving foods high in protein and low in salt may alleviate over drinking and inebriation. 
Perhaps you may want to consider removing access to alcoholic beverages at the beginning of the 4th quarter and bring out the coffee.  You know all the rules and cautions about DUI. "Friends don't let friends drive drunk."
As stated above, food is not the center of attention here.   So, don't get crazy about what you serve and take care that you serve foods that are not "messy".   Serve finger foods as much as possible.  You may choose to prepare your own food or shop at your favorite deli.  If your guests bring along a dishes  to share, all the better.
Serve all snack food in bowls or on dinner plates, not large platters. Arrange several servings of each appetizer and spread them around the room within easy reach of all guests. Make sure you have plenty of coasters set around for folks to easily locate and use to protect your table tops.  Set out plenty of small plates and cocktail napkins. The only "passing" during game play should be on the playing field. Do not walk in front of guests to serve food. Replenish food as needed during time outs, commercials or half time.
Second Quarter
This is the time to start setting out the buffet to serve food at half-time. (See Alternate Game Plan below.)  Heat or reheat hot dishes and remove chilled ones from the refrigerator. Enlist help from the non-game enthusiasts.
Arrange food outside the TV viewing area on kitchen counters or a table in the TV room, if possible. Set up dishes to be reached from both sides of the table to speed up the process.  Place stacks of dinner plates at both ends. Prepare dinner-size napkins wrapped around eating utensils and tie with curling ribbon in team colors or close with football stickers.  Stack them in a pyramid next to the plates. Provide bowls for dishing up chili, beans or other soupy dishes.
Select a menu that represents the "native" cuisine of team's locale.  Start with the main course and build from there--Baked Beans for New England, Gumbo for New Orleans, Clam Chowder in French bread bowls for San Francisco or Oakland, Southwestern style for Arizona.
Alternate Game Plan
Maybe you want to consider serving the buffet as a "tail gate party" about an hour before the game begins, especially if you are in Eastern or Central time zones. In that case you will be able serve lighter and less snack food in the early part of the game--maybe only nuts, pretzels, chips, etc. You can still save dessert for the fourth quarter.
Half-Time
Keep serving dishes filled as necessary and don't forget to eat yourself. Don't get stuck in the kitchen. Your guests are there for you to enjoy.
Third Quarter
Now's a good time to sit down and take a break for a few minutes and then collect all the serving dishes from the buffet serving area. After the counter or table is cleared, lay out small plates, more napkins and coffee cups for serving dessert beginning in the fourth quarter.
Fourth Quarter
Have fresh coffee available throughout the game and serve one or more of these fun Football Themed Desserts.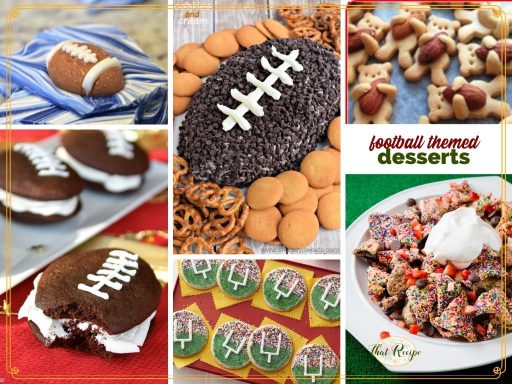 Post Game Show
Enlist everyone for clean up. Remove all food, plates and etc. from the TV room. Wash the serving dishes. Empty the trash and recycle bins. Store away all unopened beverage containers.
Hope your team wins!
Some Recipe suggestions:
Snack foods
Buffet foods
Buffalo Wings with Blue Cheese Dip
Fried or baked chicken strips with Zesty sauce
hot dogs, chili dogs
meatballs in sauce with noodles
sandwiches
potato or macaroni salad
take out or delivery pizza
~
Until next time, Happy Eating.
Carleta (and Audrey)