We have a guest poster today! Ma'am, aka my mother, aka Carleta Vineys, the creator of this site. She had this up on the original site and I am finally dusting it off and making it look pretty in the blog format.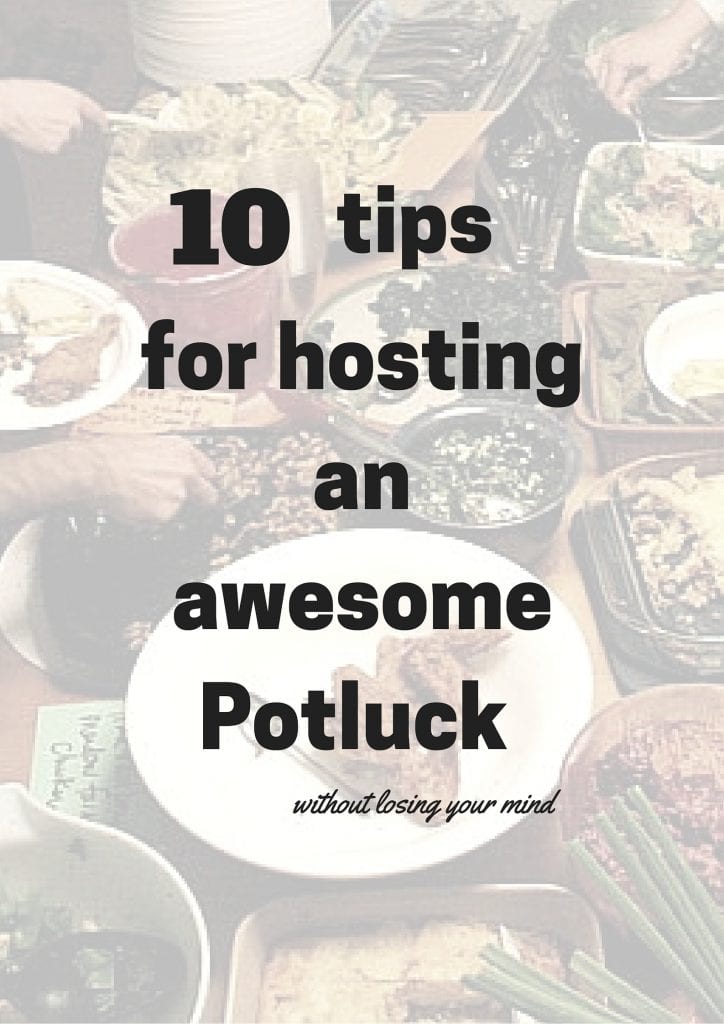 The original intent was for those "volunteered" to host a potluck at work or church or other social group, but the advice holds true for smaller family and friends gatherings as well.
--------------
Folks have been getting together to share food from caveman times after the hunt to Harvest Festivals to the First American Thanksgiving to Barn Raisings and Log Rolling Contests in pioneer days to "All Day Meetings with Dinner on the Grounds" at country churches to modern office parties to Soccer League Awards Banquets to Super Bowl parties, so on, so on.
You are asked to put it all together:
The boss or pastor says, "Joe, I need you to organize our annual Thanksgiving potluck."  You have a couple of reactions.  Probably the first is, "Why did I show up today?"  The second is, "I don't know the first things about this."
Ask a couple of people to help you get organized.
Maybe you want to choose a theme and decorate accordingly.
Make a list of what people should bring:  main dish, salads, side dishes, desserts.
If you are serving outdoors and have barbecue facilities, you might decide to provide the main course--steak, chicken, ribs, hamburgers.
One option is to set a per person cost and charge everyone attending.  You probably want to charge less for children under 6.  Teenage boys pay double.  Just kidding!
Invite everyone.
Set the expectation.  Tell people how much to bring, for instance:  "To serve 6".
Don't just ask people to sign up.  Solicit individual support from everyone. "Mary, you make the best apple pie."  "Stan, I know you don't cook.  How about picking up some dinner rolls and butter?" Supermarket deli's have a great array of items for non-cooks to purchase and contribute.
Make a list of paper and plastic products required.  Make a budget and list on the invitation/announcement an amount for people to contribute to cover the expenses, if necessary, or have people who don't want to cook bring these items.  Don't be stuck supplying these items out of your own pocket.
Remind people to bring serving utensils for their dishes.  Some will forget.   (One of the biggest mysteries is why no one remembers to bring a cake knife.)
Be prepared and bring extra serving spoons, forks and knives.  These can be purchased inexpensively from thrift stores and saved for next time.
Organize set up and clean up committees.  
Don't ask the same person to be on both.  Some folks will show up without contributing no matter what you do; ask these people to help with set up and/or clean up on the spot.  If you have college students, set up and clean up chores are a great way for them to contribute.
Provide masking tape and a permanent marker for people to label their dishes and utensils, if they haven't already.
Ask everyone to collect his or her own dishes and utensils and take them home to wash.  Some people will leave without retrieving them. Here's where the clean up committee can assist.  If a kitchen is available, clean up the leftovers and set all washed items out for people to collect them the next time you get together.
Don't forget to thank all the people who worked hard to put everything together, publicly and privately.
If it is an "organization" function (work, church, school, etc.) request that the head of the organization make a public thank you if they are likely to forget.
Plan for the next one
Probably the best advice:  Write down a few pages about what you did, how you did it and how you would do it differently next time.  It's a good reminder for the next time you do it or a valuable resource for the person who follows you.
[Tweet "Tips and Tricks for hosting a successful potluck for work, church or just family and friends. #potluck #party"]
You are going to a potluck.
First, read and heed all of the above.
If you attend, bring something to contribute.  No one enjoys moochers.  If you don't bring a dish to share, at least volunteer to help with set up or clean up.
Take your food in containers and bring serving utensils clearly marked with your name. Better yet, tote everything in throw away containers and provide "disposable" serving utensils.
Don't forget to thank all the people who worked hard to put everything together.
If you don't like how things are run, volunteer to chair the next potluck.
------
Until next time, happy eating.
~Audrey