For most of us, Vanilla Pudding comes ready made in little plastic tubs or if we feel like "making" it we get the powder in a box and mix it with milk. What if I told you that Homemade Vanilla Pudding was almost as easy as the boxed stuff and tastes sooooooooooo much better?
The three hardest parts of making Vanilla Pudding from scratch are:
separating the eggs
scalding the milk
waiting the 1 hour chill time
The good news is the recipe won't be ruined if you get a little white in the yolks, and it doesn't matter if you break those. All scalding milk means is bringing it almost to a boil.
I can't help with the hour+ chill time.
Trying to do anything knowing that creamy goodness is in the fridge is tough.
Ingredients for Vanilla Pudding
The ingredients are simple, and you probably have them in your kitchen:
milk - I've never made this with non-dairy milk, whole milk will give you a creamier pudding than non-fat
egg yolks - save the whites for another recipe
vanilla extract - or choose another flavor extract
sugar - or substitute such as powdered stevia or aspartame
cornstarch - you could use another thickener such as potato starch or arrowroot. I have only used cornstarch, though.
salt - just a pinch, okay to omit, but it does enhance the flavor.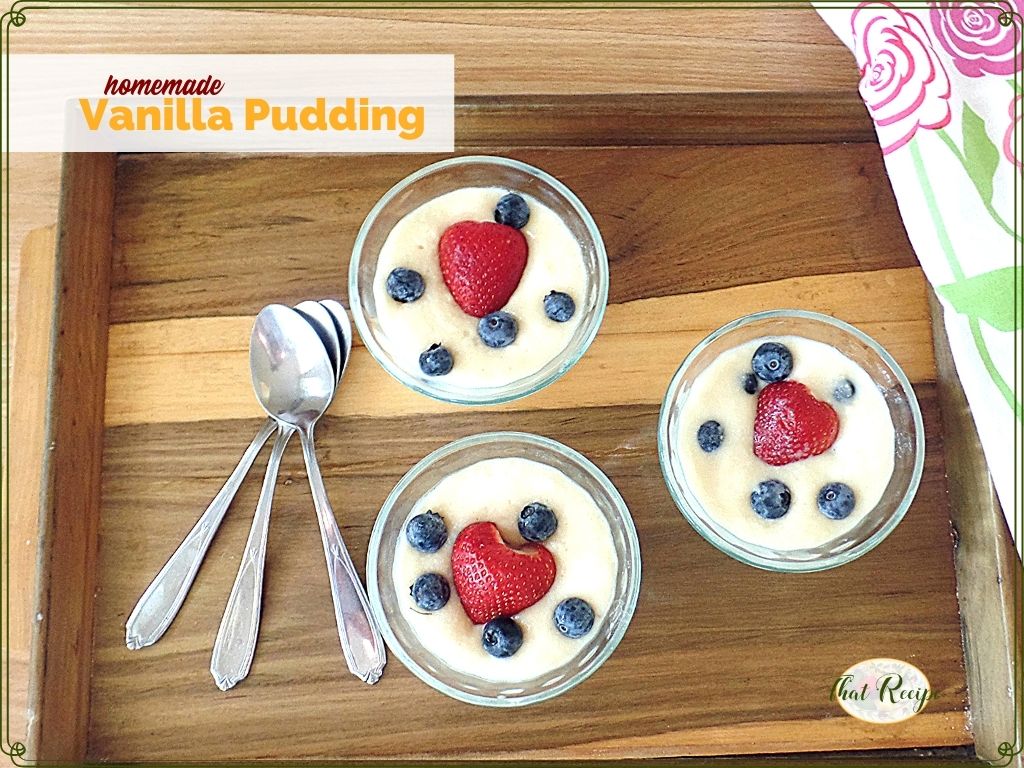 Ingredients
1 ¾

cup

milk

2

large

egg yolks

(use the white for another recipe)

¼

cup

milk

2

teaspoons

vanilla

¼

cup

sugar

3

tablespoons

cornstarch

¼

teaspoon

salt
Instructions
In a medium saucepan, scald 1 ¾ cup milk (heat over medium heat until bubbles start to form, just before it boils, about 180° F (80° Celsius).

While milk is heating, beat the egg yolks in a medium bowl. Add ¼ milk and vanilla, mix until smooth.

In a small bowl, combine sugar, cornstarch and salt. Add to milk/egg mixture and beat with a fork or whisk to remove all lumps.

When the milk is scalded, slowly add the milk/egg mixture stirring constantly.

Cook for 3 minutes, stirring constantly, until mixture is thick. Turn heat to simmer and cook 10 more minutes, stirring occasionally.

Put into serving bowl(s) and cover with plastic. Chill at least 1 hour before serving.
Sound fabulous? Share it!
Until next time, happy eating!
~Audrey