Jump to Recipe
Print Recipe
Watermelon Rind Preserves is a unique watermelon flavored jam made from the white part of the watermelon. 
Yes, you read that right, Watermelon Rind Preserves. Jam made from the rind or white part of the watermelon.
Yes, you can eat that.
It doesn't have the same juicy watermelon taste as the red fruit part, so it needs a little sugar and some cooking to bring it out. The result is a chunky jam bursting with watermelon flavor.
If you have seen my Tomato Preserves recipe, this will look mighty familiar. I used the same recipe, except I upped the lemon because watermelon does not have the acidity that tomatoes do and you need some acid for proper jelling.
When I originally attempted to make this I used an overly complicated less that satisfying recipe from Ball Blue Book. It was a syrupy mess. Delicious, not the thick marmalade like jam consistency I was going for.
Ingredients for Watermelon Rind Preserves
You only need three ingredients to make this:
watermelon rind: use the pink part for another recipe, save the outer white part with a little bit of pink for this. Peel off the green outer layer and compost (or discard). Far less waste!
large fresh lemon: you need a little acid to get the natural pectin to gel. You could use a few tablespoons of lemon juice, but the added zest gives this jam extra layers of flavor
sugar: in order to gel without added pectin, you need to use plain old regular sugar. I prefer cane, but you can use beet sugar as well. If you want to use a sugar substitute you will need no sugar pectin. I have never done it myself, but I'd follow directions for marmalade.
Optional fresh ginger slice: it adds a nice undertone to the jam. Leave it out or try adding another herb or spice that would go well with watermelon such as: anise, basil, cardamom, lemongrass, rosemary, savory.
How to can preserves, jams and jellies
I could type out all of the directions for first time canners, but I am simply going to recommend you get the information from the same place I did many many years ago. The experts at Ball (aka Kerr), makers of the mason jars.
This is a high acid food, so boiling bath canning will be fine to seal the jars to make them shelf stable for a year.
The recipe as listed only makes about 4 jelly jars, so you can skip the canning process, put it in a quart container and keep it in the fridge.
Watermelon Rind Preserves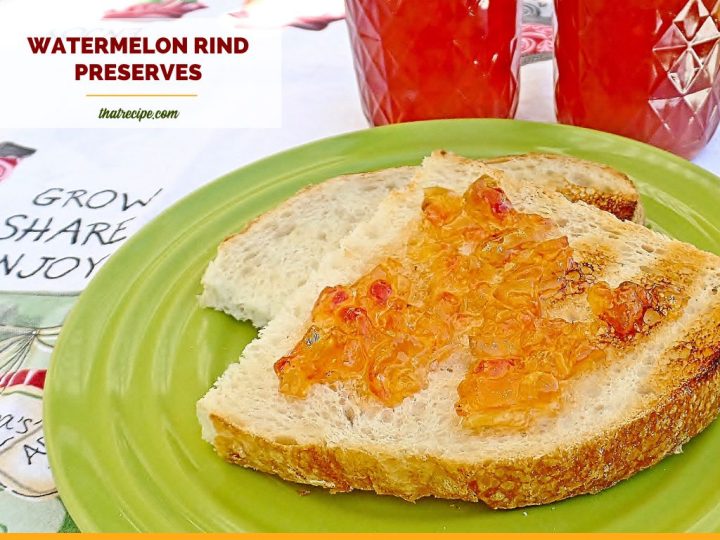 Ingredients
1

pound

watermelon rind

(the white part with a bit of pink, all green peel removed)

1

pound

sugar

1

large

lemon

½

inch piece

fresh ginger

(peeled)
Instructions
Finely chop the watermelon rind and place in a large non-metal bowl. Add sugar and stir to coat all of the rind in sugar. Let stand for 12 hours.

When ready to cook, place two metal teaspoons in the freezer.

Drain watermelon juice into a large sauce pan. Boil until the syrup thickens and falls of a spoon in heavy drops. Approximately 15 minutes.

Add the reserved watermelon rind to the thickened syrup. Grate the lemon zest and add to the syrup. Cut lemon in half and squeeze juice into the syrup. Add the ginger.

Boil mixture until thick, about 15-20 minutes, stirring occasionally.

To test for doneness, remove one spoon from the freezer. With the spoon you used to stir the preserves remove about ½ teaspoon of preserves and pour into the frozen spoon to quick chill. Tilt the frozen spoon over the pot, if the preserves pour off in large thick drops it is done. If it pours off quickly, boil for another few minutes and retest with the other frozen spoon.

Remove ginger. Put preserves in sterilized jars and boil in a water bath canner for 20 minutes.
Notes
Makes 3-4 half pint jelly jars.
Sound fabulous? Share it!
Until next time, happy eating
~Audrey