Disclaimer: I received free product for creation of this post. All recipes and opinions are my own.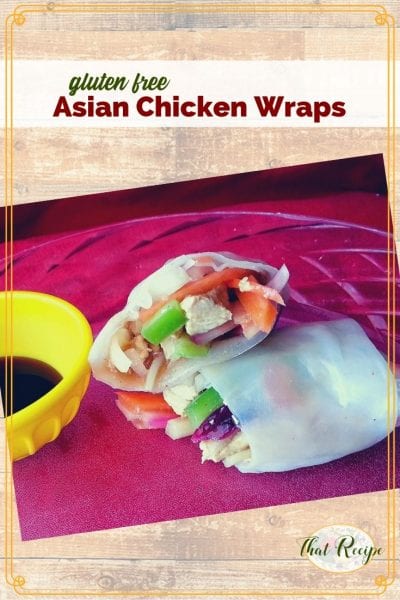 A few weeks ago the folks at Gourmet Warehouse contacted me to ask if I would be interested in trying a few of their products. I got a free spice rub and marinade, they get a few recipes, we both get free advertising from each other. Works for me!
And if you are wondering "would she still like the products even if they weren't free?", the answer is YOU BETCHA! I wouldn't post this otherwise.
When I noticed that the Sesame Ginger marinade was gluten free, I immediately thought of these Asian Chicken Wraps. I love recipes like this because the three of us have different likes when it comes to food and this enables everyone to choose there own fillings. And J loves being able to make anything himself!
I had all of the ingredients (including the chicken breast defrosted) and was planning on making them when my husband called and said he was on his way and we were all going out to dinner. So, I just left everything in the fridge and went about my day. Then, with 45 minutes until dinner time he hit brutal Thursday night traffic.
Mad scramble to get dinner started. But, I had it done with plenty of time for dinner plus time for a quick photo shoot. I could have let it marinade more, but since the chicken should be cut into thin strips and I thicken the marinade at the end as a sauce it was just fine.
Tracking down the rice paper wrappers was a bit tricky, but I did find them at one of my regular grocery stores in the Asian food aisle. A specialty Asian food market would definitely have them. They may be called Spring Roll Wrappers instead. After some trial and error I found the trick to using them is
have a plate of warm water on the table for everyone to make as they go
use two wrappers per wrap (they are very thin)
remove the wraps when they are just becoming pliable but are still a bit stiff - no more than 20 sec0nds or so (if you go longer they become a sticky mess)
You can read more about the other product I received, the Applewood Smoke spice rub, in this meatloaf recipe. Both products were delicious.
Asian Chicken Wraps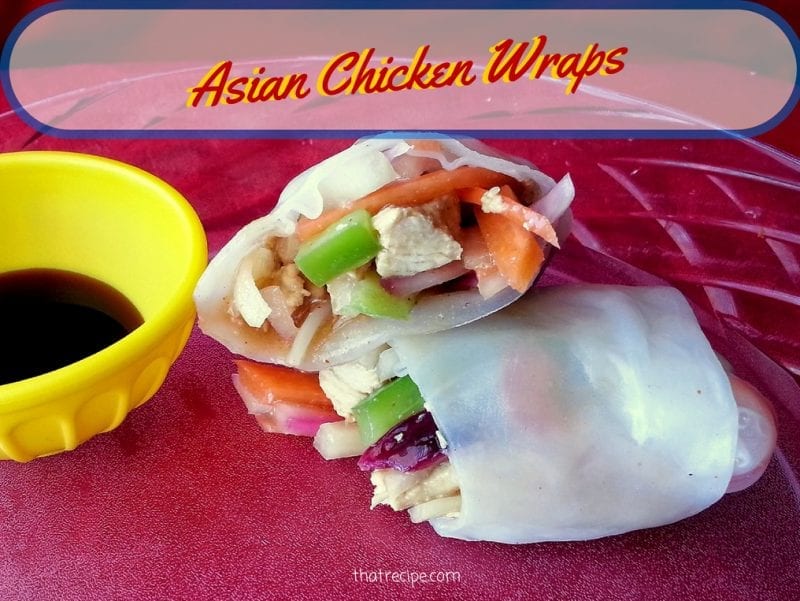 Ingredients
1

pound

boneless skinless chicken

(sliced in thin strips)

½

cup

Gourmet Warehouse Sesame Ginger Marinade

2

teaspoons

corn starch

1

packet round rice paper wraps

(may be called spring roll skins)

red onion

(thinly sliced)

red bell pepper

(seeded and thinly sliced)

green bell pepper

(seeded and thinly sliced)

bean sprouts

Do Chua

(pickled daikon radish and carrots)

cabbage

(shredded)

jalapeno peppers

(fresh, seeded and thinly sliced)

tamari or low sodium soy sauce
Instructions
Slice chicken and marinade in Sesame Ginger Marinade for about 20-30 minutes.

While chicken is marinating, prepare vegetables and other ingredients.

Heat a wok or cast iron skillet wiped with a small amount of oil to high. With a slotted spoon, or by hand, remove chicken strips from marinade as much as possible (reserve the marinade). Cook thoroughly, approximately 5 minutes depending on how thin your slices. Remove chicken from pan.

Mix cornstarch with reserved marinade from chicken. Add more marinade from the bottle if a saucier chicken is desired. Put in pan and bring to a boil, stir 30 seconds to 1 minute to thicken. Mix with chicken.

To make wraps, stack two rice paper wrappers together then dip in a plate of warm water just until they begin to soften. Do not over soak! 10-20 seconds should do the trick. Place on a dry plate or other working surface, place desired fillings in the center. Fold the short ends up then roll. Cut on a diagonal if desired. Serve with soy sauce if desired.
Notes
Rice Paper Wraps and Do Chua can be found in the Asian food aisle of most well stocked grocery stores, or at an Asian (Vietnamese) specialty market.
Until next time, happy eating.
~Audrey