Daniel Tiger's Banana Swirl Ice Cream is a simple one ingredient recipe just like they make on the PBS series.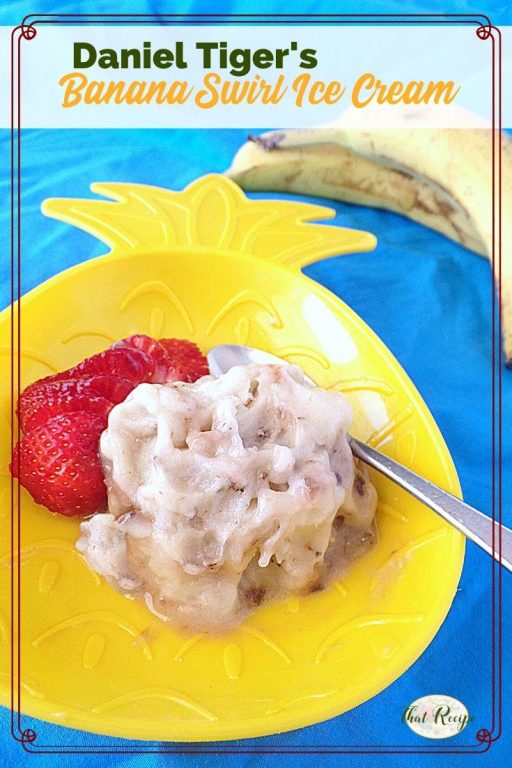 Here's a super simple healthy dessert idea that we got from Daniel Tiger's Neighborhood - Banana Swirl Ice Cream. Check your local PBS station for this fun new show from The Fred Rogers Company (yes, THAT Mr. Rogers).
I know most people automatically think "Oh, the bananas are turning brown I have to make banana bread." Don't get me wrong, I like banana bread, especially my mother-in-laws super loaded version or my sister-in-law's Mango Banana Bread.
But, sometimes you want something a little different and a little less work (and a lot less fat).
Ingredients:
Ripe bananas, overripe is better.
Directions:
Peel the bananas and slice into 1 - 2 " slices and drop them in a freezer bag and put in the freezer. Or throw them in whole and slice them with a sharp knife just before preperation.
When completely frozen put them in the food processor or blender and mix until smooth. It helps if you defrost a few pieces in the microwave for a few seconds (not all, just one or two), or leave on the counter for a few minutes until some of the bananas start to thaw.
Put in bowls and serve. You could put sprinkles or chocolate syrup or other ice cream toppings on top.
UPDATE:
March 6, 2014 -
I just figured out a simpler and better method for making this that even a preschooler can make "all by myself". Click here to check it out: Daniel Tiger's Neighborhood Banana Swirl - Kid Friendly Instructions.
Until next time, happy eating.
~Audrey