Most Pasta alla Vodka recipes I have seen use canned tomato sauce to make this delightful spicy creamy tomato pasta sauce. But if you are a gardener, you probabaly are facing an abundance of fresh tomatoes. If not, hit up a neighbor that may need to unload some or go to a farmers market. This recipe is quick and easy which makes it great for a summer week night. Toss in some leftover chicken or shrimp or tofu and make it a complete meal.
Nervous about adding vodka to something for the kids – leave it out. All of my vodka got used to make Kahlua, so I made it without and it was still fabulous. And I used non-fat milk instead of cream because I am trying to slim down. Not as rich as the original, but adding a bit more basil and parsley makes up for it.
For those that don't know how to blanch a tomato: Boil water in a large pot, have a bowl of ice water ready. Be sure not to fill either more than half full. Cut a small x in the bottom of each tomato. Put them gently in the bowling water for about 20-30 seconds until the peel starts to slide off. Drain the boiling water and put the tomatoes in the ice water. Slough off the peels.
Traditionally this is served over penne. This recipe, that came from a friend of my mom's, calls for fettuccine. Neither of which I happened to have in my pantry – rotini it is.
Pasta alla Vodka with Fresh Tomatoes
Print recipe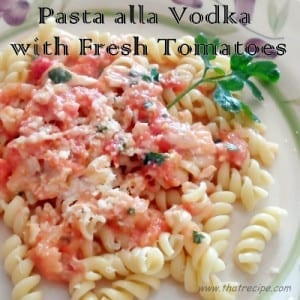 A spicy creamy tomato pasta sauce using fresh tomatoes instead of canned.
Ingredients
1 tablespoon vegetable or olive oil
1 Small onion, chopped (about 1/2 cup)
1 Large clove garlic (crushed)
3 Large tomatoes (blanched, peeled and coarsely chopped - about 3 cups)
1/4 teaspoon crushed red pepper flakes (adjust to taste)
1/4 teaspoon dried basil leaves (or 1 teaspoon chopped fresh basil)
1/2 cup heavy cream
1/4 cup fresh parsley (chopped)
1/4 cup parmesan cheese (grated)
3 tablespoons vodka (optional)
1lb fettucine or other pasta (cooked according to package directions)
Directions
In 3 quart sauce pan heat oil over medium high heat. Add onion and garlic. Cook, stirring occasionally 3 to 5 minutes until onion is translucent. Add tomatoes, red pepper and basil; bring to a boil over high heat. Reduce heat to low, cover and simmer 5 minutes to blend flavors.

Stir in heavy cream, parsley, 3 tablespoons grated cheese and vodka. Cook until heated through. Keep warm.
Place fettuccine on platter and top with sauce and remaining cheese.
~
Until next time, happy eating.
~Audrey