Jump to Recipe
Print Recipe
In summer when you have an abundance of fresh tomatoes, just chop them up to make this classic Pasta alla Vodka for a quick and easy meal.
Pasta alla Vodka is a spicy creamy pasta sauce that comes together in minutes making it great for a summer week night. Toss in some leftover chicken or shrimp or tofu and for extra protein, if desired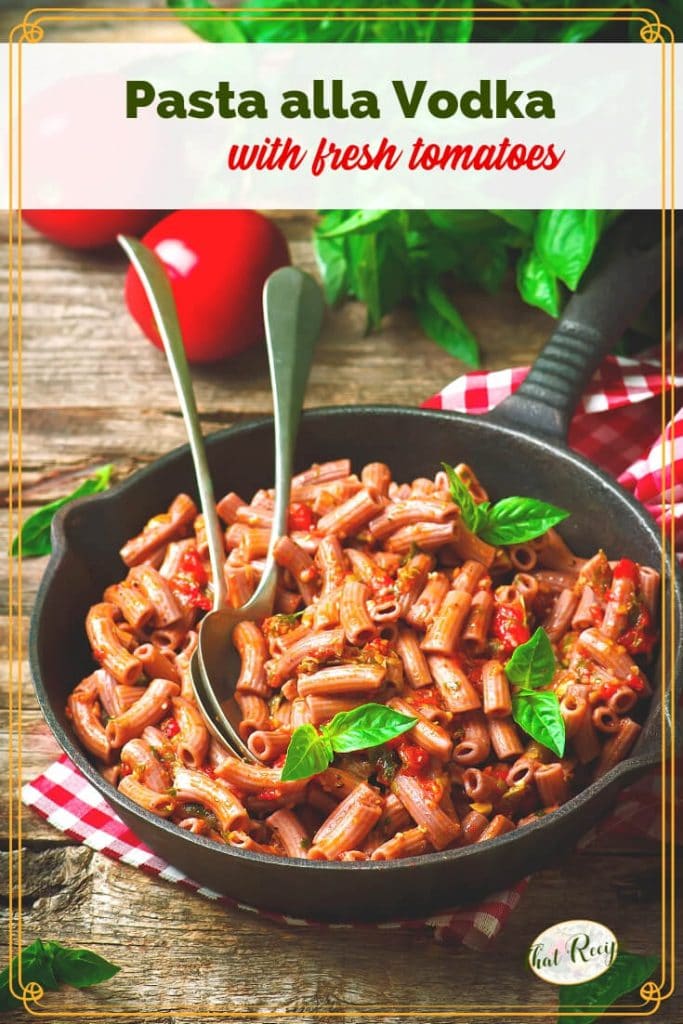 Most Pasta alla Vodka recipes I have seen use canned tomato sauce to make this delightful spicy creamy tomato pasta sauce.
But, if you are a gardener, you may be lucky enough to have an abundance of fresh tomatoes. If not, hit up a neighbor that may need to unload some or go to a farmers market.
I used non-fat milk instead of cream because I am trying to slim down. Not as rich as the original, but adding a bit more basil and parsley makes up for it.
Does the alcohol cook off?
The vodka only cooks for a few minutes, so no, the alcohol does not cook off.
Nervous about adding vodka to something for the kids? Leave it out or use a substitute.
All of my vodka got used to make Kahlua, so I made it without and it was still fabulous.
You can add 3 tablespoons water or chicken broth along with a little lemon juice or apple cider (or wine) vinegar to give it a little acidity to compensate for the missing alcohol.
How to blanch tomatoes
Blanching tomatoes removes the peels quickly and easily. This quick video shows you just how easy the process is (pretend the peaches are tomatoes).
Boil water, dunk the tomatoes for 20-30 seconds and then immediately put in ice water. The peels will slough right off.
Pasta alla Vodka with Fresh Tomatoes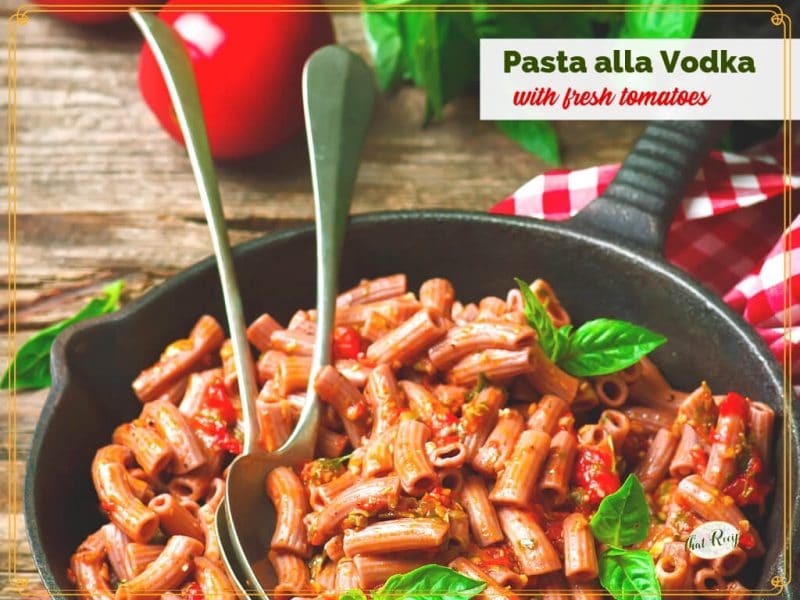 Ingredients
1

tablespoon

vegetable or olive oil

1

small

onion, chopped

(about ½ cup)

1

large

clove garlic

(crushed)

3

large

tomatoes, blanched and coarsely chopped, about 3 cups

(see note)

¼

teaspoon

crushed red pepper flakes

(adjust to taste)

1

teaspoon

fresh basil leaves, chopped

(¼ teaspoon dried basil)

½

cup

heavy cream

¼

cup

fresh parsley

(chopped)

¼

cup

parmesan cheese

(grated)

3

tablespoons

vodka

(optional)

1

pound

pasta

(cooked according to package directions)
Instructions
In 3 quart sauce pan heat oil over medium high heat. Add onion and garlic. Cook, stirring occasionally 3 to 5 minutes until onion is translucent. Add tomatoes, red pepper and basil; bring to a boil over high heat. Reduce heat to low, cover and simmer 5 minutes to blend flavors.

Stir in heavy cream, parsley, 3 tablespoons grated cheese and vodka. Cook until heated through. Keep warm.

Place pasta on platter and top with sauce and remaining cheese.
Notes
To peel tomatoes: boil 2-3 quarts of water in a large pot. Fill a bowl about ½ full of ice water. Drop tomatoes into the boiling water for 20-30 seconds until the skin starts to pucker.
You can use the boiling water to cook the pasta.
Move the tomatoes using a slotted spoon into the ice water. Slough the peel off of the tomatoes. 
~
Until next time, happy eating.
~Audrey