Make deliciously creamy Risotto without standing over the stove and stirring constantly.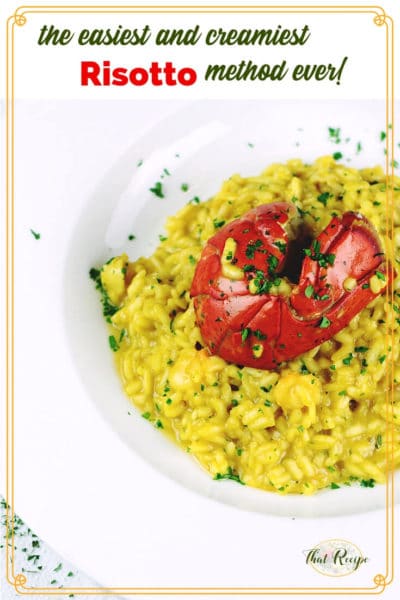 I have tried 3 or 4 different ways of making risotto, including traditional, the pressure cooker and baking it. This method beats them all. Yes, even traditional.
The basic steps
add rice to stock/wine combo and swish for 15 seconds then strain
toast wet rice with some olive oil
add 4 cups of the starchy stock/wine combo and simmer for 20 minutes
add remaining cup of liquid plus cheese and serve
The key is in the first step. In the traditional method you stand over the stove slowly stirring and adding liquid every few minutes to release the starch from the rice and incorporate it in the liquid. The first step of rinsing the rice does that for you! 20 minutes you just gained back in your day.
Make Risotto at home without standing over the stove for 30 minutes! This trick makes it even creamier than the traditional method.
Click To Tweet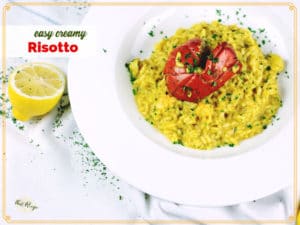 Extra Creamy Risotto
You don't need to stand over the stove to make Risotto. This method is easier and creamier!
Ingredients
1

quart

chicken stock

1

cup

white wine

or omit and use 5 cups of chicken stock

1 1/2

cup

Arborio rice

1

tablespoon

olive oil

1/2

cup

onions

minced

1/4

cup

Parmesan cheese

freshly grated
Instructions
Combine wine (if using) and stock in a bowl. Add rice and stir with whisk for about 15 seconds. Over another bowl, strain rice and reserve the liquid.

Add 1 tablespoon oil to a 2 or 3 quart pot and heat to medium. Add onions. Sauté for a few minutes then add strained rice and continue cooking until rice begins to toast.

Add 4 cups of the reserved liquid, stirring gently to loosen any bits on the bottom of the pan. Bring to a boil, stir once then cover and reduce heat to low.

Cook for ten minutes, stir quickly, then re-cover and cook 10 more minutes.

Remove from heat, add final cup of liquid and cheese. The rice will absorb the remaining liquid. If it is still too soupy for your taste, heat on medium for another 30-60 seconds.
Until next time, happy eating.
~Audrey
Save