Jump to Recipe
Print Recipe
Moist and flavorful Fruitcake isn't an oxymoron. This recipe will change how you think about those hard doorstops.
Jokes about bad fruitcake have probably been around since the first fruitcake:
There is only one fruitcake in the world and it just keeps getting regifted year after year.
Why is history like a fruit cake? Because it is full of dates!
Why do fruitcakes make ideal gifts? Because the Postal Service has been unable to find a way to damage them.
Some uses for fruitcake: a doorstop, fireplace bricks, a boat anchor, replace free weights for a workout.
I feel somewhat deprived, since I have never had bad fruitcake. I actually like it and look forward to it each holiday season.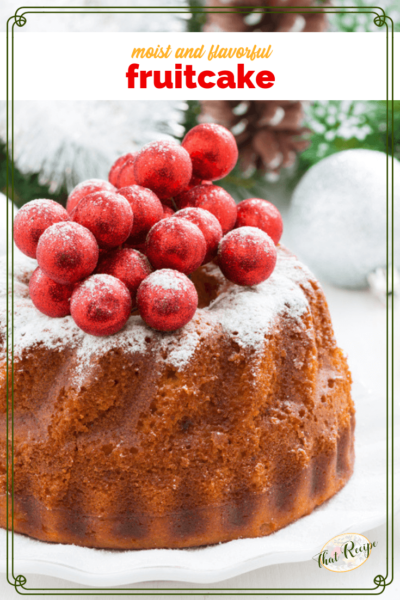 This recipe comes via a family friend of my in-laws. The original recipe is called "Light Fruit Cake".  Huh? With 5 pounds of fruit and nuts it has to be pretty heavy.  And the 10 eggs and pound of butter don't exactly make it "low fat".  The "light" must refer to what happens to your head if you partake of too much at once.
Whether you make it as one giant tube pan, or 6-8 smaller loaf pans, these need to "mellow" for at least a week before serving. So if you want to have it for Christmas dinner, make it soon!
[clickToTweet tweet="Fruitcake doesn't have to be a dry tasteless mess! Try this moist flavorful recipe. #fruitcake" quote="Fruitcake doesn't have to be a dry tasteless mess! Try this moist flavorful recipe." theme="style1"]
Fruit Cake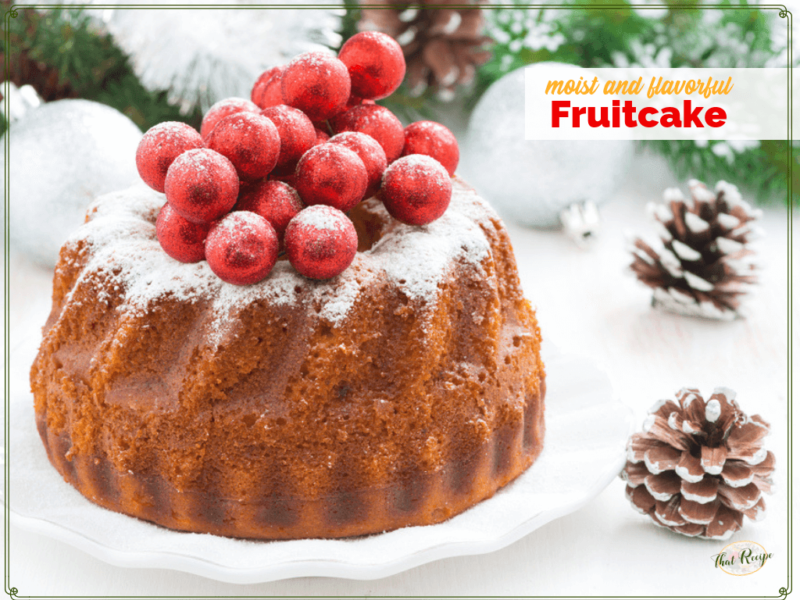 Ingredients
1

pound

glacé cherries

1

pound

glacé pineapple

1

pound

raisins

(preferably white)

1

pound

walnuts

(chopped)

1

pound

pecans

(chopped)

1

cup

brandy or whiskey

(or non alcoholic flavored syrup)

1   

pound

butter

1   

pound

powdered sugar

10

eggs separated

4   

cups

flour

1   

teaspoon

baking soda

½

teaspoon

salt

1   

teaspoon

ground cinnamon

1   

teaspoon

ground nutmeg

1   

teaspoon

vanilla

aluminum foil and cheesecloth for each cake
Instructions
Combine the fruit and nuts in a bowl and soak in alcohol or flavored syrup overnight (8-12 hours).

Cream butter and sugar, add egg yolks. Add 3 cups of flour, soda and salt.

In a separate bowl, beat egg whites then add to butter sugar mixture with the vanilla and spices.

Add final cup of flour to fruit and nuts to lightly coat, then add to batter. Pour into either a 12 cup greased tube pan or 6-8 greased loaf pans.

Put a pan with 1 ½ cups of water in the bottom of the oven, preheat oven to 250 degrees. Bake the tube pan for 3 hours and the loaf pans for 1- 1 ½ hours.

Remove from pans and allow to cool.

Soak the cheese cloth in additional liquor and wrap the cake(s), wrap in aluminum foil and allow to soak for at least one week in a cool dry place.
Notes
If you want to make a non-alcoholic version you could try one of those flavored syrups used for flavoring coffee; I think hazelnut would be a good choice.
Until next time, happy eating!
~Audrey