Jump to Recipe
Print Recipe
Tea Brack is a sweet quick bread made with loads of dried fruits soaked in some hot tea (with or without a wee bit of whisky). Great for breakfast or dessert.
Bake up a loaf of fruity Tea Brack to enjoy for breakfast, dessert or with a nice cup of tea.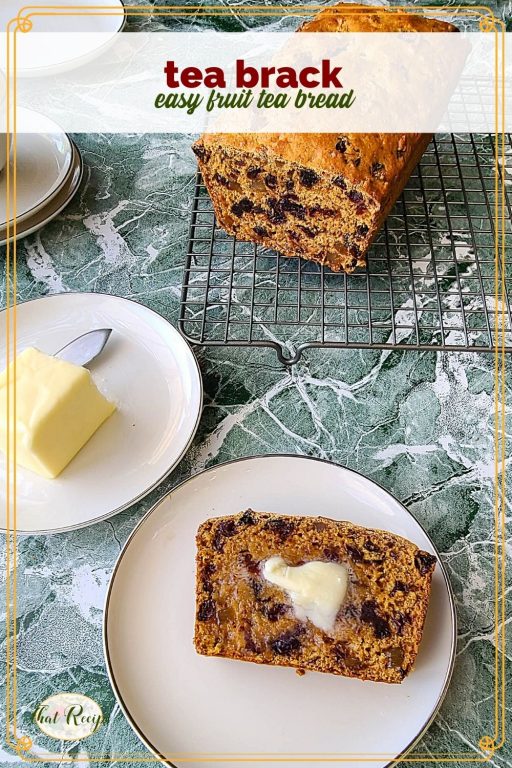 Welcome to #SummerGamesWeek 2021 hosted by Amy from House of Nash Eats!  We are celebrating the start of the Tokyo Games with over 50 recipes representing more than 25 countries competing in the upcoming Summer Games! Come join me and my fellow Summer Games Week bloggers as we bring you recipes from appetizers to drinks to entrées and desserts!
According to my latest Ancestry DNA analysis, I am 25% Scottish, which threw me for a loop because according to family lore (and research) my mom's family came from Ireland before the American Revolution. Checking my history books I am guessing we are Ulster Scot, aka Scotch Irish (old timey term), Scots who migrated to Northern Ireland and then eventually headed to the US.
Tea Brack is kind of like me, with heritage in both Ireland and Scotland and a combination of the two because food often ignores man made boundaries. It is a delicious quick bread made with loads of dried fruit soaked in black tea with an optional splash of whisky or whiskey (depending if you are using Irish or Scotch spirits).
Warning! This is a quick bread, meaning it does not use yeast and need to rise, but you need to let the fruit soak at least 4 hours, up to overnight. And it takes an hour to bake. An hour of delicious torture as your home is filled with the most wonderful aroma. Sigh!
What kind of dried fruit should you use for Tea Brack?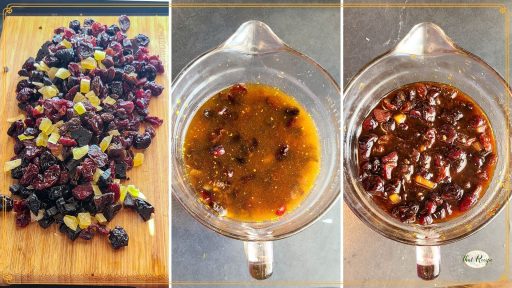 Traditionally it was probably raisins, currants and golden raisins.
But you can use whatever you like best.
This is a great way to use up the dried fruit that has become to dry to enjoy otherwise. I threw in raisins, dates, dried plums, cranberries, cherries, and mangoes that were hardening in the back of the pantry and I might have otherwise thrown in the trash. After a good soak they were amazing!
What kind of tea should you use for Tea Brack?
Traditionally it is black tea, probably Earl Grey or English Breakfast.
But, you can use whatever you like best. As my son would say, "you said that already".
Just as you can vary the taste with using different fruits, you can also vary the flavor of the Brack with different teas. I used Nutcracker Sweet from Celestial Seasonings (not a sponsor) because it has accents of warm spices that went wonderfully in this.
More #SummerGamesWeek Recipes
I chose to represent my family's heritage with my recipe choices this week:
Mititei on Monday - mini beef sausages from Romania (my father in law)
Fried Polenta on Tuesday - cornmeal cakes from Italy (my dad's father)
Tea Brack on Wednesday - fruit laden tea bread from Scotland and Ireland (my mother)
Chocolate Walnut Torte on Thursday - from Hungary (my mother in law)
Tomates Farcies on Friday - stuffed tomatoes from France (my dad's mother)
And here are even more recipes from some of my favorite bloggers:
Wednesday #SummerGamesWeek Recipes
Ingredients
2

cups

dried fruit

(raisins, currants, cranberries, plums, apricots, dates, etc.)

¾

cup

packed light brown sugar

1

tablespoon

orange zest

1 ¼

cups

hot black tea

(brewed)

splash

whiskey (or whisky)

(optional)

2

cups

flour

1

tablespoon

baking powder

1

teaspoon

Mixed Spice

(see note)

1

large

egg

(beaten)
Instructions
Combine the fruit, brown sugar and orange zest in a mixing bowl. Add hot tea and whiskey, if using. Stir well, cover and let soak for 4 hours or longer (up to overnight).

Preheat the oven to 350 degrees. Grease a loaf pan and set aside.

Add the flour, baking powder, spice and egg to the soaked fruit mixture, stirring until moistened.

Pour batter into the prepared loaf pan and bake until a toothpick inserted in the center comes out clean, about an hour.

Let cool in loaf pan. Slice while still warm and serve with butter.
Notes
If you don't have British "Mixed Spice", you can substitute gingerbread spice with a dash of coriander, nutmeg and allspice to come close to the taste. 
Sound fabulous? Share it!
Until next time, happy eating!
~Audrey