Jump to Recipe
Print Recipe
Tomates Farcies are simply tomatoes, hollowed out and stuffed with bread crumbs, bacon, mushrooms and a wonderful combination of herbs.
Tomates Farcies, literally stuffed tomatoes, is a simple dish to make in the height of summer when fresh tomatoes are in abundance. Serve as a side dish or make it an entire meal.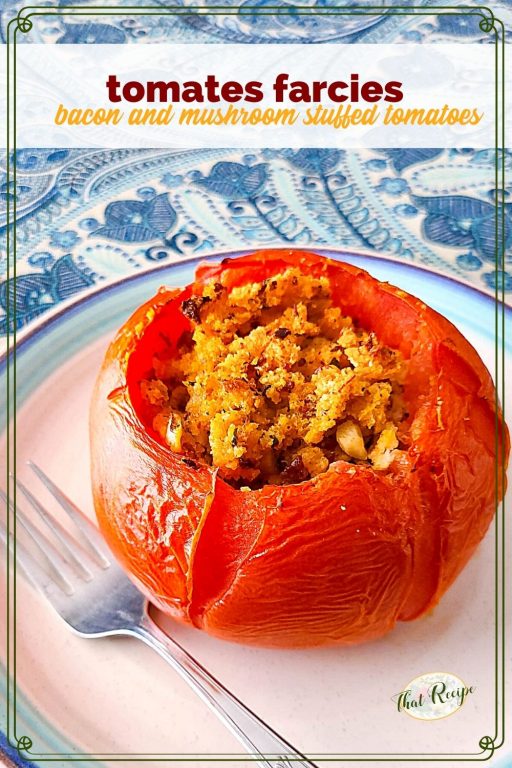 Welcome to #SummerGamesWeek 2021 hosted by Amy from House of Nash Eats! We are celebrating the start of the Tokyo Games with over 50 recipes representing more than 25 countries competing in the upcoming Summer Games! Come join me and my fellow Summer Games Week bloggers as we bring you recipes from appetizers to drinks to entrées and desserts!
This recipe is not from my family, though I suppose someone might have made something similar. Instead it is my adaptation of one made by Claude Monet. Yes, the artist. Among the treasures found at Giverny after his passing were his cooking journals, which were made into a beautifully photographed cookbook (slash history book slash coffee table book, etc.).
Ideally, you should make these with medium-large sized tomatoes, but all they had at the store were Romas, not the right shape for this recipe, or extra large beefsteaks. So I made 2 extra large instead of 4 and we cut them in half.
More Summer Games Recipes
I chose to represent my family's heritage with my recipe choices this week:
Mititei on Monday - mini beef sausages from Romania (my father in law)
Fried Polenta on Tuesday - cornmeal cakes from Italy (my dad's father)
Tea Brack on Wednesday - fruit laden tea bread from Scotland and Ireland (my mother)
Chocolate Walnut Torte on Thursday - from Hungary (my mother in law)
Tomates Farcies on Friday - stuffed tomatoes from France (both mom and dad)
Friday #SummerGamesWeek Recipes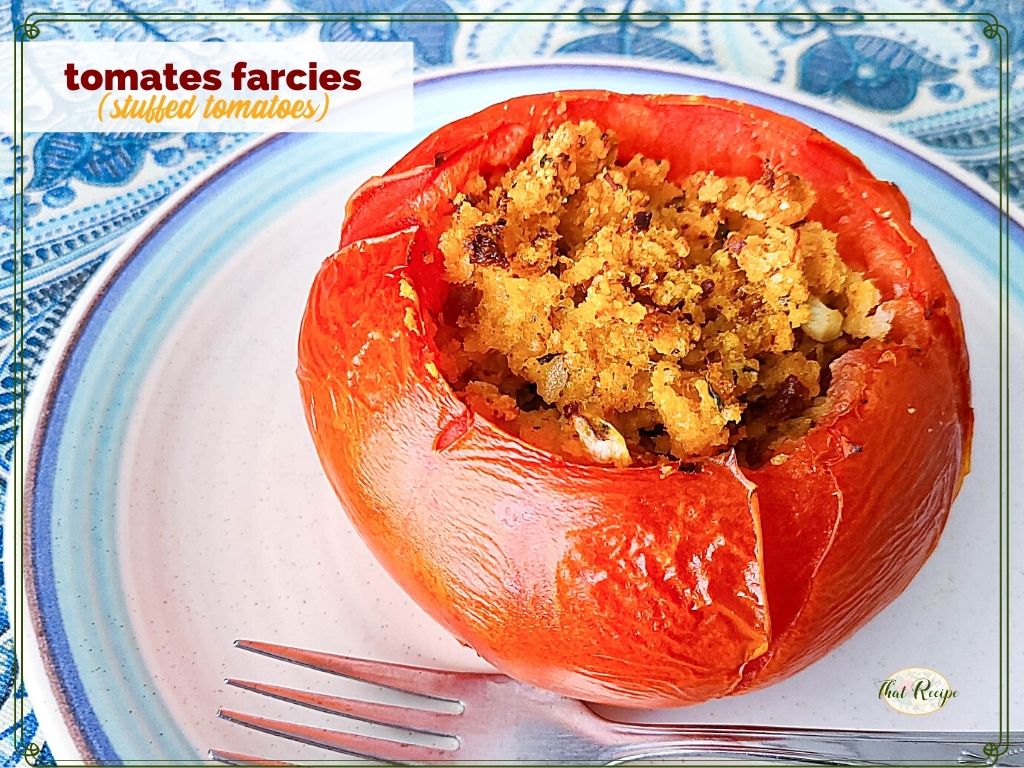 Ingredients
4

large

ripe tomatoes

1

sprig

fresh parsley

1

sprig

fresh thyme

1

bay leaf

salt and pepper to taste

3-4

slices

bread

(chopped into small pieces to make 1 cup)

1

tablespoon

olive oil

1

pound

bacon

(chopped into small pieces)

1

clove

garlic

(minced)

2

medium

shallots, minced

(or 2 tablespoons finely minced onion)

2

tablespoons

fresh parsley

(chopped)

¼

cup

fresh mushrooms

(chopped)

1

large

egg
Instructions
Cut off a thin slice from the bottom of the tomatoes so the stand flat. Cut around the top of the tomatoes leaving about ½ inch on the sides. Scoop out the top and insides leaving the sides and bottom intact. Place on a greased ovenproof dish.

Put all of the removed tomato bits into a saucepan. Cook over high heat for 3 minutes.

Remove the herbs and pour the tomato puree through a fine mesh strainer, mashing with the back of a spoon to get as much juice and pulp as possible.

Add the tomato puree back to the saucepan with the parsley, thyme and bay leaf. Simmer over low heat for 10 minutes stirring occasionally. Remove the herbs, stir in the chopped bread and set aside.

In a skillet combine olive oil, bacon, shallots and garlic and sauté until the bacon is lightly browned. Add chopped mushrooms and cook a few minutes until mushrooms start to release some water.

Combine bread mixture, bacon and mushroom mixture and the egg. Stuff into the tomato shells.

Bake at 350°F until the top is lightly browned.
Sound fabulous? Share it!
Until next time, happy eating!
~Audrey