Jump to Recipe
Print Recipe
Fried Polenta are simple cornmeal cakes that can be served for breakfast, as an appetizer or in place of pasta for dinner.
Fried Polenta is a simple dish that can serve as a base for a variety of topppings make it perfect for breakfast appetizers or dinner.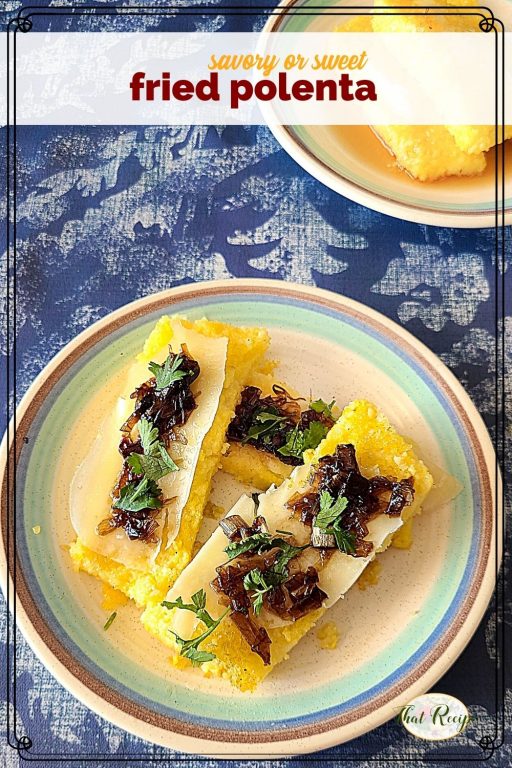 Welcome to #SummerGamesWeek 2021 hosted by Amy from House of Nash Eats! We are celebrating the start of the Tokyo Games with over 50 recipes representing more than 25 countries competing in the upcoming Summer Games! Come join me and my fellow Summer Games Week bloggers as we bring you recipes from appetizers to drinks to entrées and desserts!

When my dad was younger his mother and sister had to go to another state for her to have surgery leaving him and his dad at home. My grandfather would make up some thick polenta at night and fry it up in the morning before they headed off to school.
What is Polenta and Where Can You Buy It?
Polenta is coarsely ground corn meal. It is a staple in Northern Italy, traditionally served among the lower classes. Cheap easy grains, mmmm!
It can be served as porridge (similar in consistency to cream of wheat or grits) or made thicker, shaped into a loaf and fried or baked like this recipe.
Here in America it is a bit of gourmet item. For years I could only find it in premade tubes, often with other ingredients mixed in which is not necessarily optimal if you want to serve it for variety of meals.
Now with more and more gluten free options readily available you can often find it alongside the cornmeal or masa in many well stocked supermarkets. If your store doesn't have it or can't get it, there is always Amazon.
How do you serve Fried Polenta?
For breakfast you can top it with butter and syrup, maybe some eggs or bacon on the side.
For appetizers you can use it like crostini and serve it with a little cheese, brushetta, etc. on top. I added a little shaved Parmesan and a dab of these amazing Caramelized Shallots on top. Giada de Laurentis slices them into sticks and dips them in marinara sauce.
For dinner serve it in place of pasta or like toast for dipping in soups.
More Summer Games Recipes
I chose to represent my family's heritage with my recipe choices this week:
Mititei on Monday - mini beef sausages from Romania (my father in law)
Fried Polenta - cornmeal cakes from Italy (my dad's father)
Tea Brack on Wednesday - fruit laden tea bread from Scotland and Ireland (my mother)
Chocolate Walnut Torte on Thursday - from Hungary (my mother in law)
Tomates Farcies on Friday - stuffed tomatoes from France (my dad's mother)
And here are even more recipes from some of my favorite bloggers:
Tuesday #SummerGamesWeek Recipes
Fried Polenta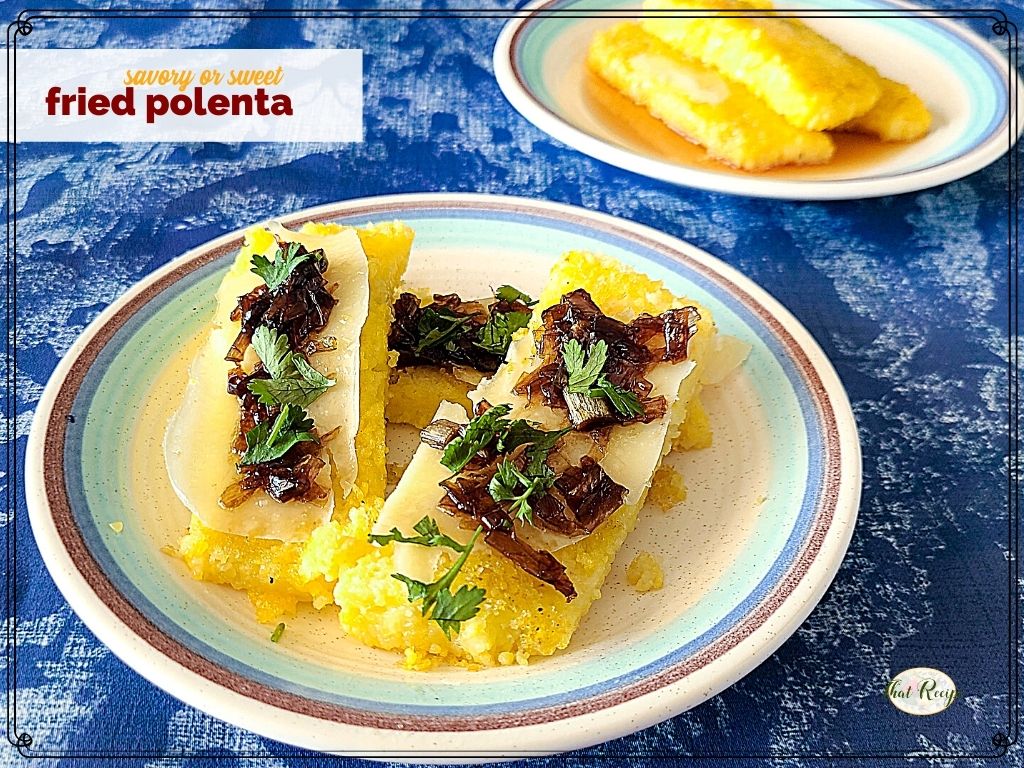 Ingredients
3

cups

water

1

cup

polenta

oil for frying
Instructions
In a medium saucepan, bring water to a boil.

Sprinkle the polenta on top while stirring (do not dump it in and then stir or you risk lumpy polenta!).

Lower the heat to medium and cook, stirring occasionally, until very thick, about 15 minutes.

While polenta is cooking line a loaf pan with aluminum foil or waxed paper.

Spread cooked polenta evenly into loaf pan. Put in refrigerator and chill until firm, at least 2-4 hours (my grandfather would set it overnight).

Heat about ¼-½ inch of oil in a heavy bottom skillet.

Slice the polenta into ½ inch slices and fry in batches in the oil until crispy on both sides.

Drain on paper towels and serve as desired.
Notes
If frying in oil isn't your forte you can also brush the slices with olive oil and bake, grill or air fry them until golden and crispy on the outside.
Sound fabulous? Share it!
Until next time, happy eating!
~Audrey