Jump to Recipe
Print Recipe
Ham and Cheese Omelets make a quick and easy meal and are a wonderful way to serve leftovers. Get our tips to make this simple dish at home.
Ham and Cheese Omelet is a simple but elegant one pan meal that cooks in about 15 minutes for a delicious breakfast, brunch or dinner.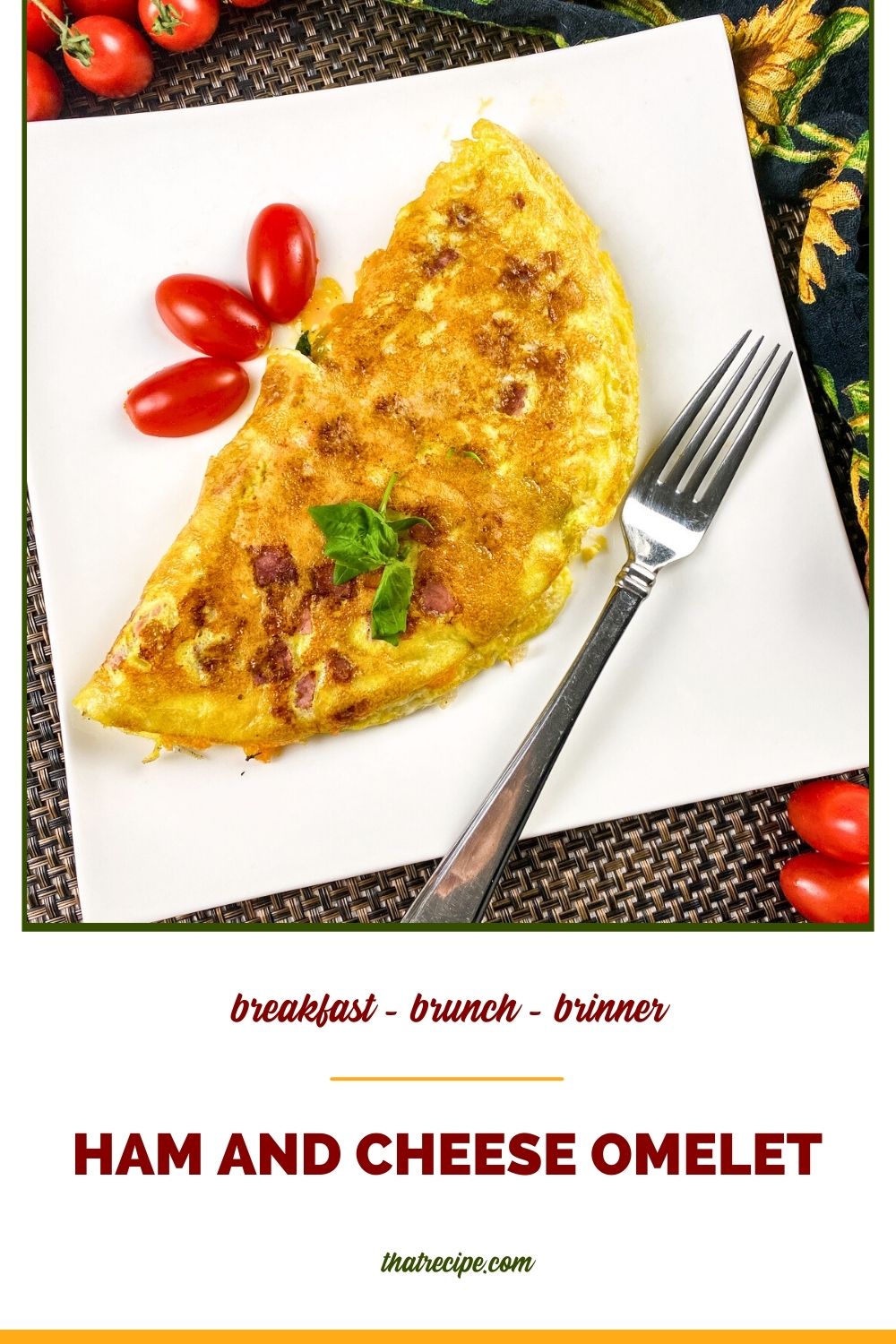 One of the great thing about eggs is that they can take boring leftovers and turn them into a delicious new meal. They are also nutritious and, usually, pretty inexpensive compared to other protein sources.
This dish takes a handful of leftover ham and some cheese and turns it into a lovely meal for two.
If you are serving more than two, I recommend making the actual omelet in batches. If you put too many eggs in the pan, the bottom will likely overcook before the top can set. Use two pans, or cook the ham as directed and make two separate omelets, splitting them in half to feed four.
What's the difference between Omelet and Omelette
The "te" on the end. No, I am not being sarcastic. They are both the same dish just different regional spelling.
Ingredients for Ham and Cheese Omelet
The ingredients are pretty basic and easy to substitute to what is in the kitchen as well as your own personal tastes:
eggs - or egg substitutes
milk - dairy or non dairy
ham - or bacon or sausage or vegetables or mushrooms
cheese - cheddar or any other melty cheese you like (monterey, mozzarella, gruyere, etc.)
butter or cooking oil
seasonings - I list salt and pepper here, but usually use my homemade herbed salt blend
Tricks for the best omelets
Don't be intimidated. Omelets may seem like an elegant French dish that can only be mastered with years of practice, but the reality is they are just fancy scrambled eggs.
The main tricks to getting them to come out correctly are to keep your temperature low and use enough oil or butter on the pan before adding the egg mixture.
I usually use my cast iron skillet which cooks evenly and is naturally non stick. I have a small one that is perfect for a two egg omelet.
More Egg Recipes from #OurFamilyTable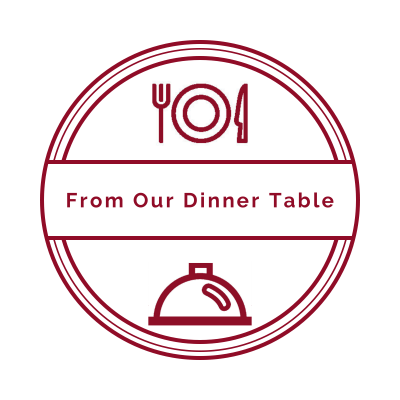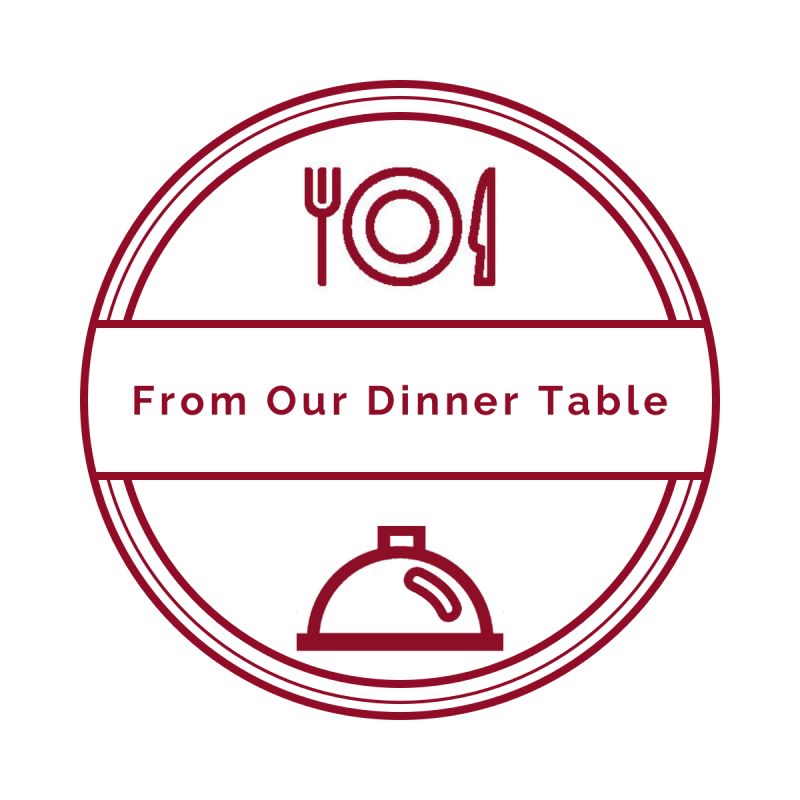 Eggs are a wonderful protein source and can be made into a variety of dishes. Here are some ideas from some of my favorite bloggers:
Incredible Egg Recipes

We share Recipes From Our Dinner Table! Join our group and share your recipes, too! While you're at it, join our Pinterest board, too!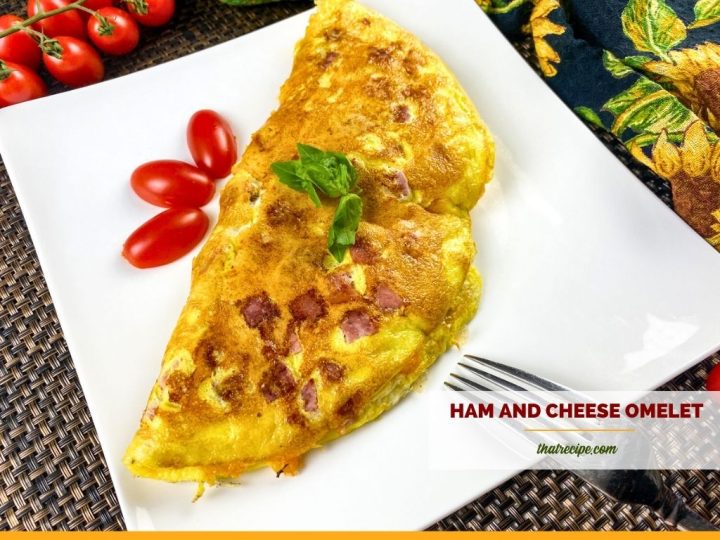 Ingredients
2

tablespoons

unsalted butter or cooking oil

(divided)

6

ounces

cooked ham

(diced)

4

large

eggs

¼

cup

milk

salt and pepper

(to taste)

½

cup

cheddar cheese

(shredded)

Optional garnish: grape tomatoes and fresh basil sprigs
Instructions
Add one tablespoon butter and diced ham to a large skillet and set over medium-low heat. Cook, stirring occasionally, until the ham develops some color and is heated through, about 5-6 minutes.

Remove the ham from the skillet and set aside. Return the skillet to the stove and reduce heat to low.

Whisk together the eggs, milk, salt, and black pepper in a medium bowl. Set aside.

Add the remaining butter to the skillet and swirl to coat the bottom as it melts. Pour in the egg mixture and tip the skillet in each direction to create an even layer.

Once the egg starts to set, add the ham and shredded cheddar cheese evenly across the surface.

Cover the skillet with a lid until the cheese starts to melt and the egg is mostly cooked through, about 2-3 minutes.

Fold the omelet in half using a spatula. Cover and cook for an additional minute or two to ensure the omelet is cooked through and the cheese is completely melted.

Remove from heat and cut the omelet in half with the spatula.

Transfer to serving plates and garnish with a some grape tomatoes and sprigs of fresh basil, if desired, before serving.
Sound fabulous? Share it!
Until next time, happy eating!
~Audrey