Jump to Recipe
Print Recipe
Zucchini Frittata is a simple baked egg dish with cheese and vegetables; add seasonal vegetables and/or meats for endless options.
This Zucchini Frittata is a simple egg and vegetable bake that you can whip up on a weekend morning, for a special springtime brunch or weeknight meal.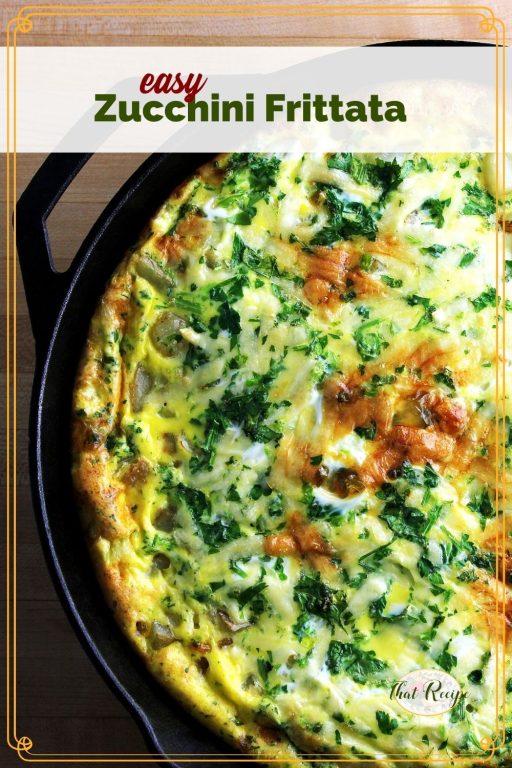 The recipe originally came from the little cookbook that came with a food processor years ago. It was a favorite growing up because we grew both chard and zucchini and needed recipes to use them both.
Mom and I have made it regularly through the years switching up ingredients as the mood struck us.
I have doubled and even tripled it, baked it in a 13x9 pan and taken to brunch pot lucks. It also makes a great dinner for Meatless Monday or Lenten Friday.
Difference Between Quiche and Frittata
Both are egg bakes with "stuff" in them, but there are a few key differences between quiche and frittata.
Quiche generally has a pastry crust while frittatas are crustless.
Frittata adds little to no milk (like this recipe) while quiche uses up to ½ cup milk or cream per egg.
And quiche is usually cooked in a pie pan and baked entirely, while frittatas can be cooked in a skillet and cooked partially on the stove.
Vegetable Frittata Options
The recipe can be adapted for specific diets. As written the recipe is low carb and gluten free. Use egg substitute and reduce the amount of cheese (or use low fat) to lower the overall fat content. Omit the cheese and it is casein free.
The vegetables listed are the original listed in the recipe. But don't let that limit you.
Use what is fresh and in season, or what you have on hand. I toss in asparagus in spring, bell pepper in summer and winter squash in fall and winter.
Add sun dried tomatoes, roasted red peppers, mushrooms.
Cook up some bacon or sausage, or use leftover meat or poultry, and mix it in before cooking.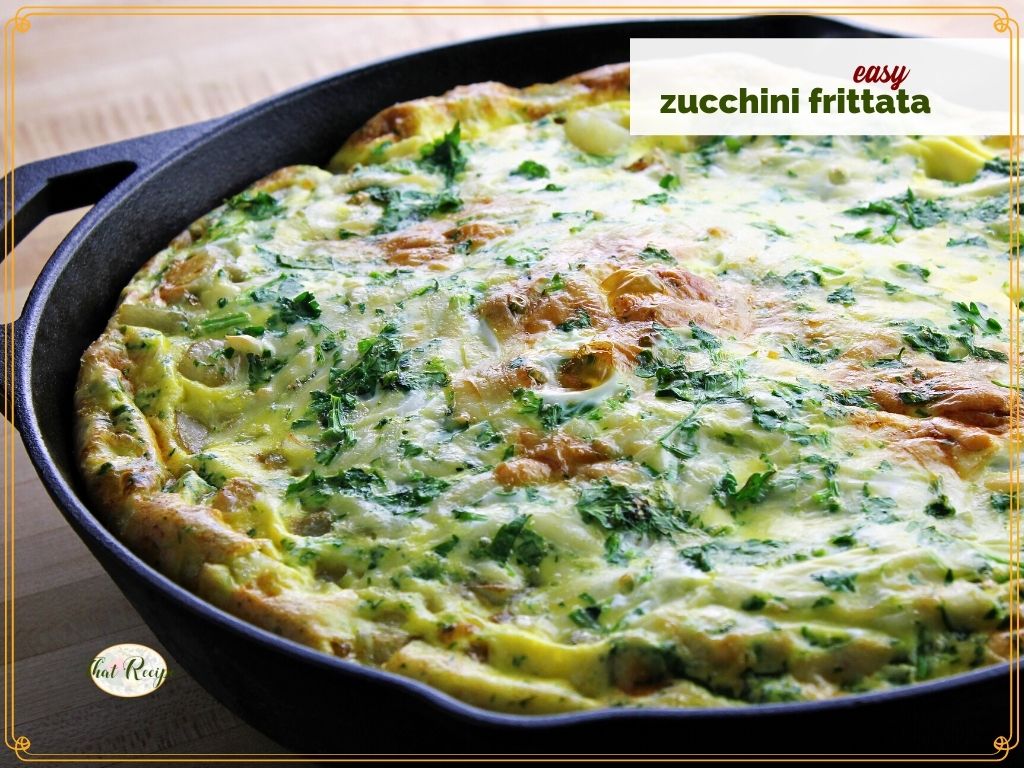 Ingredients
1

clove

garlic

1

small

yellow onion

1

medium-large

zucchini

2

large

leaves of Swiss chard

(or a handful of spinach)

2

tablespoons

vegetable or olive oil

8

large

eggs

salt and pepper

(to taste)

1

cup

Parmesan cheese

(grated)
Instructions
Preheat oven to 350°F. Grease an 8 or 9 inch square baking pan or pie tin. Or prepare recipe using a cast iron skillet

Pulse garlic a few times in food processor until chopped. Cut onion and zucchini in chunks. Remove stem from chard. Place stems, onion and zucchini in processor and pulse until coarsely chopped. (or coarsely chop vegetables by hand)

Cut chard leaves into thin strips.

Heat oil in skillet over medium heat, add chopped vegetables. Stir occasionally. Cook for 5 minutes or until vegetables are slightly limp. Remove from heat and cool slightly.

In the food processor mix together eggs, salt and pepper for 1-2 minutes. (or whisk together in a medium bowl).

Mix together eggs, cheese and vegetables. Pour unto buttered baking dish.

Bake 30 minutes at 350°F or until lightly browned.
Sound fabulous? Share it!
More Egg Recipes
---
Until next time, happy eating!
~Audrey